PRESS RELEASE: Equality Florida and Biden Administration Meet with Florida Parents and Transgender Youth
Equality Florida and Biden Administration Meet with Florida Parents and Transgender Youth
Equality Florida partners with Biden Administration to convene LGBTQ leaders, parents, and transgender youth to discuss the impact of nationally-coordinated attacks on transgender youth
St. Petersburg, FL — Last week, Equality Florida worked with Senior officials in the Biden Administration to convene calls with Florida LGBTQ leaders, parents, and transgender youth to discuss the dangerous and unprecedented attacks on transgender youth in Tallahassee. Recently, Florida has been the frontline of the far-right's culture war politics. A slew of bills, cheerled by Governor Ron DeSantis, have been introduced in recent legislative sessions for the purpose of demonizing and marginalizing transgender youth. Last session, Governor DeSantis worked with lawmakers to ban transgender girls from participating in sports. This session, Governor DeSantis has signaled support for a transgender youth medical care ban, legislation that would subject doctors who provide gender-affirming care with heavy fines and prison sentences.
On Thursday, ten groups of parents and transgender youth bravely shared their stories with Senior Officials in the White House Office of Public Engagement. They discussed the harms of anti-transgender legislation that Governor Ron DeSantis and GOP leaders are pushing in Florida and the fear they have, as parents, for their children's safety.
"The medical bans won't stop kids from being trans. It's not going to stop kids from being nonbinary. Not only is it immoral because my body is being controlled by someone who doesn't know our experiences, but it's illogical," said Mycheal, a nonbinary teen who participated in the call. "There's no sense in it. Just let us be teenagers..."
Friday, the White House held a second convening of LGBTQ leaders from across Florida to hear more about how the rhetoric and policy from Tallahassee is attacking the LGBTQ community. These leaders were joined by White House Director of Intergovernmental Affairs and Deputy Assistant to President Biden, Julie Rodriguez.
"Meeting participants expressed the pain and anguish they have felt in recent months and years and detailed the hurt caused by being targeted by their own state's elected officials," a White House spokesperson said. "They also described the courage that many transgender youth and their families have shown advocating for equal rights and fair treatment. White House staff conveyed to the Floridians gathered that the President is on their side and will continue fighting until we reach full equality for all Americans, including the LGBTQI+ community in Florida."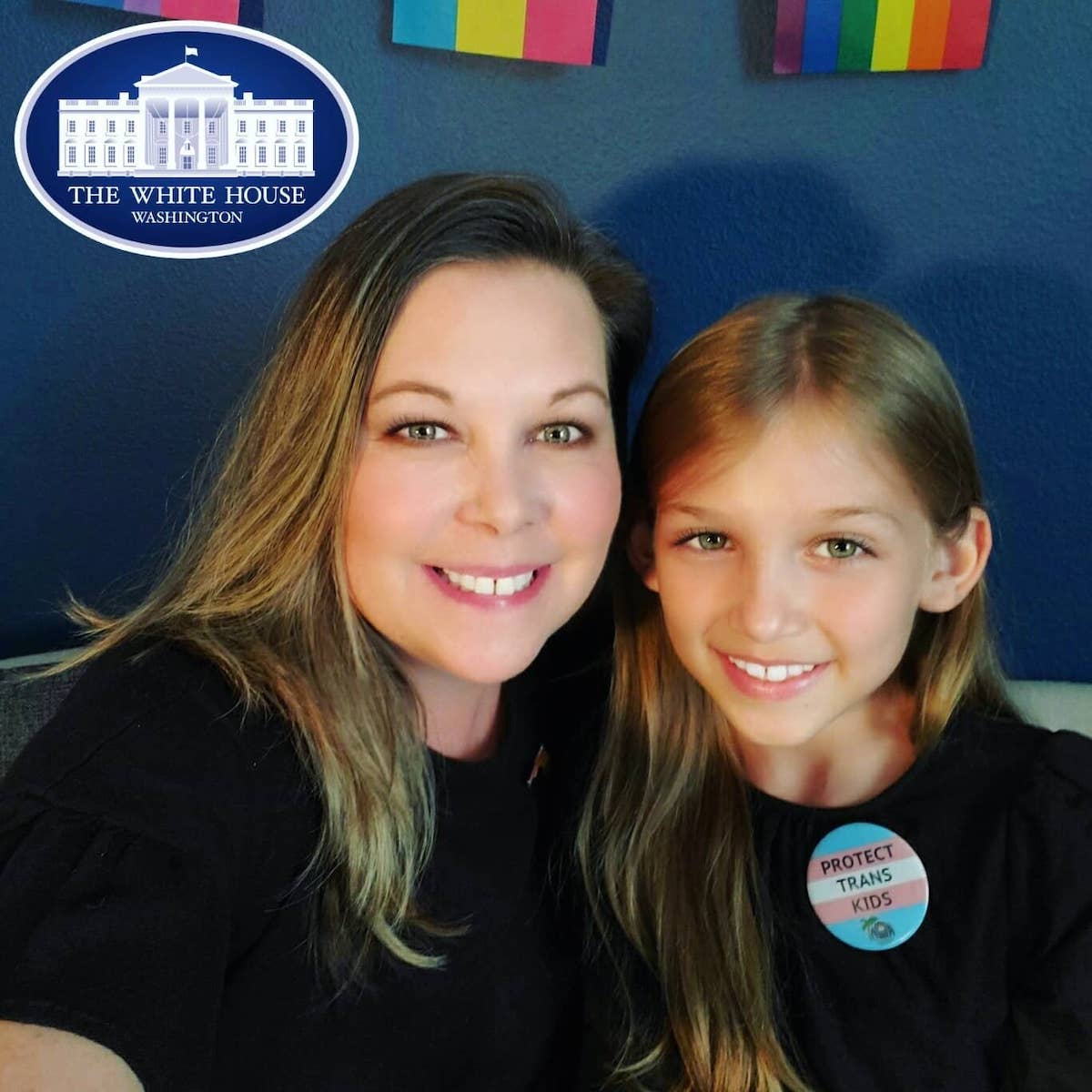 (Jaime and her daughter Dempsey during the White House convening)
Defeating the dangerous and deceptive transgender youth medical care ban in the 2022 Legislative Session is Equality Florida's top priority.
"We've heard powerful stories this week about how the toxic rhetoric and lies about transgender youth coming from the state capitol are affecting the families of our most vulnerable youth," said Joe Saunders Equality Florida Senior Political Director. "We heard in detail about how these messages are getting absorbed in the community and are being reflected back on our trans youth. We heard about how much less safe our trans youth and their families feel. We're grateful to the Biden Administration for bringing people together to listen and learn. We all need to be pushing back on the toxic culture war politics in Tallahassee. When Floridians learn who these families really are, not the dehumanizing caricatures we hear from Tallahassee, hearts and minds change."
LGBTQ leaders in Florida who participated in Friday's call with the White House included:
State Senator Shevrin Jones - Senate District 35
State Representative Michelle Rayner-Goolsby - House District 70
Nadine Smith - Executive Director, Equality Florida
Stratton Pollitzer - Deputy Director, Equality Florida
Joe Saunders - Senior Political Director, Equality Florida
Nikole Parker - Director of Transgender Equality, Equality Florida
Victor Herman-Diaz - Executive Director, Pridelines
Elizabeth Schwartz - Family Law Attorney
Ashley Figueroa - Founder, Executive Director of the Gender Advancement Project (GAP)
Pauline Green - Executive Director, The Alliance for GLBTQ Youth
Scott McCoy - Attorney, Southern Poverty Law Center
Nathan Bruemmer - LGBTQ Advocate, Florida Department of Agriculture and Consumer Services
Tobias Packer - Co-Founder, Trans Collaborative Network
Cindy Wilker - President, LGBTQ+ Center of Bay County
Stephen Gaskill - President, Florida LGBTQ Democratic Caucus
Simone Chriss - Attorney, Southern Legal Counsel
Additional Resources:
A Deeper Look At Florida's Transgender Youth Medical Care Ban Legislation