South Florida Update: Fort Lauderdale and Miami Dade make progress, Rep. Shevrin Jones honored, and South FL staff grows
There are BIG things happening in South Florida for our LGBTQ community and for your statewide LGBTQ rights organization! Equality Florida is thrilled to highlight two key local policy victories, announce the recognition of a champion LGBTQ legislator and share the good news about how our staff is growing. We hope you take pride in this EQFL update which your support has made possible.
Miami-Dade County LGBTQ Advisory Board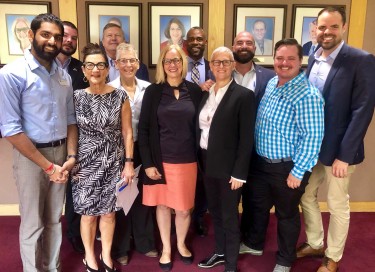 By a unanimous vote, an ordinance sponsored by LGBTQ champion, Commissioner Eileen Higgins, passed committee yesterday and will head to the full county commission for a final vote in October! With the help of a coalition of over a dozen Miami-Dade LGBTQ organizations, Equality Florida helped to advance an ordinance that will establish the first codified Miami-Dade LGBTQ Advisory Board in Florida's largest county. When created, this board will serve as a critical resource for the County Commission and Mayor,ensuring our community has a seat at the table in critical conversations about budget, policy and the county's economic growth. The final vote before the full Board of County Commissioners will be in late October - stay tuned for updates and ways you can help! Share this news!
Fort Lauderdale LGBTQ Ordinance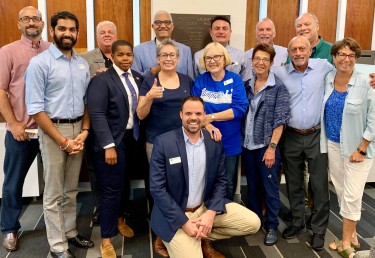 Equality Florida has been working for months with leaders in the City of Fort Lauderdale, including Mayor Dean Trentalis, Commissioner Steve Glassman, and Commissioner Ben Sorensen, to advance LGBTQ protections in Broward County's largest city. Yesterday's vote establishes the commissions commitment to advance an ordinance outlawing the barbaric practice of so-called 'conversion, therapy' on minors, affirming a commitment to LGBTQ families in domestic partnership, and a commitment to advancing a citywide human rights ordinance banning discrimination against our LGBTQ community in the areas of public accommodations, housing, and employment. These victories strengthen the protections our LGBTQ community has in Broward County and are an historic move for one of Florida's most important cities. Stay tuned for updates on how you can help to ensure this ordinance successfully passes at the final vote of the Fort Lauderdale Commission! Share this news!
Equality Florida Honors Rep. Shevrin Jones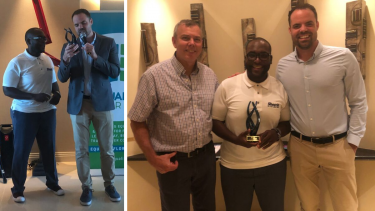 On Tuesday of this week, Equality Florida recognized Broward State House Representative Shevrin Jones with a "Legislative Leadership" award, our highest honor for elected officials, for his years of work and support on LGBTQ rights. As one of only three out LGBTQ members of the Florida legislature, Rep. Jones has been a a proud co-sponsor of the Florida Competitive Workforce Act, and an unflinching advocate for civil rights, LGBTQ rights, and the rights of all marginalized people.
Equality Florida South Florida Staff Expands to 10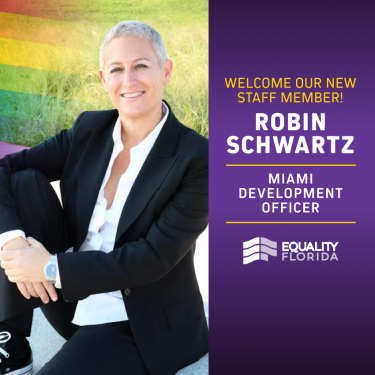 Equality Florida is proud to announce longtime LGBTQ advocate Robin Schwartz has joined our South Florida staff as the new Miami Development Officer where she will lead efforts including fundraising, serving as the liaison between Equality Florida and the Miami community, and producing events to spread awareness and support of Equality Florida's work. Robin is one of the most experienced and effective leaders in South Florida's LGBTQ community. She is a co-founder of Aqua Foundation for Women and is also chair of the LGBTQ Advisory Committee of Miami Beach. She has served as a committee member of the GLBTQ Projects Fund at the Miami Foundation and vice chair of Miami Beach Pride's Board.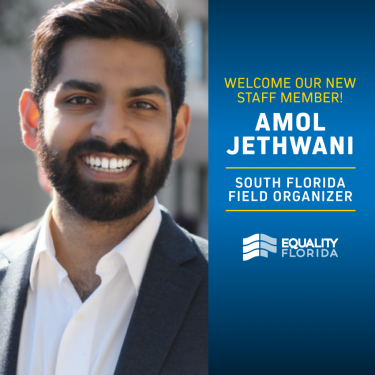 Also joining the South Florida staff is Shreyas Amol Jethwani who will serve as South Florida field organizer where he will oversee the execution of local policy campaigns, electoral engagement, and community coalition building for Equality Florida in South Florida. No stranger to politics, Amol is a former candidate for The Florida House of Representatives, a seasoned organizer, and was awarded the 2017-18 Spirit of the Florida College Democrats for his University of Florida campus initiatives. In 2018 he served on the campaign for Nikki Fried for Commissioner of Agriculture and Consumer Services, and later joined our team as our Municipal Campaign Organizer.
With 35 staff spread across 9 Florida cities and 320,000 members and volunteers, Equality Florida is the largest state-based LGBTQ advocacy organization in the country.
Sign Up for our activist trainings in Broward and Miami-Dade!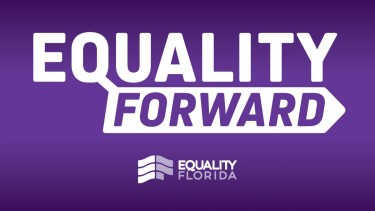 Equality Florida is proud to be fighting to advance protections for our LGBTQ community here in South Florida and across the state! We win when we organize. Come learn how you can tap into the fight!
Next weekend we will be hosting two Equality Forward Trainings in Broward County on 9/21/19 and in Miami on 9/22/19. This is an incredible opportunity to learn key tools to fight for equality at the local and state level through organizing and advocacy work!