Equality Florida Unveils New Logo In Celebration Of 20th Anniversary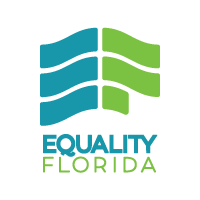 Equality Florida Unveils New Logo In Celebration Of 20th Anniversary
(ST. PETERSBURG, FL) - Equality Florida today unveiled a new logo celebrating the organization's 20th Anniversary. The state's largest lesbian, gay, bisexual, and transgender (LGBTQ) civil rights organization launched the new logo to reflect the future of organizing in a state poised to lead the South in creating a welcoming and inclusive place to live, work and visit. 
"We are relaunching Equality Florida's brand as a celebration of our 20th Anniversary, but it is also a reflection of the influence our organization has on a multitude of issues that affect the LGBTQ community," stated Stratton Pollitzer, Equality Florida's Deputy Director. "Equality Florida has grown into one of the largest LGBTQ advocacy group in the country doing this work at the state level which is a testament to Florida's strategic importance." 
Over the past two decades, Equality Florida has been uniquely positioned to repeatedly lead the South in the advancement of equality for the LGBTQ community, reversing Florida's long ugly history of anti-LGBTQ bigotry. With a new logo and a focus on securing Florida's place as a magnet for diverse talent, and a place that is welcoming to all people, Equality Florida is charting a path forward beyond marriage equality. 
"Florida has been a trailblazer in the South and we believe that our state can lead the way when it comes to legal protection, safe schools, confronting hate violence and ending the obstacles to equality and justice of LGBTQ people in this bellwether state," said Nadine Smith, CEO of Equality Florida. "Marriage equality was a watershed moment, but the reality is it is far from the most important protection for our community. We must secure the ability to work without discrimination, access public accommodations without harassment, go to a school that respects the dignity of all students, and end the disproportionate targeting of our community for hate violence.
The new look and focus on equity, as well as equality, will spotlight Florida as a key player in securing LGBTQ equality not only in the South but nationwide.
Founded in 1997, Equality Florida has been a force for change, building bipartisan coalitions and carving out victories for LGBTQ equality in a challenging political climate. Under Equality Florida's watch, marriage equality was won in Florida, the ban on gay and lesbian adoption was repealed, more than 170 pro-LGBTQ local policies have been passed, and over two million students have been protected from anti-LGBTQ bullying. 
Since the organization's founding, there has been a seismic shift in public opinion and unprecedented levels of support from the business community and both Democratic and Republican lawmakers for statewide LGBTQ protections. Currently, 60% of Floridians live in a municipality with local LGBTQ nondiscrimination protections. And during the 2017 Florida legislative session, a record-breaking 71 co-sponsors in both the House and Senate signed on in support of the bipartisan statewide LGBTQ nondiscrimination bill, the Florida Competitive Workforce Act.
In addition to securing statewide protections, Equality Florida's top priorities include:
Ensuring support for LGBTQ youth through our Safe & Healthy Schools Project

Advancing Transgender Equality through our TransAction Florida Initiative

Continuing to honor those who died in the Pulse Massacre by uprooting hatred and challenging anti-LGBTQ bigotry

 in any form
Equality Florida has also been a go-to resource for LGBTQ groups across the nation for several years. Multiple organizations have replicated Equality Florida's ground-breaking programs, including Equality Means Business, an initiative which has been fundamental in gathering support from the business community for statewide LGBTQ protections, and TransAction Florida, which continues to raise the voices and increases the visibility of transgender Floridians across the state. 
"In unveiling our logo, we want to invite all fair-minded Floridians to stand with us until no person, young or older, from any corner of our state, ever faces persecution or discrimination because of their sexual orientation or gender identity or expression," added Pollitzer.
Additional Resources: 
View Equality Florida's Media Kit here: www.equalityflorida.org/press_kit