Jason Brodeur's Anti-LGBTQ Record Prompts Florida's Largest LGBTQ PAC To Set the Record Straight with $125,000 Ad Campaign

Jason Brodeur's Anti-LGBTQ Record Prompts Florida's Largest LGBTQ PAC To Set the Record Straight with $125,000 Ad Campaign
Orlando, Fla - As a state legislator, Jason Brodeur spent his career attacking LGBTQ families. In 2015, he sponsored a bill that would have allowed adoption agencies funded by the state to discriminate against gay and lesbian couples, effectively reinstating Florida's ban on adoption by gay parents. Though it failed in the Senate, Jason Brodeur made clear he'd rather deny children forever homes than see them placed with loving gay and lesbian couples. Now, with less than a month until Election Day, Brodeur is trying to rewrite history. Today Equality Florida Action PAC - the state's largest LGBTQ PAC dedicated to electing pro-equality champions - announced it will spend an unprecedented $125,000 to remind 130,000 voters in Florida Senate District 9 of Jason Brodeur's anti-LGBTQ record. The direct mail and digital program features the voices of voters with a stake in the election - an LGBTQ couple and adoption agency professional who live and work in Senate District 9.
"Not only did Jason Brodeur try to bring back Florida's ban on gay and lesbian adoptions, now he's trying to rewrite history," said Joe Saunders, Senior Political Director for Equality Florida. "But Jason Brodeur can't reinvent his record for an election. We're investing $125,000 into educating 130,000 voters in Senate District 9 about the truth of Brodeur's extreme record. Every chance he's had, he's sided with radical far-right interests over equality and fairness - even when it meant putting discrimination above the best interests of children in foster care."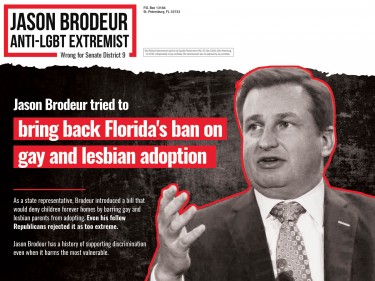 "Brodeur's ban on LGBTQ adoptions is not just doing harm to our community by openly discriminating against us, it's also harming the children who need a forever home," said Tatiana Quiroga and Jennifer West, residents of Longwood and mothers of 4 and 8-year-old boys who are featured in the Equality Florida Action PAC ads.
"Jason Broduer's adoption discrimination bill was blatant discrimination that targeted gay and lesbian families because of who they are. It put his own prejudices above what's best for a family and a child," said Margot Logan, adoption agency professional who lives in Oviedo and is also featured in an ad.
For more than 30 years, Florida was the only state in the country with laws banning adoption by gay and lesbian parents. In 2010, state courts overturned the ban on constitutional grounds. Polls of Florida voters show 79% support same-sex couples having the same adoption rights as opposite-sex couples and support nondiscrimination protections for the LGBTQ community by 68%.
###
Equality Florida Action PAC is the largest organization in Florida devoted to electing pro-equality candidates to all levels of government. Through mobilization, advocacy and education we engage and turn out pro-equality voters in Florida in support of LGBTQ and pro-equality candidates.
Paid Political Advertisement paid for by Equality Florida Action PAC, P.O. Box 13194, Saint Petersburg, FL 33733, independently of any candidate. This advertisement was not approved by any candidate.