BLOG: 2022 Preemption Bills Threaten LGBTQ Protections
Florida's legislative session has often been called "the most dangerous 60 days" in our state. And for almost 25 years, Equality Florida has been on the front lines protecting our community from bad ideas coming out of Tallahassee. One of the dangers we've seen pushed year after year is "preemption" - the state barring local governments from making decisions about what's right for their communities, including protecting the LGBTQ community from discrimination. Where Tallahassee has failed, Florida's cities have been championing these discrimination protections. But several new preemption bills for the 2022 Legislative Session are once again threatening local governments' ability to enact LGBTQ protections and have the potential to unravel all we've worked toward and make Florida less safe for everyone.
This year Orlando, St. Petersburg, Tampa, Fort Lauderdale, Hollywood, Oakland Park, Tallahassee, Wellington, West Palm Beach and Wilton Manors each received a perfect score of 100 in the Human Rights Campaign's Municipal Equality Index. The score examines how inclusive municipal laws, policies and services are for LGBTQ people. These are critical measures that protect our health, safety, and welfare. Now these protections are once again at risk.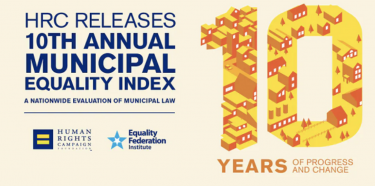 Two bills currently being considered in the 2022 Legislative Session threaten a wide swath of new local ordinances, including pro-LGBTQ ordinances. These bills are SB 280/HB 403 "Local Ordinances" by Rep. Giallombardo, Sen. Hutson and SB 620/HB 569 "Business Damages Caused by Local Governments" by Rep. McClure and Sen. Hutson.
Both of these bills center on undermining local governance and have the potential to make it more difficult to adopt, modify, or defend local policies. This is a concern for the LGBTQ community because while we may not be the target, they may be obstacles to protections for our community like Human Rights Ordinances and conversion therapy bans.
Conversion therapy is is a debunked practice that purports to change a person's sexual orientation or gender identity. Not only is it ineffective in actually changing a person's sexual orientation or gender identity, it puts LGBTQ youth and their families at risk. We know that these sort of local protections banning conversion therapy are critically important because research has shown that lesbian, gay, and bisexual young adults who reported higher levels of family rejection during adolescence are more than 8 times more likely to report having attempted suicide, 5 times more likely to report high levels of depression, and 3 times more likely to use illegal drugs than their peers. The stakes could not be higher for defending bans on this fraudulent and dangerous practice.
As an organization, we strongly believe that local governments should be able to enact ordinances that serve and protect their communities and that it's important to have these sort of protections at all levels of government. 
We are monitoring these preemption bills closely as we enter the 2022 Legislative Session. Click here to see Equality Florida's Full 2022 Legislative Slate.