Great Strides Made During 2019 Legislative Session
Tremendous Strides Made and Enduring Challenges Remain for our LGBTQ Community in the 2019 Legislative Session
By Joe Saunders, Equality Florida Senior Political Director
Florida's legislative session has been called "the 60 most dangerous days of the year" and 2019 has been no exception. We've seen extreme legislation pass but we've also celebrated some incredible victories and historic progress as well.
By session's end this month, Florida legislators had passed bills to vilify immigrants; put guns in classrooms by arming teachers; and limit Floridians' access to democracy, including voting rights. At the same time, we emerged from the session with unprecedented bipartisan support for adding LGBTQ protections to civil rights laws, made enormous progress on top priorities like updating Florida's HIV laws, and helped secure funding for a Pulse memorial. Most importantly, we blocked passage of bills that threatened to repeal hard-won local nondiscrimination protections.
In fact, for over twenty years, Equality Florida has been defeating a wide array of bad legislation and gaining ground toward statewide equality. We have been the voice of our LGBTQ community in the state Capitol and in that time we have seen tremendous progress in shifting the culture, educating policymakers, and defeating measures that would do our community harm. This year's legislative session was one of our most ambitious, and included one of the broadest legislative programs we've ever had, from advocating for fully inclusive and comprehensive civil rights laws, to banning conversion therapy, to decriminalizing the lives of people living with HIV, to advocating for abortion rights and personal autonomy in healthcare, to fighting for common sense gun safety reforms in the wake of Pulse and Parkland, to pushing back on anti-LGBTQ and anti-immigrant fear mongering. There was unprecedented progress on our top legislative priorities and Equality Florida's record of defeating or neutralizing every anti-LGBTQ bill remains intact.
Within a week of the start of the 2019 legislative session Equality Florida launched its annual Lobby Days program. More than one hundred grassroots activists packed the Capitol and spent two days talking face-to-face with legislators and sharing personal stories. At home, hundreds of Equality Florida members participated electronically via the Equality Florida Virtual Lobby Days program.
The importance of our grassroots lobbyists cannot be overstated. In addition to helping secure 74 cosponsors for the Florida Competitive Workforce Act, they gained 5 new sponsors for the legislation banning conversion therapy on minors, and rallied unprecedented support for legislation that would finally update Florida's outdated and dehumanizing HIV laws.
Below is a breakdown of all the legislation Equality Florida worked to pass and defeat in 2019. Session comes early next year, and with your support we will be ready to push our legislation forward and win full equality in Florida--nothing more and nothing less.
Bill Summaries: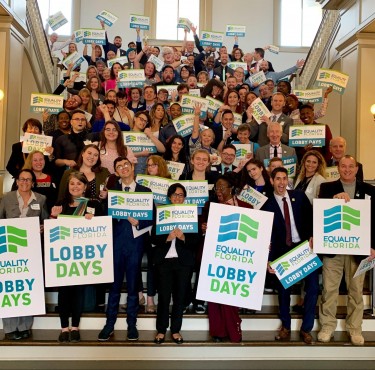 Equality Florida was visible in every corner of the Capitol, projecting a strong message about the political strength of the LGBTQ community!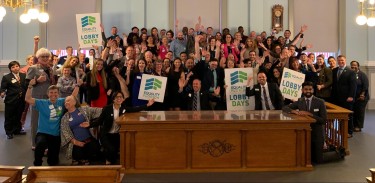 Civil Rights Protections:
The Florida Competitive Workforce Act (FCWA) which would add sexual orientation and gender identity to Florida's civil rights statutes emerged as one of the most cosponsored bills this session. Filed this year by Florida's first out lesbian lawmaker Jennifer Webb (D - St. Petersburg), and Jackie Toledo (R - Tampa) in the House and by Darryl Rouson (D - St. Petersburg) in the Senate, the Florida Competitive Workforce Act would protect the LGBTQ community from discrimination in housing, employment and public accommodations. In short it provides the same protections against discrimination as every other Floridian.
By the close of session, 74 legislative cosponsors had signed on to the Florida Competitive Workforce Act - the most in the history of the bill. In the Florida House where 61 votes are needed to pass legislation, we secured 57 FCWA cosponsors with a dozen more Representatives pledging a vote in support. In the Florida Senate, where 21 votes are needed to pass, 17 Senators are FCWA cosponsors in 2019. It has never been more clear that we have the votes to prevail.
Another complication emerged this session. An employment-only bill was introduced that carves the LGBTQ community out of the protections in the Florida Civil Rights Act related to housing and public accommodations providing only 1/3rd of the protections afforded other Floridians. Supporters of the the bill argue it was introduced as a way of making protections more palatable to those who oppose full equality. Within days of its introduction this bill and strategy were opposed by national, state and local LGBTQ legal and advocacy groups, including Equality Florida.
Not only did this limited bill fail to move but it drew only a handful of cosponsors and failed to garner support from any member of the Legislature who wasn't already a supporter of comprehensive and fully inclusive protections (FCWA). We will continue to oppose legislation that designates LGBTQ people as separate, unequal and less worthy of equal protection than our fellow Floridians. We have never been closer to victory and we cannot back down from fighting for full equality. This is not the time to divide ourselves. Now is the moment to stand together and bring unprecedented pressure on the leadership in the House and Senate who refused to hear any legislation addressing discrimination against our community.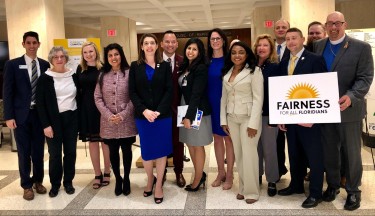 Equality Florida Policy Director Jon Harris Maurer stands alongside FCWA Bill Sponsor Rep. Jennifer Webb (D-St. Petersburg) and Primary Cosponsor Rep. Jackie Toledo (R-Tampa) are joined by cosponsors Sen. Jose Javier Rodriguez (D-Miami) and Reps. Amber Mariano (R-Port Richey), Carlos Guillermo Smith (D-Winter Park), Anna Eskamani (D-Orlando), Tina Polsky (D-Boca Raton), Sam Killebrew (R-Winter Haven), Dotie Joseph (D-Miami), Joy Goff-Marcil (D-Maitland), Adam Hattersley (D-Brandon), and business and faith community leaders supporting FCWA.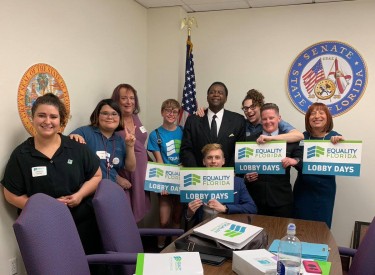 Grassroots activists thank Sen. Perry Thurston (D-Ft. Lauderdale) for FCWA cosponsoring the FCWA.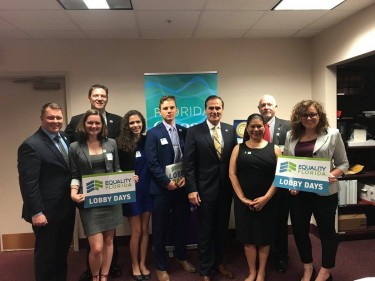 Rep. Mike Caruso (R-Boca Raton), an FCWA cosponsor, meets with grassroots activists.
 
Anti-LGBTQ Preemption Bills:
A preemption is a type of state law that takes powers currently afforded local cities and counties and preempts it to the state - effectively they repeal laws that have been passed at the local level. Early in the 2019 session preemption legislation emerged that could have been devastating for our community. HB 3 threatened to undo twenty years of local nondiscrimination ordinances that protect 13 million Floridians. Every nondiscrimination ordinance in Florida could have been repealed by this legislation in addition to dozens of local bans on conversion therapy and even our state's local equal benefits ordinances. Our top defensive priority was killing this bad bill. As part of our strategy, and in partnership with the Human Rights Campaign, we hosted a first of its kind press conference including all three members of the Florida LGBTQ legislative caucus (Rep. Shevrin Jones, Rep. Carlos Guillermo Smith, and Rep. Jennifer Webb) drawing national attention to the dangers of House Bill 3. Thanks to grassroots activists, our LGBTQ elected legislators and our partners, all anti-LGBTQ provisions in HB 3 were stripped from the bill and it's Senate companion.
Two similar bills, HB 847 and SB 432, also threatened local LGBTQ protections. As with HB 3, we worked with industry leaders and legislative allies to remove provisions that threatened our community.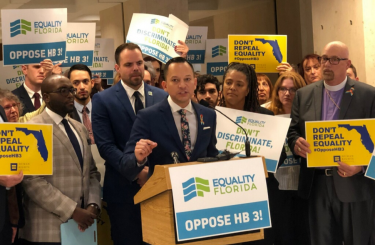 Rep. Carlos Guillermo Smith (D-Winter Park) warns of House Bill 3's risks, flanked by Rep. Shevrin Jones (D-West Park), former Rep. Joe Saunders, Equality Florida CEO Nadine Smith, Rep. Jennifer Webb (D-St. Petersburg), faith leaders, and Equality Florida staff and supporters.
Pulse Memorial:
This year Equality Florida fought for and won a major victory in Florida's $90 billion state budget. Working closely with pro-LGBTQ champions Sen. Linda Stewart (D - Orlando), Rep. Holly Raschein (R - Key West), Rep. Carlos Guillermo Smith (D - Orlando), and Rep. Anna Eskamani (D - Orlando) the Legislature ultimately approved $500,000 in funding for the OnePulse Foundation in support of a memorial to the Pulse tragedy. The memorial will be built on the land currently housing the Pulse nightclub. This is the first expenditure of its kind to support an LGBTQ cultural institution and one of the largest public investments made to the Pulse memorial project.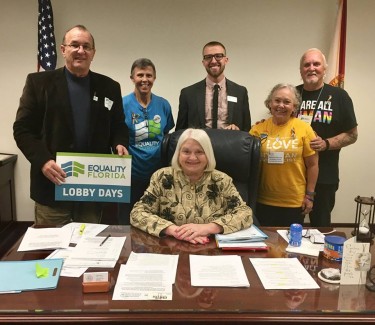 Sen. Linda Stewart (D-Orlando) meets with grassroots advocates to discuss Pulse Memorial funding and the importance of banning conversion therapy.
HIV & Criminal Justice Reform Bills:
HB 79 by Rep. Nick Duran (D- Miami) and SB 846 by Sen. Jason Pizzo (D - Miami Beach) are bills that would finally update Florida's archaic and punitive laws that criminalize the experiences of people living with HIV and perpetuate stigma. As part of the Florida HIV Justice Coalition, Equality Florida led the legislative work this session to advance reforms to our outdated statutes and bring Florida into alignment with modern HIV science. Our call was clear - it's time to update criminal laws that put Floridians living with HIV at risk.
With the help of our partner the Sero Project, we brought dozens of advocates living with HIV to the Capitol to share their stories and educate lawmakers. HIV modernization legislation passed two House committees and a powerful Senate committee with strong bipartisan support. We've gained great momentum for this bill and look forward to working with our coalition partners to build on this unprecedented momentum next year.

HIV advocates including Equality Florida's Alejandro Acosta (center) testify in support of HIV Modernization, as the bill passes its first ever House committee hearing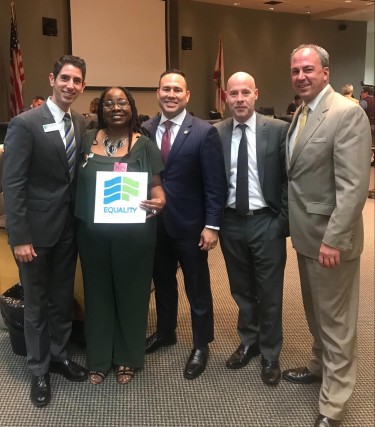 Bill sponsors Representative Nick Duran (D-Miami) and Representative Evan Jenne (D-Hollywood) celebrate with HIV advocates after the bill passes its second House committee
One of the bright spots of this legislative session was passage of Equality Florida supported legislation known as the Dignity for Incarcerated Women Act (HB 49 and SB 332). Sponsored by openly LGBTQ lawmaker Rep. Shevrin Jones (D - West Park), Rep. Amy Mercado (D - Orlando), and Sen. Jason Pizzo (D - Miami Beach), the legislation seeks to decrease abuse and increase access to basic hygiene and reproductive healthcare supplies in women's correctional facilities. Lesbian, gay, bisexual and transgender women make up a disproportionately large percentage of the incarcerated women in Florida and they deserve access to basic hygiene products. This year the legislation earned incredible bipartisan support, passing both chambers with support from the vast majority of legislators and earning the signature of the Governor. Congratulations to Rep. Jones, Rep. Mercado and Sen. Pizzo on this momentous victory for women in Florida.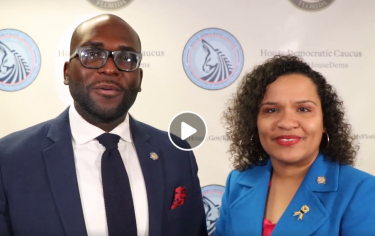 Representative Shevrin Jones (D-West Park) & Representative Amy Mercado (D-Orlando) explain the Dignity for Incarcerated Women Act
The Infection Disease Elimination Act (IDEA): Filed by Reps. Shevrin Jones and Rene Plasencia, and Sen. Oscar Braynon this bill expands a pilot program for clean needle and syringe exchanges that proved effective in reducing opioid deaths and overdoses, and helped reduce transmission of HIV, viral hepatitis, and other blood-borne diseases. Equality Florida supported this bill, which after making increasing progress over several years, passed this year. We congratulate Rep. Shevrin Jones (D-West Park), Rep. Rene "Coach P" Plasencia (R-Titusville), and Sen. Oscar Braynon (D-Miami Gardens) on their success.
Reproductive Freedom Bills:
The movements for LGBTQ equality and reproductive freedom share deep and foundational principles. Legal victories protecting birth control and abortion are the foundation for LGBTQ legal victories as well. Freedom from government intrusion into our personal lives, the right to intimate decision-making, and autonomy over our bodies are cornerstones of both of these causes in common. Equality Florida, as a founding member of the Floridians for Reproductive Freedom coalition, worked this year with reproductive freedom advocates in the Capitol to advance a vision of Florida where all Floridians have control over their own bodies, relationships, and health care.
HB 1335 by Rep. Erin Grall and SB 1774 by Sen. Kelli Stargel, known as the "forced parental consent" bills, would have forced teens to obtain parental consent prior to receiving an abortion, regardless of circumstance. We know that most teens already do consult with their parents, and that if they don't, there's often a good reason. That's why leading health and medical professionals oppose such laws. It's why Equality Florida staff, interns, supporters, and TransAction members from all across the state joined our partners in opposing these bills in Tallahassee. We stood up for women in the face of protesters and attacks. Though the bill passed the House despite wide objections from pro-choice leaders, it ultimately died in the Florida Senate. Other efforts to restrict abortion rights in Florida were introduced and opposed by Equality Florida but were never heard in committee.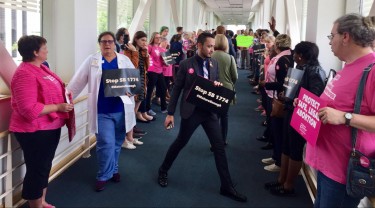 Opponents to the Parental Consent bill, including Equality Florida team members, line the halls outside of a committee hearing.
Gun Violence Prevention Bills:
In the wake of the Pulse massacre in Orlando, Equality Florida committed to honor with action the 49 lives lost by advocating for common sense gun violence prevention. We know that discrimination against the LGBTQ community can be lethal, and gun violence is a civil rights issue that disproportionately impacts minority communities. As a founding member of the Florida Coalition to Prevent Gun Violence, we now stand with the students and families of Parkland, as they similarly seek common sense gun safety reform.
Equality Florida, students, parents, teachers and many others spoke against the serious risks of SB 7030 and HB 7093, the so-called School Safety bills, that allow for the arming of classroom teachers. Unfortunately, despite our best efforts, the bills passed and were ultimately signed by Governor DeSantis.
As we have each year, Equality Florida supported legislation banning assault weapons and a bill to expand background checks by closing the "gun show loophole." Neither received a hearing in 2019.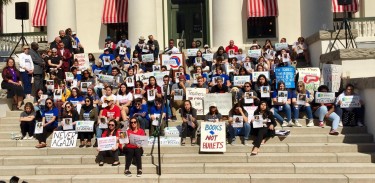 March for Our Lives students from around the state organized at the Capitol with the Florida Coalition to Prevent Gun Violence to oppose arming classroom teachers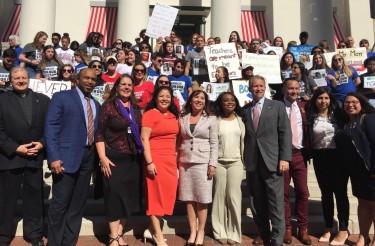 Sens. Bobby Powell (D-West Palm Beach) and Lori Berman (D-Boynton Beach), and Reps. Susan Valdes (D-Tampa), Cindy Polo (D-Hialeah Gardens), Dotie Joseph (D-Miami), Michael Gottlieb (D-Plantation), Carlos Guillermo Smith (D-Winter Park), and Anna Eskamani (D-Orlando) join March for Our Lives students and the Florida Coalition to Prevent Gun Violence to oppose arming teachers
Several other bills were supported by Equality Florida this session including:
Hate Crime Expansion: Although hate crimes laws send an important message about community values, and hate-motivated violence disproportionately targets transgender people, especially transgender women of color, The Florida Legislature missed an opportunity to expand existing hate crimes law to include those based on gender or gender identity.
Conversion Therapy Ban: Banning of so-called "conversion therapy" is growing momentum in cities and counties throughout Florida. It is a fraudulent practice that inflicts immeasurable harm on its victims, and has been widely debunked. As sponsor Representative Grieco explained at a Capitol press conference, it's time for Florida to join the 16 states, D.C., and Puerto Rico in banning conversion therapy on minors by licensed mental health professionals, however, the bill failed to receive a hearing this year.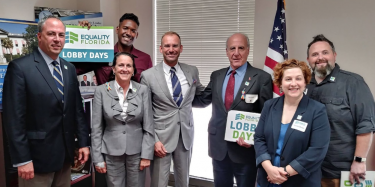 Grassroots activists meet with Conversion Therapy Ban sponsor Rep. Michael Grieco (D-North Bay Village).
Marriage Ban Repeal: Despite the passage of marriage equality in Florida in January 2015, and throughout the United States in June 2015, an outdated ban on same-sex marriages remains in Florida's statutes. A bill proposing a repeal of the ban and another unconstitutional law that defines marriage between only a man and a woman did not receive a hearing in 2019. See our press conference on the bills here.