EQUALITY FLORIDA HONORED AS 2014 TOP-RATED NONPROFIT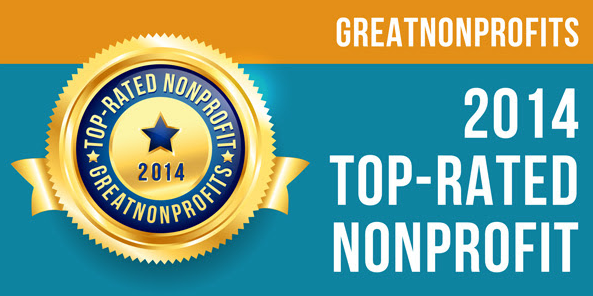 Great Nonprofits, the leading provider of user reviews about nonprofit organizations, has announced that it has honored Equality with a prestigious "2014 Top-Rated" Award. With more than 170,000 reviews, Great Nonprofits represents the largest database of first-person reviews about nonprofit organizations ever assembled.
Founded in 2007, Great Nonprofits is the leading provider of reviews and ratings of nonprofit organizations throughout the U.S. Currently, users can rate more than 1.8 million nonprofits directly on their website or partner sites, such as JustGive, GuideStar and GlobalGiving.
"We are honored to be included among some of the most respected and admired non-profit organizations in the nation," said Nadine Smith, CEO of Equality Florida. "Since our founding in 1997, we have always strived to maintain absolute transparency and integrity in our work and thank our supporters for believing in us."
In addition to the Top-Rated status on GreatNonProfits.org, Equality Florida is also rated as "Gold" on the Guidestar Exchange.
"Savvy donors want to see the impact of their donations," said Perla Ni, CEO of Great Nonprofits, "People with direct experience with Equality Florida have voted that the organization is making a real difference."
Being on the Top-Rated list provides donors and volunteers with confidence that Equality Florida is a credible, highly rated organization. The reviews provide a forum for volunteers, clients, donors and the community at large to recognize Equality Florida's consistent level of accomplishments.
About GreatNonprofits
GreatNonprofits is the leading site for donors and volunteers to find reviews and ratings of nonprofits. Reviews on the site influence 30 million donation decisions a year. Visit www.greatnonprofits.org for more information.
About Equality Florida
Equality Florida is the largest civil rights organization dedicated to securing full equality for Florida's lesbian, gay, bisexual and transgender community. www.eqfl.org