Meet the Interns: Destiny Jones
Meet the Interns: Destiny Jones
(St. Pete Office)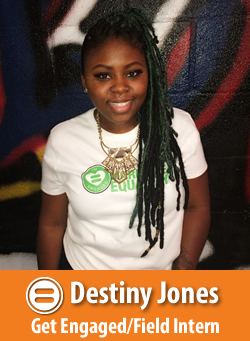 1. Tell us a little about yourself...
My name is Destiny Jones (soon to be Robey) and I am a 25 year old veteran and one-half of this lesbian mother's power team. Me and my partner Dameka have an 8 year old son. I grew up baptist, were in almost every church, my father was always a deacon or a reverend. Unfortunately, in the house there was alot of abuse and turmoil. Growing up, dance was always my outlet, which allowed me to be very creative and free. I ventured into a lot of other avenues after graduating high school but now I am a college student, pursuing a degree in Business Marketing and will continue my education at the graduate level in Public Relations.
2. Why are you involved with LGBT activism?
Almost everyday when I meet someone new and began to have a conversation with them, I always receive a response along the lines of "I don't look like a lesbian." As we begin sharing stories and they begin asking questions, I'm always very open to sharing my life and similar things I have encountered. I realized over time that this was something I am very passionate about. I also started realizing I am able to help people understand that we as a group of LGBT people have common lives, and if some people had one person like me to help them understand that, the world would be a lot more peaceful.
3. Why did you want to intern at Equality Florida?
When I began searching for organizations and companies that I could see myself in long term, Human and Gay rights was the first thought that came to mind. Even though fashion is my first love, equality for all people always tops my list. I want to be able to help people like me find a voice in any situation or circumstance, have the courage to be who they are, and understand that unconditional love doesn't have limitations. I also wanted to stay informed on LGBT news and updates.
4. What are your plans after you graduate?
My plans are to open a Public Relations Firm, remain a advocate for LGBT rights, continue to help raise an emotionally healthy and successful son, and maybe one day have another child.
Stay tuned next week for the next blog post in our "Meet The Interns" series!