Equality Florida Applauds Nikki Fried for Historic LGBTQ Protections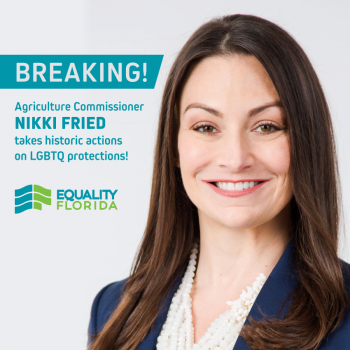 January 18, 2019 — Today Equality Florida applauds the historic announcement from Florida Commissioner of Agriculture and Consumer Protection Nikki Fried that personnel policies in her agency have been updated to include nondiscrimination protections on the basis of sexual orientation and gender identity. These critical protections both affirm the equality of LGBTQ employees and provide the agency with clear guidance on equitable practices in hiring, firing, and management.
In the past some members of the Cabinet, both Republican and Democratic, have extended nondiscrimination protections based on sexual orientation to employees. This marks the first time an agency has guaranteed protection based on both sexual orientation and gender identity - thereby extending protections to transgender employees. Following the massacre at Pulse nightclub, Equality Florida called on all state Cabinet members to extend protections to LGBTQ Floridians through executive action. Governor Rick Scott committed but failed to follow through on that commitment.
Earlier this month newly elected Governor Ron DeSantis issued an Executive Order establishing workplace nondiscrimination protections for Florida's state workers and contractors but failed to include LGBTQ employees in the order. This omission comes in stark contrast to the bipartisan cohort of Governors who have recently passed fully inclusive nondiscrimination executive orders in states like Kansas, Ohio, and Michigan. The lack of nondiscrimination protections also stands in contrast to Florida's largest employers and the vast majority of Fortune 500 companies, which extend LGBTQ nondiscrimination protections as standard practice.
Equality Florida Senior Political Director Joe Saunders issued the following statement in response:
"Equality Florida applauds Commissioner Nikki Fried for this historic step. Today's announcement marks the first time a member of Florida's Cabinet has provided protections on the basis of both sexual orientation and gender identity - policies that bring the agency up to par with Florida's leading Fortune 500 companies and largest employers. Not only are LGBTQ workplace protections common practice but they are supported by the vast majority of Floridians. We call on Governor Ron DeSantis, Attorney General Ashley Moody and Chief Financial Office Jimmy Patronis to join Commissioner Fried in extending these same protections to all state employees and contractors. Let's bring the Sunshine State into the sun. No one in Florida should be denied the chance to work because of who they are or who they love."