Equality Florida Mourns The Death of Londonn Moore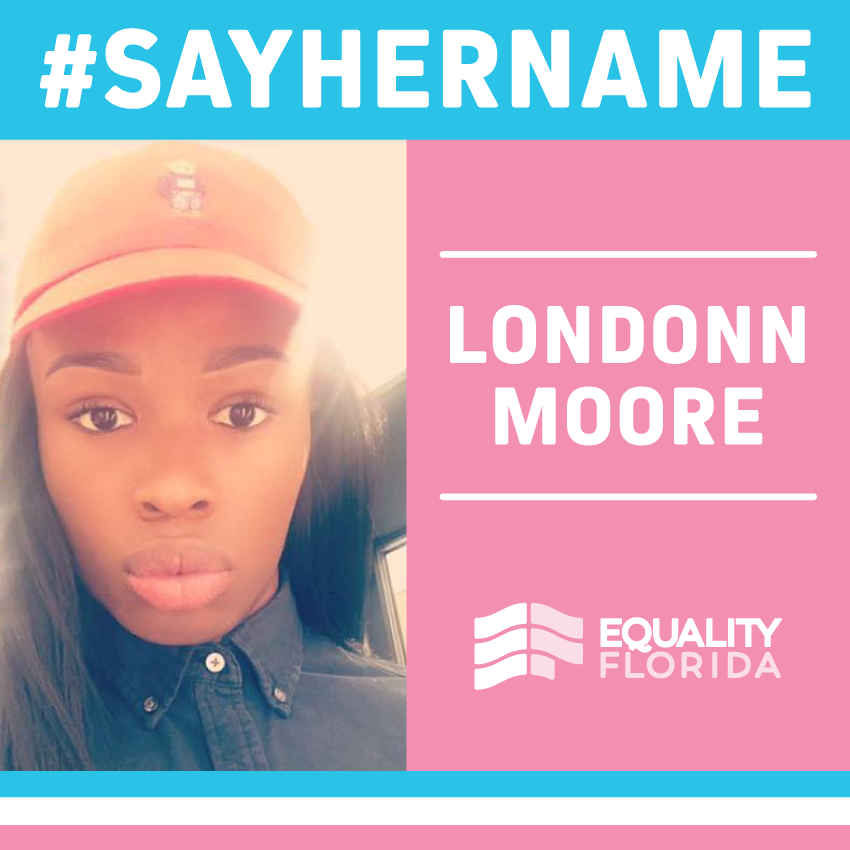 Nadine Smith, Executive Director, released the following statement on the recent murder of Londonn Moore:
Once again, we are mourning the tragic murder of a black transgender woman in Florida. Londonn Moore, a 20-year-old, was shot and her body left in a secluded area in North Port earlier this week.
We say her name alongside, Sasha Garden, Cathalina Christina James, Antash'a English, and Celine Walker and we confront this terrible fact: Their murders represent a quarter of all reported anti-transgender killings in the entire nation so far this year.
This terrifying rash of anti-transgender murders in Florida over a short period of time has spread fear throughout the transgender community.
Londonn is the twentieth transgender person murdered this year in the U.S. that we know of, and the fourteenth Black trans woman. Dejanay Stanton in Illinois, Vontashia Bell in Louisiana, and Shantee Tucker in Pennsylvania – all young Black trans women murdered in just the last two weeks.
This is a national epidemic that demands our leaders speak up, marshall resources and counter the hateful messages aimed at the transgender and gender non-conforming community that breeds indifference in the face of murder and discrimination.
Equality Florida has been working with transgender community activists to educate law enforcement and the media to stop misgendering the victims, which significantly hampers investigations.
When law enforcement disrespects the dead by refusing to even use their correct names, they breed an environment of mistrust and send a message to the community that these murders are not a priority. As a result, they are actually impeding their own investigations as people with information may also fear being disrespected or mistreated if they come forward.
More critically, we cannot help but notice the silence from the highest elected office. This is a tragedy that should horrify our elected leaders and spur action. We have specifically called on Governor Rick Scott to take action, marshall resources and draw attention to this rash of murders. So far, he has failed to respond or to lead but we are determined to see that these murders are not ignored.
Over the next few days, we're going to be calling on national organizations to elevate our calls in demanding urgent action. And once again, we'll be calling on Governor Scott to denounce the rise in anti-transgender violence and direct state law enforcement to assist in the murder investigations. This is a moment when our elected leaders cannot look the other way.