Equality Florida Action, Inc. Endorses Joe Biden For President
Equality Florida Action, Inc. Makes First-Ever Federal Endorsement, Backs Joe Biden for President
ST PETERSBURG, FL - For its 23-year history, Equality Florida Action, Inc. has fueled systemic change by remaining laser-focused on electing pro-equality champions to state and local government, refraining from making federal endorsements. But in the face of the existential threat posed by the Trump Administration and the potential for a Supreme Court nomination that endangers LGBTQ civil rights, the group is taking action. Following a unanimous vote by the organization's board of directors, Equality Florida Action, Inc. is endorsing Joe Biden in the race for President of the United States.
"Our endorsement of a Biden-Harris ticket is a testament to the grave stakes of this election," said Nadine Smith, Equality Florida Action, Inc. Executive Director. "The Trump-Pence Administration has been catastrophic for LGBTQ Americans, an onslaught of the brand of bigotry that Pence has become synonymous with. Giving them another four years in the Oval Office would put the most marginalized among us in danger and decimate the progress we've earned. The time is now to mobilize our community, turn out in record numbers, and elect a President who will shepherd the fight for full equality instead of wage war on it. The time is now to elect Joe Biden and we are ready to deliver him a win in Florida."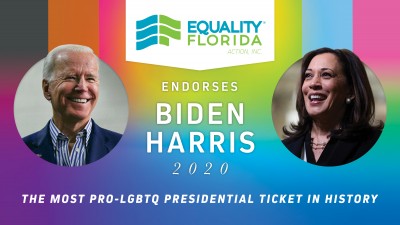 The historic endorsement comes as polls tighten in the state and focus intensifies on voting demographics that will determine the outcome on November 3. In June, Equality Florida Action, Inc. launched its largest voter mobilization program in organization history, targeting 500,000 pro-equality voters at risk of not casting a ballot. Via a sweeping digital campaign and grassroots Days of Action, Equality Florida Action, Inc. will look to draw a clear contrast for those voters between a Trump Administration that has assaulted LGBTQ equality and a Biden-Harris ticket that has committed to expanding protections for the community and would be the most pro-LGBTQ in history. In a state whose election outcomes live on a razor's edge, LGBTQ voters in Florida and their allies will determine the results on election night - and the country's course for generations to come.
"The choice could not be clearer or the election more consequential," explained Smith. "The country cannot withstand another four years of hate, bigotry, and an assault on the rights of all Americans to live authentically without fear of violence. In November, pro-equality voters in Florida will chart the path forward from this nightmare."
Volunteer to text/phone bank for Biden-Harris at: https://secure.everyaction.com/9d-7N5iS40edKbmM9GLgRg2
Paid for by Equality Florida Action, Inc., www.equalityflorida.org, and not authorized by any candidate or candidate's committee.
###
Equality Florida Action, Inc. is the largest civil rights organization dedicated to securing full equality for Florida's LGBTQ community. Through education, grassroots organizing, coalition building, and lobbying, we are changing Florida so that no one suffers harassment or discrimination on the basis of their sexual orientation or gender identity. www.equalityflorida.org