Aaron Huntsman and Lee Jones to get Equality Florida's highest award
Marriage pioneers Aaron Huntsman and William "Lee" Jones to be honored
Will receive award at Equality Florida's Annual Key West Gala, March 28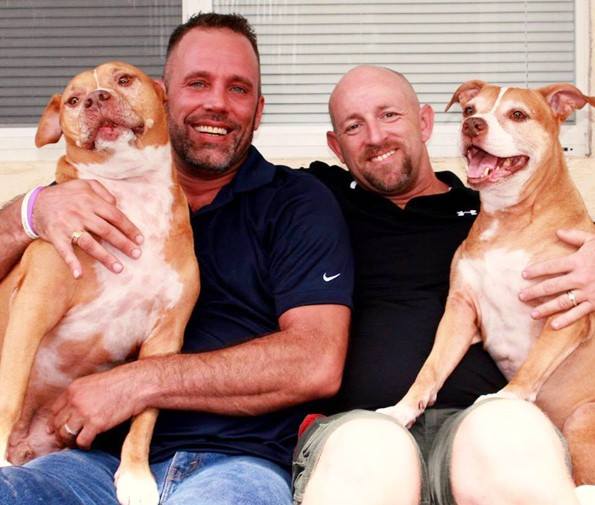 (Photo by Kenne' Tucker)
(March 16, 2015) Key West is the cradle of diversity in Florida. So it was fitting when Aaron Huntsman and William "Lee" Jones won the first court ruling overturning Florida's same-sex marriage ban last summer. Fitting again, when they became the first same-sex couple to marry in Monroe County, early on the morning of January 6.
Now Huntsman and Jones will receive Equality Florida's highest honor, the Voice For Equality Award, at the 2015 Key West Gala on Saturday, March 28.
Aaron and Lee have a huge following of friends and admirers in Key West. Together more than 11 years, both work as bartenders, at Aqua Nightclub and 801 Bourbon Street respectively. They share their Key West home with two dogs, Kira and Riddick.
As news media and the public followed their journey through the court system, they took it in stride.
"We have not fought this fight for marriage equality to garner praise or honors. We did it because we love each other," said Aaron. "Receiving this award from Equality Florida, though, validates that our effort will make a difference in the lives of so many others throughout the state."
"This is humbling and invigorating … all at the same time," said Lee.
Monroe Circuit Judge Luis Garcia ruled in their favor on July 17, 2014. Their case was soon consolidated with a similar Miami-Dade ruling in favor of Equality Florida, the National Center for Lesbian Rights and six other South Florida couples. Both rulings took effect as a federal ruling in Tallahassee did too.
"People from all corners of Florida have been working to secure equal rights for the LGBT community," said Nadine Smith, Equality Florida's CEO. "When Aaron and Lee stepped up as leaders, and when they won that first ruling, they put Key West, a community known worldwide for celebrating diversity, at the center of this civil rights effort."
Key West has the oldest Equality Florida Gala in the state. In fact, with the first one in 1999, local supporters invented the model for other communities to follow. "Key West has always set the standard for how we draw people together from many parts of the community to celebrate our accomplishments and to gear up for whatever lies ahead," said Deputy Director Stratton Pollitzer.
The non-profit has active programs in Key West. Last November, Equality Florida organized the city's first observance of the International Transgender Day of Remembrance that culminated in a candlelight vigil at the White Street Pier. In February, it staged its first Transgender Awareness Days, a series of events that brought together local transgender people, their families and friends, and people looking for answers. Gina Duncan, Equality Florida's Transgender Inclusion Director, was a key speaker at those events and to the local media. Equality Florida also recruits local businesses for Another Business for Equality, a statewide effort to achieve a new version of Florida's anti-discrimination law to include sexual orientation and gender identity. For the second year, Equality Florida conducted an essay contest at Key West High School. This year's theme is "Tolerance into Acceptance: Embracing Diversity". The winners of the contest will be announced at the gala on March 28th.
This year's gala will once again be at the beautiful Gardens Hotel, at 526 Angela Street, starting at 6:30 p.m. The Love Lane Gang will provide entertainment.
There is no charge to attend, but guests are encouraged to make a tax-deductible donation to support Equality Florida's important work. Sponsorships, starting at $500, also are available. For details, please contact Equality Florida's Key West Development Associate, Evie Evers Kling at [email protected].
Donations also can be sent to Equality Florida Institute, P.O. Box 20786, Tampa FL 33622-0786. ​
For further information or to RSVP, go to www.eqfl.org/keywestgala
Equality Florida Institute is the largest civil rights organization dedicated to securing full equality for Florida's lesbian, gay, bisexual and transgender community. www.eqfl.org