BREAKING: Miami-Dade Adds Transgender Protections To County HRO
MIAMI-DADE COUNTY ADDS GENDER IDENTITY AND EXPRESSION TO HUMAN RIGHTS ORDINANCE
BECOMES 28TH FLORIDA MUNICIPALITY TO PROVIDE EQUAL PROTECTIONS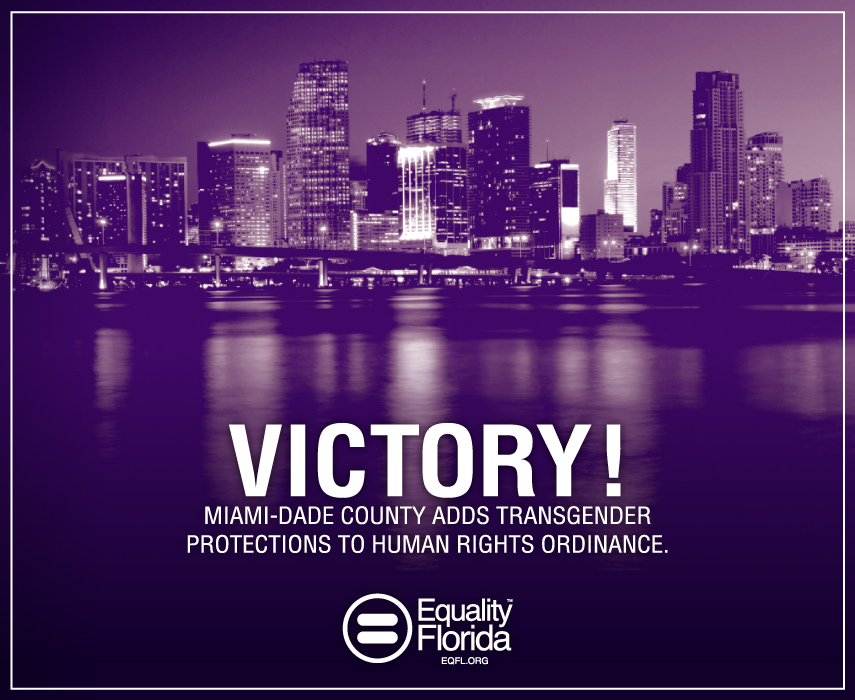 (December 2, 2014) – Today, the Miami-Dade County Commission voted 8-3 to amend the existing Human Rights Ordinance to prohibit discrimination in housing, public accommodations and employment based on gender identity or gender expression.
Sponsored by Commissioners Audrey M. Edmonson, Bruno A. Barreiro, Daniella Levine Cava, Sally A. Heyman, Barbara J. Jordan and Dennis C. Moss (who couldn't be present to vote), the amendment also received "yes" votes from Commissioners Rebeca Sosa, Xavier L. Suarez, and Jean Monestine. Commissioners Esteban Bovo, Jr., Jose "Pepe" Diaz and Juan C. Zapata voted against it.
"As Florida's most populous county, it was critical that Miami-Dade join the 27 other Florida municipalities that already have these protections. With today's victory, more than 50% of Floridians are protected from discrimination based on sexual orientation and gender identity, giving a major boost to our ongoing efforts to pass these protections statewide," said Stratton Pollitzer, Deputy Director of Equality Florida.
"Now, all people who live or work in Miami-Dade County can continue to provide for their families without fear of losing their job or being denied housing just because of who they are.
"Dozens of anti-LGBT speakers gave hours of cruel and deeply misleading testimony, but the broad coalition of community groups supporting the ordinance stood strong, and in the end Miami-Dade commissioners sided with the growing pro-equality majority. Today the commission did what is right for their constituents and what is right for the economy, and showed that Miami-Dade County respects the rights and dignity of all people," added Pollitzer.
Gwendolyn Ann Smith reports on the Human Rights Campaign website that "Over the last decade, more than one person per month has died due to transgender-based hate or prejudice regardless of any other factors in their lives. This trend shows no sign of abating."
According to respondents to the National Transgender Discrimination Survey, conducted by the National Gay and Lesbian Task Force and the National Center for Transgender Equality, the prevalence of suicide attempts among transgender individuals is 41 percent. This vastly exceeds the 4.6 percent of the overall US population and is also higher than the 10-20 percent of LGBT adults who reported attempting suicide. (Source: Study by the American Foundation of Suicide Prevention and The Williams Institute).