Music video pays tribute to courage and joy of LA Pride 2016
By: Karen Ocamb
Music video pays tribute to courage and joy of LA Pride 2016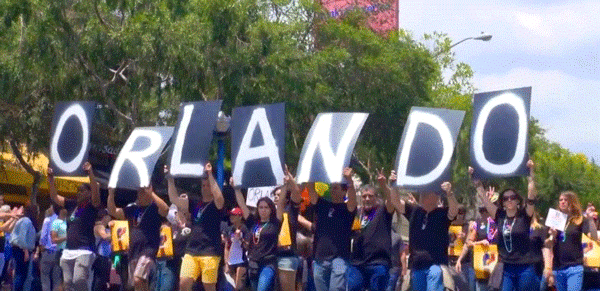 (Photos screen grabs from Waving A Wand)
The world was a very different place on June 11, 2016. Former Sec. of State Hillary Clinton seemed on the cusp of shattering the glass ceiling to become President of the United States, ushering in the final phases of full LGBT equality. But everything changed in the early morning of June 12 when a lone gunman opened fired on revelers at Latin Night at the gay Pulse nightclub in Orlando, Florida, killing 49 people in the deadliest mass shooting in American history.
President Obama told the LGBT community "our hearts are broken, too, but we stand with you" and said the nation was "inspired by the courage of those who risked their lives and cared for others. Partners whose last moments were spent shielding each other. The mother who gave her life to save her son. The former Marine whose quick thinking saved dozens of lives."
Hillary Clinton also issued condolences, adding: "We will keep fighting for your right to live freely, openly and without fear. Hate has absolutely no place in America."
Republican presidential candidate Donald Trump, on the other hand, turned the massacre into a note of self-congratulation, tweeting: "Appreciate the congrats for being right on radical Islamic terrorism, I don't want congrats, I want toughness & vigilance. We must be smart!" In another tweet, he added: "Because our leaders are weak, I said this was going to happen — and it is only going to get worse."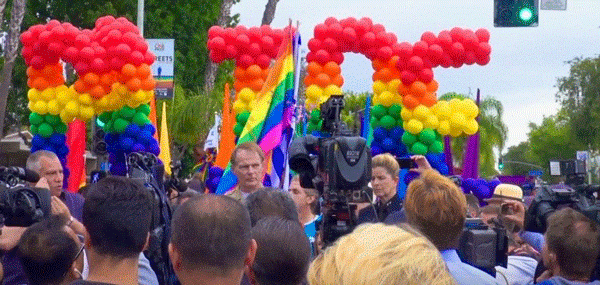 Fear was palpable on the streets of West Hollywood as Pride parade goers gathered at Santa Monica Boulevard and Crescent Heights just hours after the massacre on the East Coast. Organizers debated whether to go on—would it be disrespectful to the dead? And then came word that a man from Indiana had just been arrested in Santa Monica with a cache of weapons, ammunition and explosive-making materials in his car, on his way to LA Pride West Hollywood. Was he alone? Was there a plot to take out LGBT people at their most unguarded an vulnerable—when they were happy celebrating pride in who they are?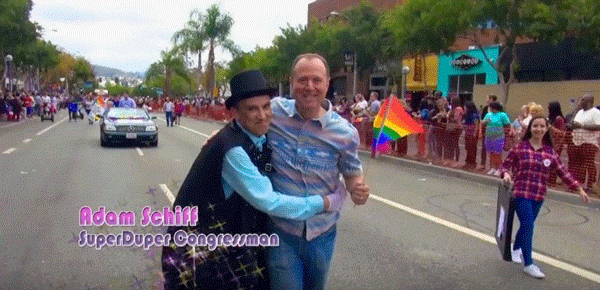 It was an existential choice for everyone. But in a moment of prideful defiance, the organizers said the show, the Pride parade, must go on. And in a show of exquisite solidarity, powerful allies such as Rep. Adam Schiff, L.A. Mayor Eric Garcetti and LAPD Chief Charlie Beck, and longtime parade participant attorney Gloria Allred demonstrated their true colors and stayed to march, too.
This weekend as the LGBT community renews the call to prevent gun violence, pays tribute to those lost at the Pulse Nightclub, including a fundraiser at the Abbey for the OnePulse Foundation – and prepares for the #ResistMarch on Sunday – it is also important to remember that before the resistance there was the joyful defiance.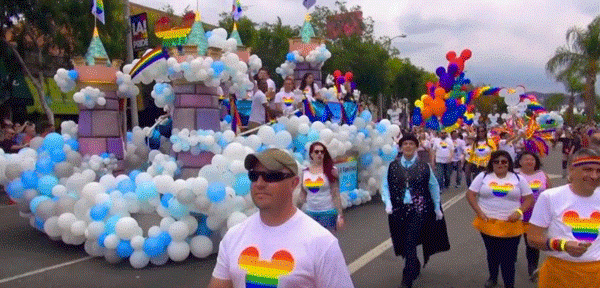 In a moment of historic irony, WeHo filmmakers Renee Sotile and Mary Jo Godges — known around the LA Red Carpet circuit as "The Official Lesbian Crew" from LGBT Hollywood — were shooting a music video of "Waving a Wand," featuring their friend, magician Stefan Kalinka. It captures the defiant joy of LA Pride 2016 from the Dykes on Bikes to the Sisters of Perpetual Indulgence, the floats, the studs, the lesbian marchers with their pit bull dogs wearing tutus, the parade-watchers – a moment in American history when the LGBT community and allies stood up to terrorism with a celebration of song, pride and authenticity.
"Waving a Wand was meant to be campy and fun sprinkled with sarcasm to the right-wing. That morning the film took on a whole new meaning. And with the continuous heartbreak of the presidential election and renewed bigoted legislation, Waving a Wand now stands as a symbol of resistance: We refuse to surrender our Pride and Spirit," say filmmakers Sotile and Godges.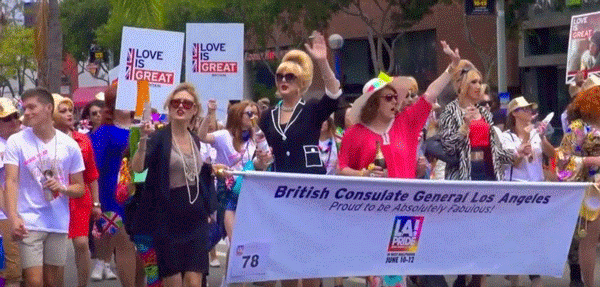 "Waving a Wand" is being screened as part of the West Hollywood One City One Pride, LGBTQ series on Thursday June 29, in City Council Chambers, 625 N. San Vicente Blvd. as the opening for the World Premiere of "Jeanne Cordova: Butches, Lies, and Feminism."