State Rep. Holly Raschein Spotlights Florida Competitive Workforce Act
Below is a spotlight on the Florida Competitive Workforce Act from State Representative Holly Raschein's (R) in her latest newsletter.
We're excited to stand behind Rep. Raschein in supporting nondiscrimination in the Sunshine State!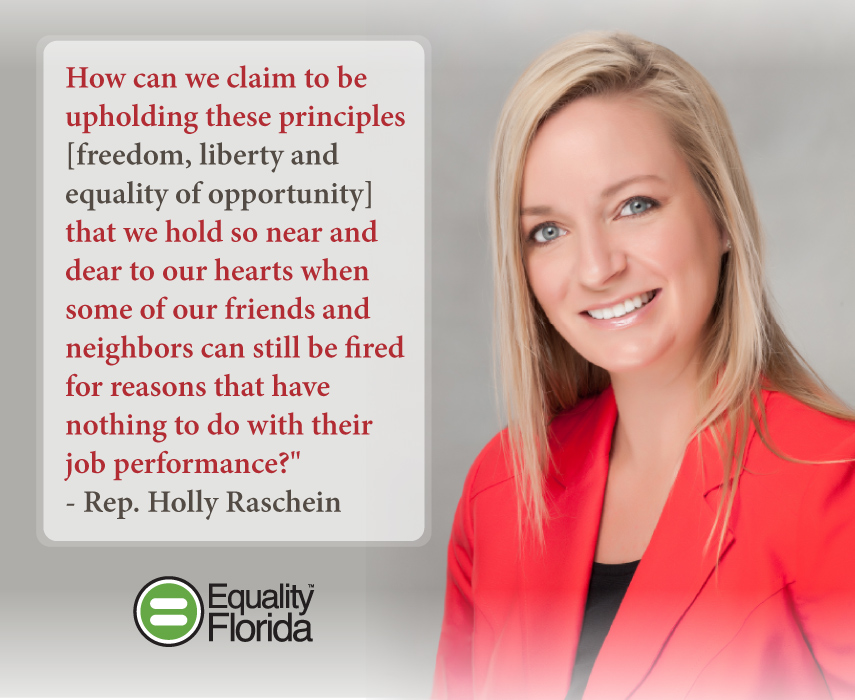 Rep. Raschein's newsletter:
The Florida Competitive Workforce Act (HB 33)
Just six days after being sworn in for a second term, I filed my first bill of the 2015 Session that would prohibit discrimination against lesbian, gay, bisexual and transgender people in employment, housing and public accommodations. Known as the Florida Competitive Workforce Act (FCWA), the legislation would amend Chapter 760 of the Florida State Statute that currently prohibits discrimination based on race, color, religion, sex, national origin, age, handicap or marital status to include sexual orientation and gender identify or expression. The bill would add protections for more than 536,000 LGBT adults living in Florida.
I believe we have assembled an excellent team in support of this legislation this year, including Senate sponsor Joseph Abruzzo (D-Boynton Beach), Equality Florida and the Florida Businesses for a Competitive Workforce Coalition. The Business Coalition includes major Florida employers such as CSX Corporation, Darden Restaurants Inc., Florida Blue, Marriott, Raymond James Financial Inc., Walt Disney World Resort, Wells Fargo and Winn Dixie, as well as its newest members, the Miami HEAT and American Airlines Arena.
But to me, this isn't just a social issue or a business issue. This is an issue that cuts to the core of who we are as Americans. Our great nation was founded on principles of freedom, liberty and equality of opportunity. How can we claim to be upholding these principles that we hold so near and dear to our hearts when some of our friends and neighbors can still be fired for reasons that have nothing to do with their job performance? I feel strongly that this bill is good policy, it is the right thing to do, and it represents the direction Florida needs to move in order to remain an attractive place to live and work.
About Equality Florida
Equality Florida is the largest civil rights organization dedicated to securing full equality for Florida's lesbian, gay, bisexual and transgender community.
About Florida Businesses for a Competitive Workforce
Top employers in the state have united to form Florida Businesses for a Competitive Workforce, a 501c(4) coalition that aims to grow Florida's economy by attracting and retaining the best workers to the state with the promise of equal opportunity employment.