Advocating for a Ban on Conversion Therapy at 2019 Lobby Days
As a Safe & Healthy Schools team member with Equality Florida, I usually spend the majority of my time in schools, with administrators and teachers, and with students and their families.  Being a first-time lobbying coach and lobbying team lead in at the State Capitol was an extremely rewarding experience. I was able to bond with my team and assist them in putting together our plan to ask legislators to support the bill which will BAN conversion therapy for minors in Florida.  It was incredibly brave of two of my teammates to share their stories about surviving the horrors of conversion therapy as young adults. We were also grateful to have a parent of a transgender student share their experiences regarding positive and healthy therapists that helped their child and affirmed him for being himself, while he was coming out as trans.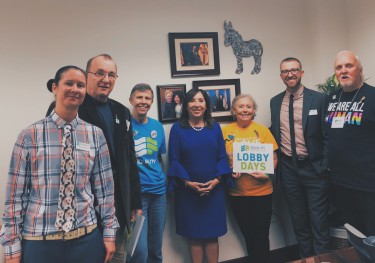 I am happy to report that we visited both Democrats and Republicans and the majority were eager to help pass the bill Banning Conversion Therapy. Issues like this are not at all partisan- they're about protecting children from torture and abuse, something we should all be able to get behind.  
Often we regard our elected officials as people who have a higher standing than those who vote for them. It was an empowering feeling for the group, to vocalize the fact that these elected officials work for the people and that they have taken a job that necessitates listening to a multiplicity of views and experiences. This uplifted my team and allowed us to be bold and courageous in asking legislators to support good legislation. I am excited to attend Lobby Days next year, as it allows us to bring stories and faces of real people to the offices of those who have the power to make sweeping change.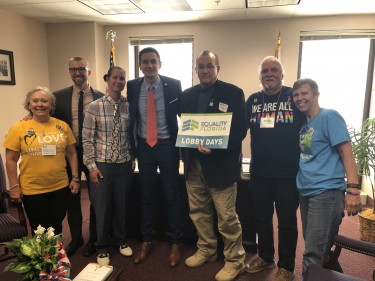 Esmé ("Ez") Rodríguez is the Pinellas Safe And Healthy Schools Coordinator and a non-binary, Latinx educator, activist, and artist. They are committed to working with administrators, teachers, parents, and school board members to ensure the creation of safe and healthy school environments in which LGBTQ+ and all students can thrive and strive to reach their full potential as whole, authentic individuals.