Celebrating One Month of Marriage in Florida - Sheryl and Evangelina's Story
15 YEARS FINALLY LEGAL IN FLORIDA
Sheryl Hilton and Evangelina Altamirano | Miami, FL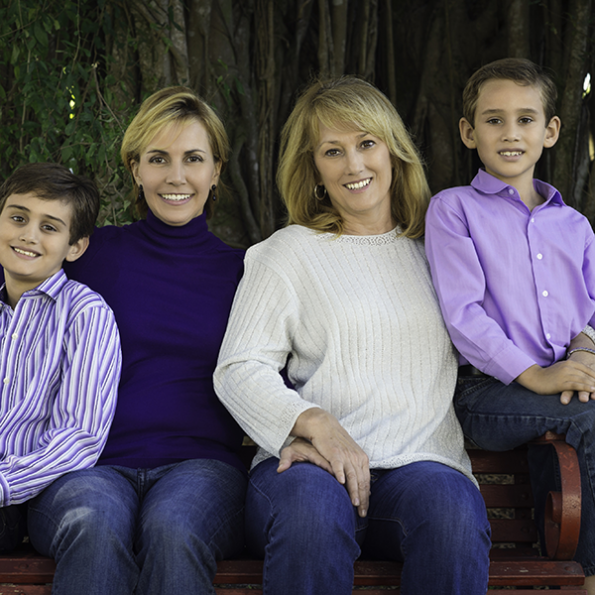 Editors' Note: This story was written by Andrew Caplan in partnership with Equality Florida.
It's a known fact that raising two boys doesn't come easy. Having a child with autism can only make matters more difficult.
But Sheryl Hilton, 50, and Evangelina Altamirano, 48, have already faced their fair share of adversity through the years. Their struggles strengthened their level of commitment to each other.
After Florida uplifted the ban on marriages for same-sex couples, Sheryl and Evangelina chose to solidify their 15-year relationship by tying the knot on Jan. 6 in Miami-Dade County.
They first met at a local circuit party. Sheryl, who was near the end of a journey to self discovery, was introduced to her future wife by a mutual friend.
After dating for a year, they decided to advance their relationship by moving in with each other. The move initially terrified Evangelina.
"I knew how important Sheryl is to me and I didn't want to lose her," Evangelina said.
Sheryl has been fortunate to have experienced a "very supportive" family, who accept Evangelina and their relationship.
Evangelina, however, had a more challenging road due to her mother's deep-religious beliefs. It has caused a rift to where her mother is currently unaware of the recent marriage.
"Sheryl has given me a sense of security, which is paramount to me," Evangelina said. "She is my rock when I am feeling insecure."
The couple spent time traveling and building their relationship for the next six years before the discussion of children came up. But when the conversation did come up, it turned out that they both very much wanted children.
The first born was Greyson. Then came Remy.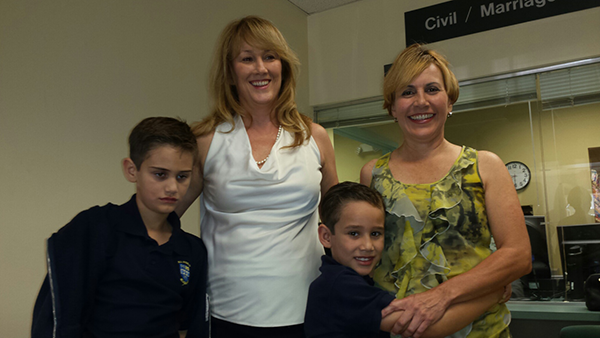 Greyson, now 8, was diagnosed with autism early on which has been financially draining and stressful for the couple.
"It's very difficult for us on a day-to-day basis," Sheryl said. "Often times we spend a great deal of time at night working on homework and projects. He's very high functioning, very smart but it takes him longer to remember things and to grasp things than other kids."
The couple said the stress has made them realize that they must take more time with each other to ensure that their relationship doesn't get lost during the process.
"It has not always been easy but we remain committed," Sheryl said.
Sheryl and Evangelina enrolled the boys in an episcopal school, where the parents have an active role.
"I enjoy going," Sheryl said. "I have found a little bit of a community in the church and the school."
"They have been so supportive of us from the beginning when the boys started going to the school," Evangelina said. "They have always recognized both of us as the parents."
The couple plans to hold a ceremony at the church, where the church reverend will marry them again to share the moment with friends and family.
"I didn't think marriage would feel any different, but it does," Sheryl said. "It reaffirms our relationship to each other and our commitment to this family."
Even though they are officially married, barriers still face the family they built. Evangelina would still need to go through the step-parent adoption process to ensure custody of the boys, in the event something happened to Sheryl, because she is not a biological parent. The process of custody, however, will be much easier because their marriage is now legally recognized by the state of Florida.
They stress their normality and common struggles that any couple faces daily.
"We struggle with the mortgage, with making sure that our boys have what they need," Evangelina said. "We worried when the economy was taking a tank, we were both concerned with losing our jobs. We have more things in common than we do differences."
Sheryl, who is a licensed registered nurse, actually works as a director at the University of Miami. Evangelina is an office manager of a commercial real estate company.
"We are professionals, hard working people," Sheryl added. "We go to PTO meetings, pay our taxes. We raise children that are loving and accepting."
But the road has not been the same for Sheryl and Evangelina as most couples, due to the divided opinions about the LGBT community throughout the country.
"We're lucky that we live in this country," Evangelina said. "As citizens of this country we just want the same rights that are awarded to straight couples. Those rights, those protections are what we're looking for."