True Love, Making History
True Love, Making History
The Story of SueZie and Cheryl Hawkes
by Lisa Hawkes
Long ago, in another century (1997), in the early days of internet chat rooms, two lonely people an ocean apart managed to find each other. Due to their own life experiences, each believed that true, romantic, unconditional love was perhaps a fable or a dream and certainly not likely to become reality for them. But their love grew quickly. They overcame the distance that separated them, met in Detroit, Michigan, and were married in 2000. Anyone who doubts that chance and random circumstance will bring that one person into their life, take heart because this is only the beginning of a far greater love story and an extraordinary demonstration of unconditional love and family values.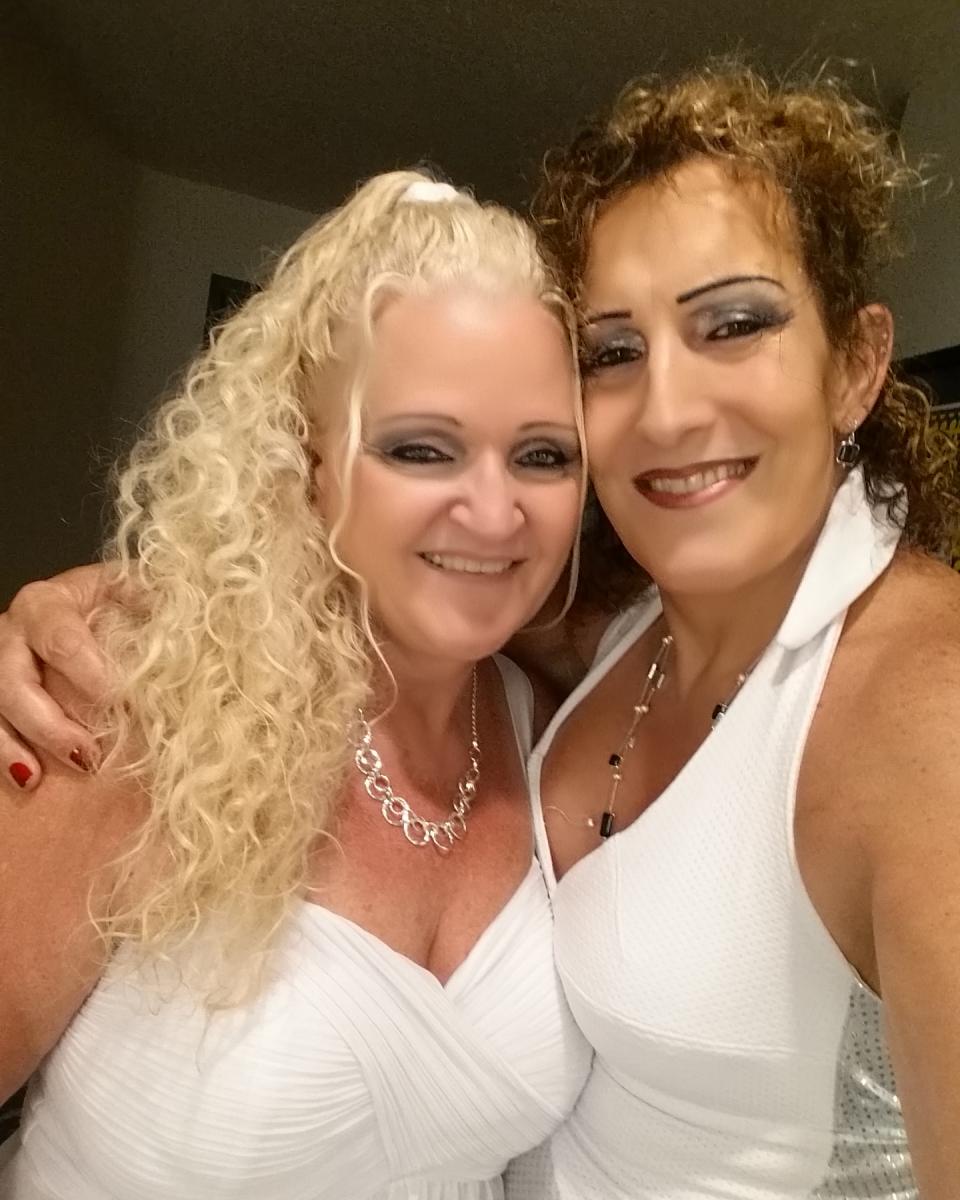 Cheryl was a struggling single mother of two children living in Webberville, Michigan working and trying to complete her education. SueZie was living in Swindon, England presenting as a married 6'2" masculine, sporty, energetic and upbeat man. And she had spent almost 50 years living in a personal hell of repression, depression and even suicidal behavior. With honest, open communication from day one, SueZie divorced, left her home in England and began to make a life together with Cheryl in the USA. Their son Jaison was born in 2001, and though devoted to her family, the torment of conformity still made life too difficult to bare for SueZie.
In 2009, the subject of SueZie transitioning finally came up in serious conversations but neither she nor Cheryl were fully prepared for the ramifications of such an undertaking. Even Cheryl, though her love for SueZie was unwavering, was unaware of how miserable SueZie truly was. Finally in 2014, with months of hormone treatments, a body realignment exercise regime and other medical complications, an opportunity for a full transition arose. For SueZie that also included gender reassignment surgery.
After 14 years of marriage, both were afraid of losing what they had together but seeing the love and passion shared gave them the strength to fully support each other through the long process. Cheryl accepted that this is what SueZie needed to do to survive, and knowing that SueZie needed her approval, willingly gave SueZie the permission and freedom to be herself. The reactions of SueZie's immediate friends and family were incredibly supportive, with the painful exception of only a few.
With the unremitting support of her beloved wife, ('I married the person, not the appendage'), son Jaison, ex-wife June ('Certain things make a lot more sense now') and step-mother Lisa, SueZie has found the strength and bravery to show her true self to the world. Despite the appearance of change, and aren't we all taught not to judge by appearances, SueZie is the same funny, kind, clever and caring person Cheryl married all those years ago. Cheryl's amazing love, support, and acceptance is steady, strong, and also unchanged.
The future is bright. SueZie, Cheryl, and Jaison have emerged triumphant and strong as a united and loving family. So now comes the remarkable historic symbolism of their love. They both felt it was "SueZie" and Cheryl who got married all those years ago and their marriage certificate had to be a reflection of their true relationship, legal names, female and female.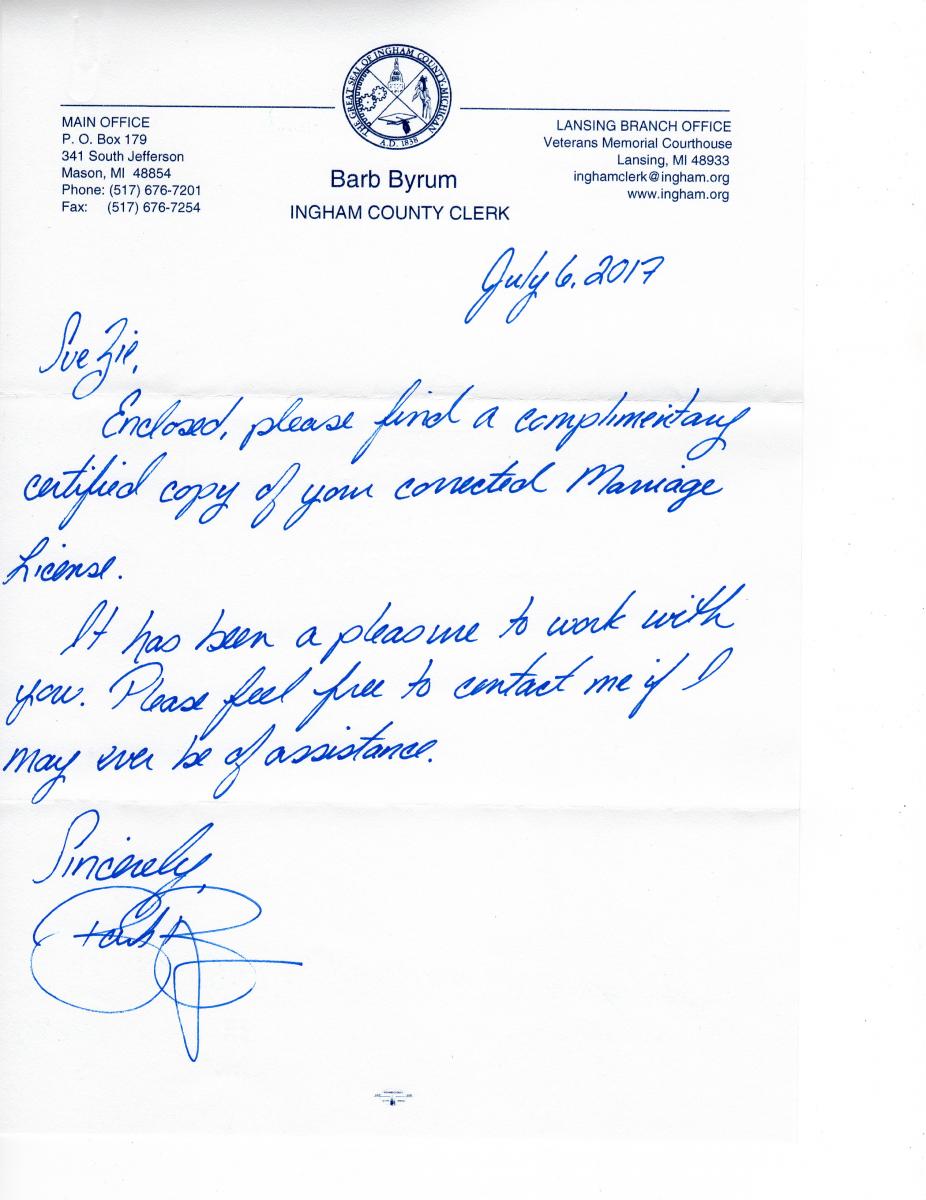 There being no other legal precedent, SueZie contacted the Ingham, Michigan County Clerk, Barb Byrum who was incredibly supportive and helpful. She suggested an ex parte order, signed by a Judge as a matter of public record in support of changes to the marriage certificate. After SueZie voluntarily provided copious supporting legal and medical documentation and answered questions from the Judge, the order was quickly granted. A new marriage certificate, printed with reference to the signed ex parte order in explanation of the changes, was received in weeks; with the compliments and congratulations of the Ingham County Clerk's Office.
This is truly epic. To our knowledge this is the only same-sex marriage certificate in America predating the legality of same-sex marriage anywhere in the country. It is a triumph of an individual finding the strength to show the world their true selves. It is a triumph of family values, supporting one another's growth and flourishing. It is a triumph for the LGBTQIA+ community in the formal legal recognition of love and marriage between any two people. It is a triumph for all, who despite the turbulent times and the current hate and divisiveness making headlines, believe that America is at heart a country of tolerant inclusivity.