A Deeper Look At Florida's Dangerous Transgender Medical Care Ban Legislation
We have an urgent situation unfolding in the Florida legislature right now: Republicans have just introduced an extremely dangerous bill that puts the lives of transgender youth at risk — making it illegal for doctors to provide them with best-practice medical care and support.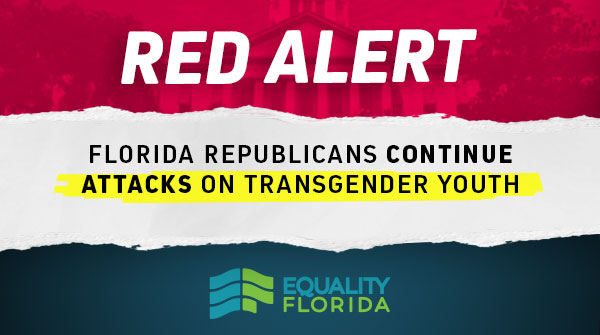 About Transgender Youth Medical Care Bans:
State Representative Anthony Sabatini has filed HB 211 - the Transgender Youth Medical Care Ban - for the 2022 Florida Legislative Session. These blanket bans attempt to imprison healthcare providers for providing best-practice medical care to transgender youth, criminalize them for practicing their profession, and put politicians between transgender youth, their parents, and medical professionals. Arkansas and Tennessee have passed bans and 18 more states, including Florida, have tried.
This legislation has nothing to do with the health and safety of children — the cruelty is by design. It's literally cut and paste language from right-wing political strategy groups like the Heritage Foundation that seek to put a target on the backs of transgender youth as an election strategy to mobilize far-right voters. It's coming from the same anti-LGBTQ playbook they used to create and pass last session's hateful Transgender Youth Sports Ban.
Earlier this year, Republican Governor of Arkansas, Asa Hutchinson, vetoed a similar bill telling NPR that it amounted to "vast government overreach" and "sends the wrong signal" to a vulnerable population. He urged his legislative colleagues to "rethink [their] engagement in every aspect of culture wars". The Arkansas Legislature later overrode the veto and became the first state in the nation to ban affirming medical care for transgender youth.
Leading national health organizations like the American Academy of Pediatrics, the American Psychological Association, and the American Medical Association support gender-affirming care for transgender children. Doctors and health professionals are tasked with adhering to best practices and standards of care. The legislature forcing them to deviate from that guidance puts the health and wellbeing of transgender youth in peril.
Transgender youth are the most likely to be bullied, the most at risk for suicide, and the most likely to face harassment. We should be working together to keep them safe — not attacking them, their families, and their doctors.
What Does It Mean to Ban Care for Transgender Youth?
Far-right Republicans want you to think that kids are all by themselves, making snap decisions with life-long consequences. But that's simply not the case.
For most transgender and nonbinary minors, transition care supports "social transitioning" — it's about presenting as their affirmed gender and using their identified pronouns. When children are able to live and present as their authentic gender identity, they have lower levels of anxiety and depression.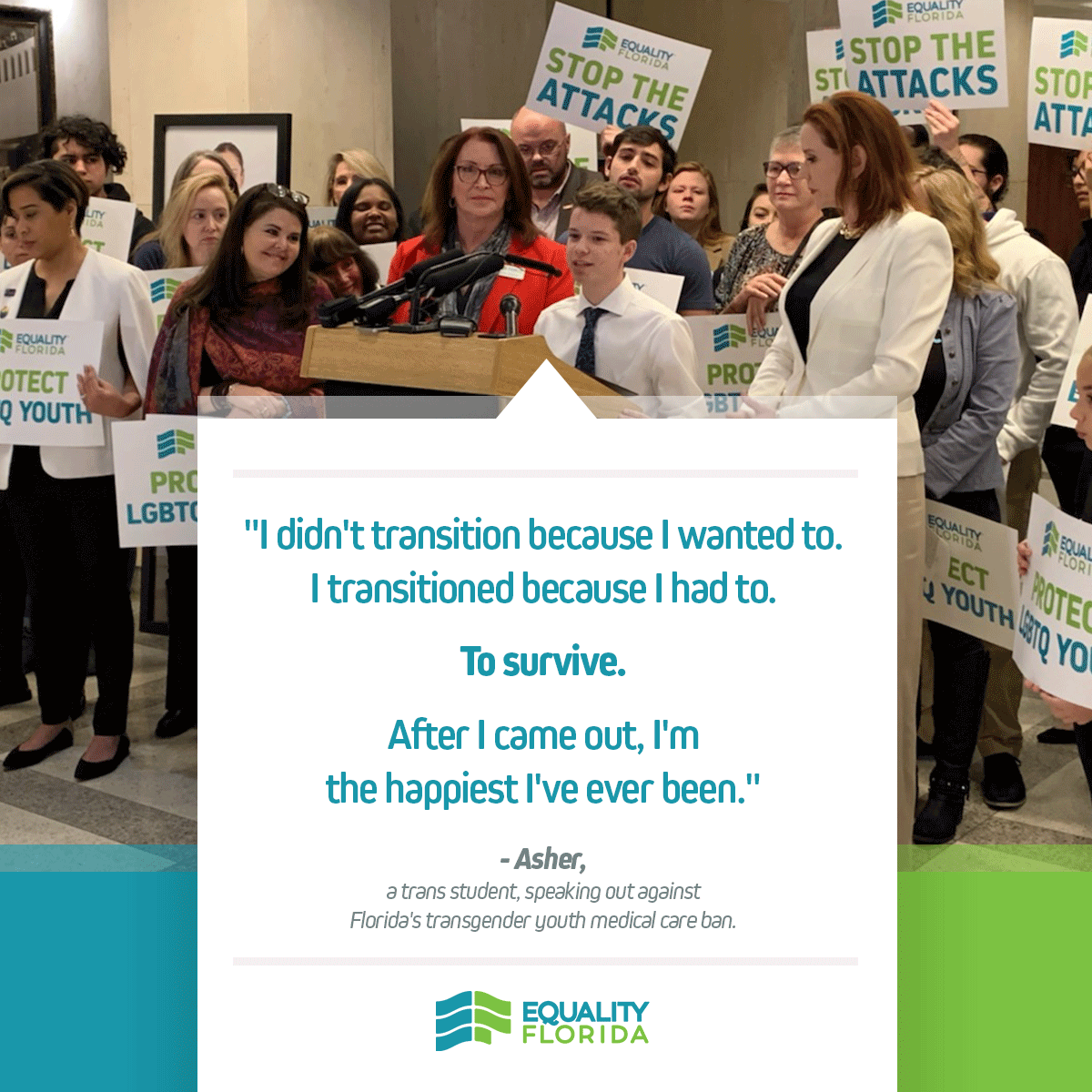 The Consequences of Anti-LGBTQ Bills:
These anti-LGBTQ policies come at a highly dangerous time when attacks on the transgender community are increasing. Last year was the deadliest on record for Transgender Americans: Over 44 transgender or nonbinary people were violently killed. Violence against transgender and nonbinary individuals – especially Black transgender women – is astoundingly higher than the rest of the population. And the violence is escalating. On October 2, Royal Poetical Starz — a 26-year old Black transgender woman — was killed in a brutal shooting in Miami Gardens. Royal is the 40th known transgender or nonbinary person murdered this year. And within days of Governor DeSantis signing the Transgender Youth Sports Ban, videotaped attacks on transgender students went viral on social media.
A recent study on LGBTQ Youth Mental Health by the Trevor Project shows alarming findings: Nearly all LGBTQ youth have reported their mental health has been negatively impacted by the increase in anti-LGBTQ bills — and more than half of transgender and nonbinary youth have seriously considered attempting suicide. These staggering numbers will only climb if LGBTQ youth are denied access to affirming care and are continually demonized by lawmakers.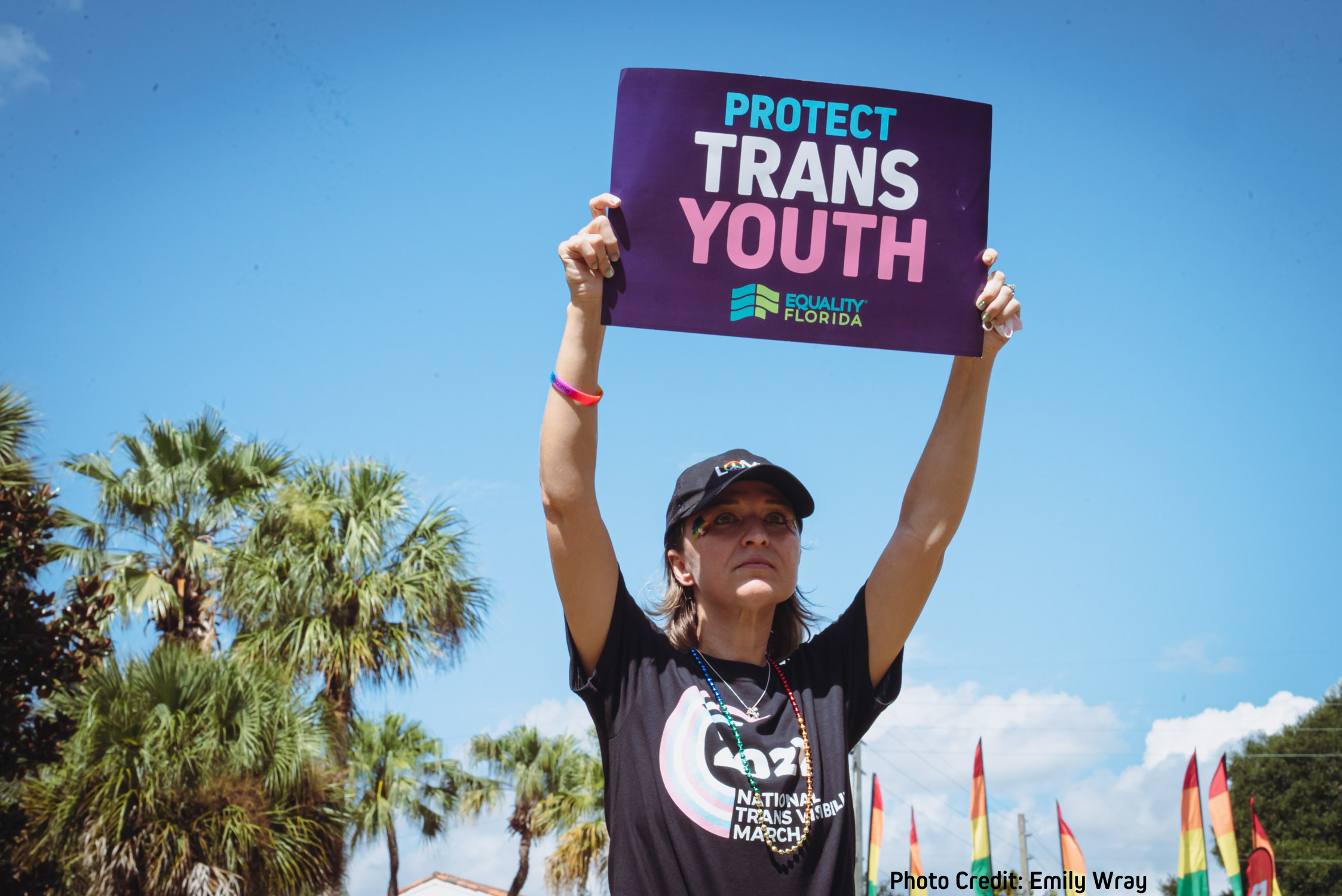 We Need To Take Action — NOW:
HB 211 has already been referred to three committees in the Florida House of Representatives:
If you haven't already, take action now by contacting lawmakers and tell them to denounce this dangerous bill immediately.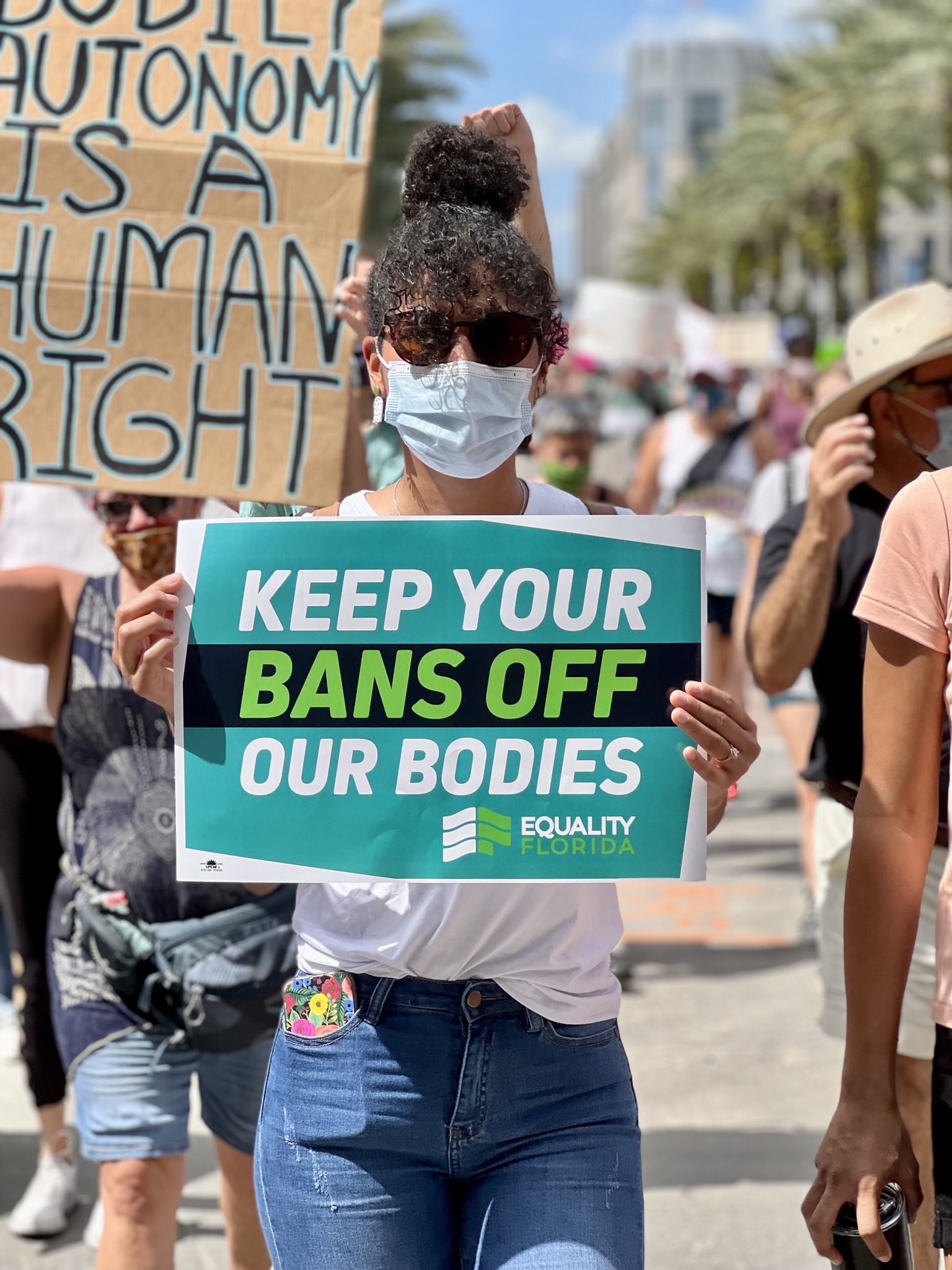 Other Resources:
Family and community acceptance has large outcomes on the health, wellness, and success of youth. Access the resources that parents and community members can use to better support their children.
Students in our public schools have many protections through case law and legal precedent. See the rights that exist for LGBTQ+ youth in school.
The need for quality health care and service providers for the transgender community has never been more in demand. Our community is emerging in rapid numbers, spanning all age groups. The Transgender Resource Guide has been developed to provide a directory of quality trans-friendly service providers from across the state.
(Former Florida State Representative Amy Mercado addresses lawmakers on the Transgender Youth Medical Care Ban in February 2020)
(Sally Hogshead, parent of a transgender child, at the #ProtectTransKids Press Conference February 2020 )