President of Stoneman Douglas Gay/Straight Alliance To Speak at Equality Florida Gala Saturday March 10
President of Stoneman Douglas Gay/Straight Alliance To Speak at Equality Florida Gala 

Saturday March 10

Florida LGBTQ Rights Group To Honor Students, GSA Advisors In Wake Of Mass Shooting And Student Led Activism To End Gun Violence
​
Miami, FL -- Equality Florida, the largest civil rights organization dedicated to securing full equality for Florida's lesbian, gay, bisexual, transgender and queer (LGBTQ) communities, will honor the student leaders and advisors of the Marjory Stoneman Douglas High School Gay/Straight Alliance on March 10 at their annual Miami gala.
Emma Gonzalez, president of the Marjory Stoneman Douglas GSA, an openly bisexual Latina activist, one of the many students and young people advocating for gun control in the wake of the mass shooting at MSD will provide brief remarks at Saturday's 2018 Equality Florida Miami Gala and hold a moment of silence in remembrance of the 17 lives taken in the Parkland massacre. GSA sponsors Diane Wolk-Rogers and Mario Caicedo will accept the Voice for Equality Award on behalf of the GSA and their students.​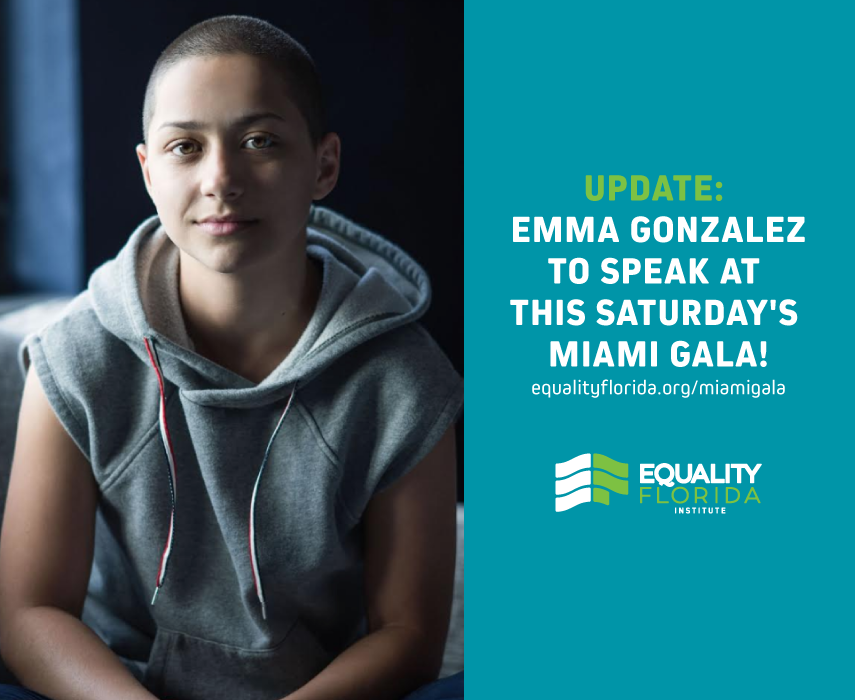 "Students from the GSA at 
Stoneman-Douglas High School are an integral part of the student-led movement that has been a catalyst for demanding action by politicians to confront gun violence. Equality Florida honors them and their advisors for their leadership, resolve and the clarity of their voices in launching the #NeverAgain movement," said Nadine Smith
, Executive Director of Equality Florida. 
"
It will be an inspiring and moving evening as we celebrate the GSA along with 
SAVE
 and the Huizenga Family Foundation – these are the individuals and groups that will make Florida a more equitable, safe place for all of us. We are thrilled to honor their work," concluded Smith.
The Miami gala will be held this Saturday, March 10th, at 6:00 p.m. at the Eden Roc Miami Beach!
​
For more information go to: equalityflorida.org/miamigala