JAX UPDATE: LGBT-inclusive HRO has been officially introduced!
Written by: Amber Paoloemilio
Civic Engagement Coordinator
*Amber is currently located in Jacksonville*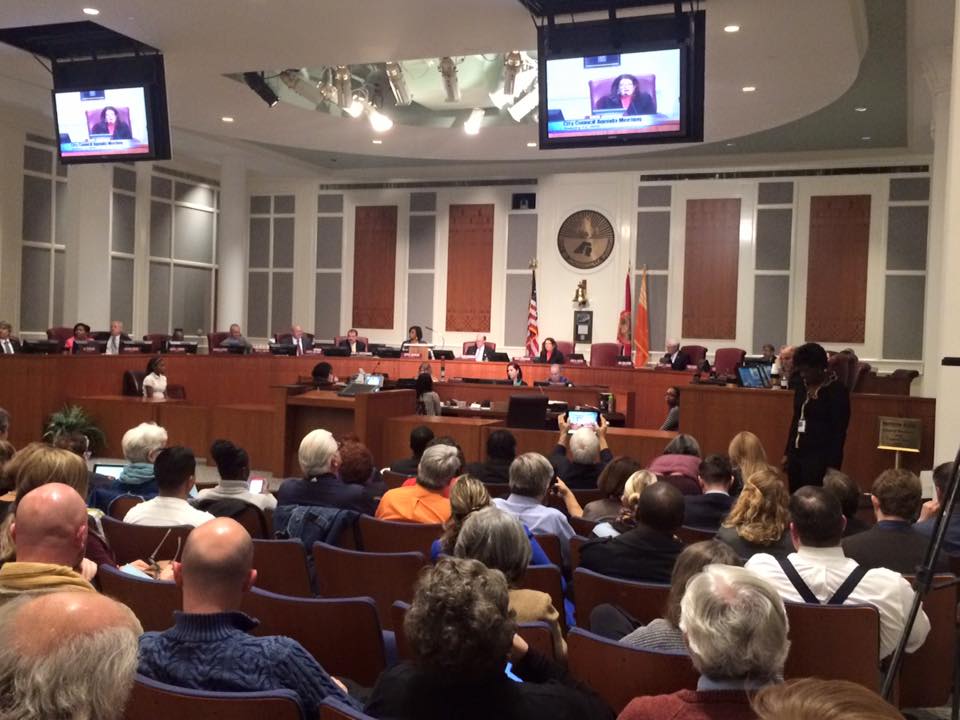 Last week, hundreds of people poured in the Jacksonville City Council chambers for the first meeting of the year. Equality Florida staff, alongside the Jacksonville Coalition for Equality and hundreds of supporters, waited to sign-in and testify about the LGBT-inclusive Human Rights Ordinance.
In the beginning of January, Councilman Tommy Hazouri introduced a human rights ordinance (HRO) to the Jacksonville City Council that would provide critical protections for lesbian, gay, bisexual and transgender people in our city. After the devastating loss in 2012, our community promised to come back to the council with a fully-inclusive ordinance and since then has leaned in to do the work to bring this important issue forward.
We've kept our promise. Right now, The Jacksonville Coalition for Equality, along with Equality Florida and other Jacksonville coalition partners, are working tirelessly to send emails, calls, and letters to the Jacksonville City Council. And Tuesday was no different.
Our team worked tirelessly with volunteers and supporters to show the council just how many people in Jacksonville support updating the HRO. Testimonies came from large and small businesses, faith leaders, community activists, and Jacksonville residents. These folks were just a few of the 100 faith leaders and over 300 business owners who have signed on in support of the HRO.
We need you, along with the hundreds of supporters on Tuesday, at the next meeting to show the council that thousands of Jacksonville residents support updating the HRO. RSVP, here: http://goo.gl/forms/2l43kdywSh
Right now, it is vital that the council continue to hear from you, our supporters, about why all hardworking people – including those who are gay and transgender – should be treated fairly and equally in Jacksonville. For those of you who are waiting to contact your council members - this is it. The council need to hear from us right away. Click here to email your council members. 
I have the great privilege to work alongside activists, business owners, faith leaders, lawyers, and community leaders every day in Jacksonville. Our community is stronger than ever. Not a day goes by that I don't feel proud to serve alongside the team here. Let's finish this job, together.
*************