Meet the Interns: Lauren Munsey
Meet the Interns: Lauren Munsey
(Gainesville Office)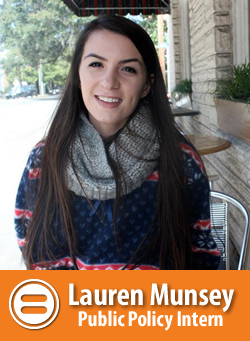 1. Tell us a little about yourself...
My name is Lauren Munsey and I am a Public Relations senior at the University of Florida. I am pursuing my minor in Non Profit Organizational Leadership and a certificate in International Communications. Originally, I planned on applying to intern for Equality Florida as a communications intern but found myself with the opportunity to challenge myself and work as one of the public policy interns. And thus, here I am.
2. Why are you involved with LGBT activism?
How can I not be involved? I don't believe there should be any specific reason to be involved with LGBT activism, and although I have many, the only one that matters is that there is a group of people deprived of their rights.
3. Why did you want to intern at Equality Florida?
After volunteering for Equality Florida and witnessing the time and passion they put into their work, I knew then I wanted to be a part of the progress and change that Equality Florida creates. They are a loud and powerful voice for people who have been silenced too long. If that doesn't win you over, then I don't know what would.
4. What are your plans after you graduate?
To never stop fighting for basic human rights. Whether it still be LGBT activism, female economic empowerment, education, universal healthcare... who knows? Just as long as I am using my time for the betterment of society... that's the plan.
Stay tuned next week for the next blog post in our "Meet The Interns" series!