Advocates Stand in Support of HUD's Equal Access Rule
Advocacy groups and organizations affiliated with homeless facilities denounce the Trump Administration's proposed rollback of homeless shelter rights and protections for the transgender community and stand together in support of the U.S. Department of Housing and Urban Development's (HUD) Equal Access Rule.
"We, the organizations listed below, believe that all people should be treated equally under the law, with dignity and respect. We believe that everyone, no matter their gender identity or sexual orientation, deserves compassion and support in their time of need. Homelessness is a national tragedy. LGBTQ individuals face a particular set of challenges, both in becoming homeless as well as when they are trying to avoid homelessness. Additionally, transgender people face alarming levels of social stigma, discrimination, and often rejection by their families, which adds to the physical and mental strains that transgender homeless persons must struggle with.
Weakening the Equal Access Rules and enforcement mechanisms are inhumane and unacceptable. Current federal regulations adopted by the U.S. Department of Housing & Urban Development (HUD) requires equal access to housing and homeless services. Under those regulations, sex-segregated homeless shelters must admit all transgender and gender non-conforming individuals and house those individuals according to their gender identity. These regulations were adopted to address significant barriers that frequently, homeless transgender persons face in finding shelters that affirm their gender identity. Now, the federal government is seeking to rollback these protections and instead allow operators of sex-segregated programs to develop policies that allow employees to make their own determination of a transgender individual's sex (using factors such as religious beliefs or sex reflected on official government documents) in deciding whether and how to house transgender individuals.
This is discrimination. We know that transgender individuals experiencing homelessness are often at a heightened risk of violence, abuse, and exploitation compared with their cisgender peers. Transgender people are particularly at physical risk due to a lack of acceptance and are often turned away from shelters, and in some cases, signs have been posted barring their entrance.
Access to housing and shelter is a basic, fundamental human right and necessity. LGBTQ youth are more than twice as likely to experience homelessness than their non-LGBTQ peers, and black LGBTQ youth have the highest rates of youth homelessness. Furthermore, 1 in 5 transgender people will experience homelessness in their lifetime. It is unconscionable that HUD would initiate policy changes that will lead to higher rates of homelessness.
Accordingly, we stand in support of the Equal Access Rules and oppose any federal proposal to weaken their intent, the very purpose of the law: to ensure equal access for individuals to programs and shelters in accordance with their gender identity. Federal courts across the country have ruled that the protections against sex discrimination also provide protections against sexual orientation and gender identity discrimination, including under the Fair Housing Act. We believe it is HUD's responsibility to enforce current federal law, not to erode it.
The Equal Access Rules and related guidance were designed to give service providers the information they need to properly serve and support transgender people in their time of need. The rules are meant to provide a modicum of protection for ensuring LGBTQ people have access to life-sustaining programs and services when they are at their most vulnerable. We will not allow this administration to weaken those protections, and accordingly, we stand in firm support of the Fair Housing Act's prohibition against sex discrimination and specifically its Equal Access Rules ensuring that adequate and affirming housing and shelter are accessible for all Americans in need."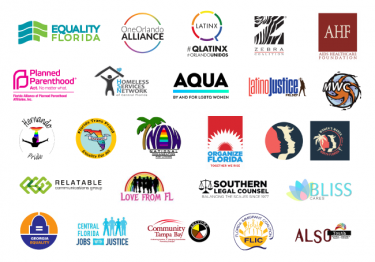 Quotes from advocacy organizations in support of the Equal Access Rule:
"We strongly oppose the U.S. Department of Housing and Urban Development's proposed roll-back of the current regulations that protect transgender individuals in accessing life-sustaining programs and services. Currently, sex-segregated shelters must house people in accordance with their gender identity, but the proposed rule would allow shelters to take into account myriad other factors that will allow and encourage discrimination against transgender individuals," said Simone Chriss, director of the Transgender Rights Initiative at Southern Legal Counsel, a statewide non-profit public interest law firm in Florida."
Simone Chriss
Director of Transgender Rights
Southern Legal Counsel
"Central Florida is committed to ending homelessness for all people and all communities. Our shelter providers are dedicated to working with community advocates to ensure safe and inclusive access to housing services for transgender individuals--regardless of any proposed regulatory changes in Washington. We will do what is right for people experiencing homelessness."
Martha Are
Executive Director
Homeless Services Network of Central Florida
"We unequivocally stand opposed to the proposal by the U.S. Department of Housing and Urban Development that would introduce rollbacks of the protections for transgender and gender non-conforming individuals who seek access to quality and affirming housing assistance through shelter services. Transgender and gender non-conforming individuals, particularly Black and Latinx youth, experiencing homelessness are often at a heightened risk of violence and exploitation, and given the alarming rates at which our communities experience homelessness guidelines within the Equal Access Rules ensure that emergency housing assistance and shelter services are afforded and available to all individuals. We believe that housing is a fundamental human right, and every individuals should be given quality and affirming access to care in their time of need, free from discrimination," said Christopher Cuevas, executive director of QLatinx, a grassroots social, racial, and gender justice LGBTQ+ Latinx organization based in Florida."
Christopher J. Cuevas
Executive Director
QLatinx
"As an organization whose mission is to support LGBTQ+ youth, we strongly oppose HUD's recent proposal to roll back protections for transgender and gender non-conforming individuals to seek access to affirming shelters and housing programs. The Equal Access Rule offers protection for those who are at their most vulnerable and seeking government support for housing. Removing these protections targets the transgender community, one that is at a greater risk of becoming homeless due to many factors involving discrimination. We believe that all persons seeking shelter should be treated with equal access to services funded by our federal government and ask that HUD enforces the federal laws that have been put in place to protect our most vulnerable citizens."
Heather Wilkie
Executive Director
Zebra Coalition
"It is unconscionable that HUD, the federal agency responsible for fair housing laws, would condone outright discrimination and particularly alarming that transgender, non-binary and gender nonconforming individuals are being specifically targeted, yet again. While we are doing a tremendous amount of work locally to shift the culture to ensure safe and inclusive services for all in Central Florida, local shelter and housing service providers are mandated by HUD and federal government requirements. Currently those laws provide for, and require, fair and equal treatment of all individuals, regardless of their sexual orientation or gender expression. Altering existing federal policies to exclude transgender individuals would allow for a single shelter worker to determine the fate of the most vulnerable among us. That is not only unfair, it is inhumane, it is immoral and goes against the values of respect and human dignity. It is simply not who we are as Americans and certainly not reflective of our commitment to inclusion and equity here in Central Florida." Jennifer Foster, Executive Director, One Orlando Alliance."
Jennifer Foster
Founding Executive Director
One Orlando Alliance
"The Trump administration continues to target the transgender community in all areas of society," said Gina Duncan, Equality Florida's Director of Transgender Equality. "This administration is overtly promoting discrimination of transgender individuals in our schools, the military, health care, and now in access to shelter. It is inhumane and unacceptable to prey upon our most vulnerable in their time of need. Access to shelter is a basic, fundamental human right and a necessity for all Americans. One in five transgender people will experience homelessness in their lifetime. It is unconscionable that HUD would initiate policy changes that will lead to higher rates of homelessness and potential loss of life. Equality Florida stands in support of the Equal Access Rule and opposes any federal proposal to weaken its intent. We believe it is HUD's responsibility to enforce current federal law that protects everyone, not erode it"
Gina Duncan
State Director of Transgender Equality
Equality Florida