Equality Florida Applauds Passage of Miami-Dade LGBTQ Advisory Board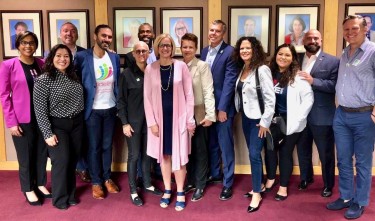 Equality Florida Applauds Passage of Miami-Dade LGBTQ Advisory Board
MIAMI, FL - Today, in a unanimous vote, the Miami-Dade County Commission passed an ordinance establishing the first codified Miami-Dade LGBTQ Advisory Board in Florida's largest county.
"This is a turning point in building a stronger relationship between the LGBTQ community and our county government," said Stratton Pollitzer, Equality Florida's Deputy Director. "We are working together for a future where meeting the needs of the most vulnerable in our community, including youth, seniors, people living with HIV, and the transgender community, is always a part of the conversation."
The ordinance, sponsored by Commissioner Eileen Higgins, will serve as a critical resource for the County Commission and Mayor. For months, Equality Florida — along with ACLU of Florida, Alliance for GLBTQ Youth, Aqua Foundation for Women, Beyond Ten, Care Resource, Jewish Community Services, Lambda Living, Latinos Salud, Pridelines Youth Services, The Miami-Dade Gay & Lesbian Chamber of Commerce, Miami Beach Gay Pride, National LGBTQ Task Force, OUTshine Film Festival, Safe Schools South Florida, SAVE, Survivors Pathway, Unity Coalition, Yes Institute and other local LGBTQ community leaders — worked with Commissioner Higgins to pass this landmark ordinance.
We thank Commissioner Higgins for her leadership and also thank Chairwoman Audrey M. Edmonson, Vice Chairwoman Rebeca Sosa, and Commissioners Esteban L. Bovo, Jr., Daniella Levine Cava, Sally A. Heyman, Jean Monestime, Dennis C. Moss, Javier D. Souto and Xavier L. Suarez for their co-sponsorship of the ordinance.