Same-Sex Couples To Governor Scott: "Meet With Our Families. Please Hear Our Stories."
SAME-SEX COUPLES TO GOVERNOR SCOTT:
"MEET WITH OUR FAMILIES. PLEASE HEAR OUR STORIES."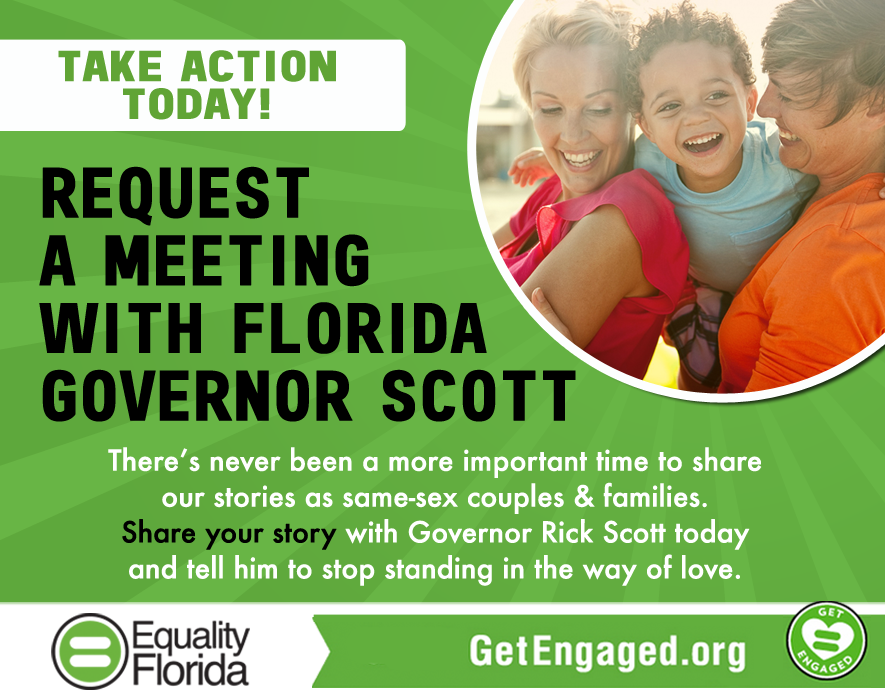 (October 9, 2014) -- Today, Terry and Sharon Kant-Rauch requested a meeting with Governor Rick Scott, pleading with him to stop the appeals of five rulings in favor of the freedom to marry for same-sex couples in Florida.
In an emotional letter, which can be read in its entirety here http://bit.ly/1vUpNKn, Terry and Sharon explain:
"We have been in a committed and loving relationship for more than 31 years, facing our joys and challenges together. Unfortunately, we have each had serious health issues, including advanced cancers. In addition to the stress of medical care, we worry about what would happen to our family if one of us were to pass away… We know that our family is no different from many other Florida families, but we're singled out and excluded from equal treatment under the law just because of who we fell in love with."
This letter and request for a meeting with Governor Scott is just one of hundreds that have been submitted to his office over the past several days by Florida families who suffer real harm each day that passes without the legal protections and security of marriage.
Nadine Smith, CEO of Equality Florida, released the following statement:
"The Supreme Court's action on Monday means 60% of American now live in a state with the freedom to marry. In letting stand five rulings in favor of marriage equality, the highest court made clear that continued appeals are a waste of taxpayer dollars and serve no purpose but to delay justice for gay couples and our children who bear the brunt of this discrimination.
"In the wake of the Supreme Court's action, Attorneys General in Colorado and West Virginia have dropped their appeals, and we call on Florida's elected leaders to do the same. Equality Florida is proud to stand with the hundreds of couples who are respectfully asking Governor Scott to hear their families' stories about why marriage is so important, and why they can't continue to wait months or even years while the State of Florida wastes precious taxpayer money defending discrimination. We hope that Governor Scott and Attorney General Bondi will hear these pleas, open their hearts up to the challenges these families unnecessarily face, and swiftly drop their appeals of the marriage rulings."