Equali-TEA Newsletter: February 2021

After the HUGE news this week that Florida will protect LGBTQ Civil Rights, we hope you're feeling hopeful. With a new, pro-equality administration in the White House and pro-equality candidates elected throughout our state, the LGBTQ movement in 2021 may have its strongest momentum yet. You can be a part of this movement and join us in any of the multiple ways outlined below. Check out what's coming up at Equality Florida:
We Need Your (Virtual) Voice!
You're invited to attend one of Equality Florida's most important programs, Lobby Days! During Lobby Days, you will speak directly to lawmakers about issues you care about and invite them to support legislation that's important to you. Traditionally, the Lobby Days Program takes place over two days during legislative session at the Florida State Capitol. However, because of Covid concerns, we've redesigned Lobby Days to take place virtually over four weeks, providing you the opportunity to attend meetings with lawmakers when you're available. Click here to sign up for Lobby Days.

Supporting Our LGBTQ Youth in Florida Schools
One of Equality Florida's main initiatives is to improve school environments for LGBTQ young people. We do this by providing school administrators with essential resources and education to address LGBTQ youth experiences and needs at our annual All Together Now Conference. This conference will take place February 25-26 and bring together more than 200 school district leadership officials. Click here to learn more about the 2021 All Together Now Conference.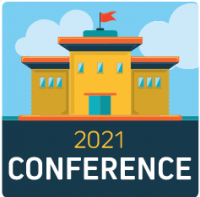 Your Donation Will Go Twice As Far
Exciting news! Equality Florida has been chosen as a beneficiary of the 2021 Florida AIDS Walk! The AIDS Healthcare Foundation will match all donations dollar for dollar up to $500,000 that are made to Equality Florida's Florida AIDS Walk Team. Click here to take advantage of this matching opportunity.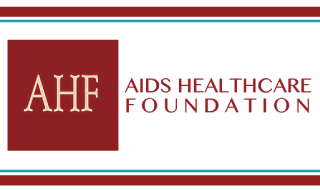 A Learning Opportunity for Jacksonville's Trans and Non-Binary Young People
Our TransAction Leadership Academy (TALA) consists of hand-selected members of the trans and enby (non-binary) community, from 18 to 30 years of age, who will participate in a three month virtual training program. The program will cover a broad range of topics, including all Equality Florida program areas, advocacy training, effective public/media messaging, and field organizing. Our next TALA will be in Jacksonville in March. If you have questions or would like to apply for this TALA, please email Nikole Parker, TransAction Florida Project Coordinator, at [email protected].

We're Hiring!
Equality Florida is looking for a development officer to lead all development efforts in the Broward community. Learn more about this opportunity at equalityflorida.org/careers.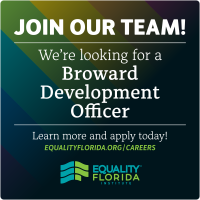 Upcoming Events
We host and participate in events throughout the year to help educate communities about LGBTQ equality in Florida. Here's what's coming up: