KIMBERLY MAZAUSKAS AND COMPASS INC. TO BE HONORED AT EQUALITY FLORIDA PALM BEACH GALA
EQUALITY FLORIDA TO HONOR KIMBERLY MAZAUSKAS
AND COMPASS INC.
AT 4th ANNUAL PALM BEACH GALA
Sunday, February 19 at Lake Pavilion
At its 4th Annual Palm Beach Gala on Sunday, February 19, Equality Florida will present the Voice for Equality award to Kim Mazauskas, Bullying Compliance, Prevention and Intervention Coordinator at the School District of Palm Beach County. The Community Partner for Equality Award will go to Compass, Inc., the largest gay and lesbian community center in Florida and the Southeast United States. The gala takes place at 7:30 PM at Lake Pavilion, 101 South Flagler Drive, West Palm Beach.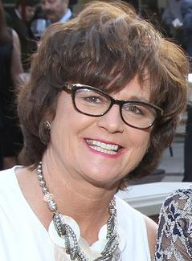 The Voice for Equality Award is bestowed annually upon a person who, with courage, passion and unwavering commitment, moves Florida's LGBT community closer to full equality. A longtime voice for the safety of children, Kim Mazauskas first attracted widespread attention in 2008 as an advocate for LGBTQ acceptance and safety in schools, when she worked on the statewide anti-bullying bill.
Subsequently, Kim focused on making the Palm Beach School District a leader in bullying prevention and intervention, including the development of school district trainings and supporting the establishment of Gay-Straight-Alliance (GSA) groups in schools. For the past three years, Kim has been instrumental in leading "All Together Now," a statewide LGBTQ Conference for school officials at the "Safe Schools Institute" in Palm Beach County Schools, where 26 Florida Districts convened in 2016.
"We are so proud to honor Kim with the Voice for Equality Award," said Nadine Smith, CEO and co-founder of Equality Florida. "Every day, she is on the front lines working to ensure the safety of students in Palm Beach County schools. Her enthusiasm and steadfast commitment to combating bullying make her a constant champion for our children, in Palm Beach County and throughout Florida."
In recognition of its 25+ years of serving the needs of Palm Beach County's LGBT community, Equality Florida will honor Compass, Inc. with the Community Partner for Equality Award. Located in Lake Worth, the seeds for Compass were sown in 1988 when a small group of individuals joined together in response to the AIDS crisis, providing education, testing and support. In 1992 Compass founded the annual Pridefest, and in 1999 established Compass Inc., The Gay and Lesbian Community Center of Palm Beach County, each of which have grown to become one of the largest and most respected in the nation.
By empowering youth, promoting pride in the community, providing education, advocacy, health services, and by being a focal point for community organizing, the dedicated team of staff and volunteers at Compass works each day to advance its mission: to give a voice to the lesbian, gay, bisexual and transgender community of Palm Beach and to diminish stereotypes by challenging long-standing misconceptions. Equality Florida is thrilled to recognize Compass for these efforts.
The Palm Beach Gala is a sparkling, fun event in support and celebration of the inspiring work of Equality Florida. The evening includes entertainment, dancing, an open bar and culinary delights provided by local restaurateurs, along with the annual State of the State Address presented by Stratton Pollitzer, co-founder of Equality Florida.
The 4th Annual Equality Florida Palm Beach Gala, presented by sponsor PNC Bank, takes place on Sunday, February 19 at 7:30 PM at Lake Pavilion, 101 South Flagler Drive, West Palm Beach. Tickets are $150 and may be purchased online at http://www.eqfl.org/palmbeachgala. Sponsorships are also available. For further information, contact [email protected] (305) 335-2102.
Equality Florida Institute is the largest civil rights organization dedicated to securing full equality for Florida's lesbian, gay, bisexual and transgender community. www.eqfl.org