BREAKING: Historic Confirmation To Florida Court
Historic Confirmation To Florida Court
Darrin Gayles Confirmed To Be U.S. District Judge
for Southern Florida
June 17, 2014
Florida Why Courts Matter coalition
Historic confirmation to Florida court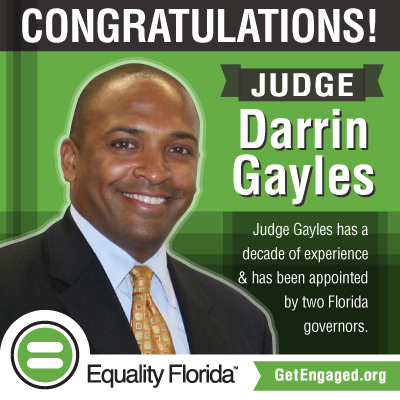 Today the US Senate confirmed, 98-0, the nomination of Darrin Gayles to be U.S. District Judge for Southern Florida. Gayles is the first openly gay African American male to be confirmed to a federal bench seat.
"Today we have added a highly qualified judge with a decade of experience to the federal bench," said Equality Florida CEO Nadine Smith on behalf of the Florida Why Courts Matter coalition. "That is cause for all fair-minded Floridians to celebrate. There was a time when racism and homophobia would have prevented the best candidate from being appointed. Today's confirmation is a testament to Judge Gayles' impressive resume and a sign of the progress we've made as a society."
Background:
As of 2013 it was estimated that more than 195 million people -- over 60 percent of the U.S. population -- lived in a community with a federal courtroom vacancy. This crisis creates a backlog of cases that undermines our system of justice and makes it difficult for many Americans to have their case heard in a timely manner. In Florida, there are currently six judicial vacancies including four in the Southern District.
Currently there are 14 active judges on the Southern District with 18 authorized judgeships, meaning after Gayles' confirmation there will still be three vacancies. All these vacancies are considered "judicial emergencies" based on the length of the vacancy and resulting backlog of cases.
Although Gayles will be the first openly gay African American male to be confirmed as a federal judge, he is the second to be nominated. Earlier this year Sen. Marco Rubio blocked the nomination of Judge William Thomas to the same Southern District Court of Florida.
Darrin Gayles received a BA degree in 1990 from Howard University and a JD in 1993 from George Washington University Law School. He served as Assistant State Attorney in the Miami-Date State Attorney's Office from 1993 to 1997 and as Assistant District Counsel at the United States Immigration and Naturalization Service from 1997 to 1999. Gayles went on to serve as Assistant United States Attorney for the Southern District of Florida and from 2004 to 2011 was a Miami-Dade County Judge within the Eleventh Judicial Circuit. Since 2011, he has served as a Circuit Court Judge in the Eleventh Judicial Circuit. President Obama nominated Gayles to the seat vacated by Judge Patricia A. Seitz on the Southern District Court of Florida on February 6, 2014.
For more information, please visit www.whycourtmatter.org.