VIDEO: First Responders for the Freedom to Marry
Video:
Retired police officers, Donna Brown, Kathy McDaris and Mike Strickland, urge fellow first responders to sign on to support the freedom to marry.
A message from Ret. Sgt. Donna Brown:
For 26 years as a police sergeant in the Tallahassee Police Department, I did my duty to protect the people in the great state that I love despite knowing that if something bad were to happen to me, my partner Lynne would not have been protected here.
Throughout my career, I lost three coworkers who gave the ultimate sacrifice and died in the line of duty. It's dangerous work, and since the state of Florida did not respect Lynne and me as a family, she would not have been protected if I was killed while serving, just because we are both women.
I'm retired now, but hundreds of other gay and lesbian Floridians are continuing to serve their community as First Responders without the security that the freedom to marry provides.
That's why I'm standing up and joining dozens of other Florida First Responders for the Freedom to Marry in signing an amicus brief to the 11th Circuit Court of Appeals, which could hear arguments on marriage this winter. The brief, led by Equality Florida and Freedom to Marry, shows how we as first responders have each other's back and want all of our colleagues to be respected for doing their duty.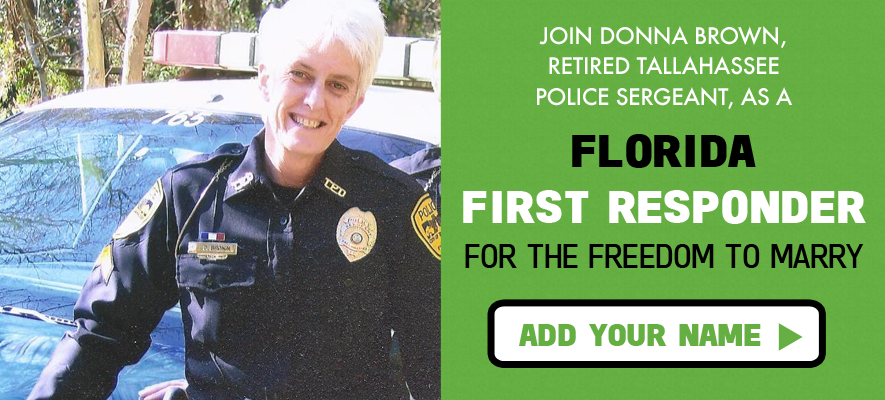 When Lynne and I finally marry in Florida, it will be vindication for the battle that so many have fought for equality in our state. Now is your chance to be a part of that battle and help show that the entire state is ready for the freedom to marry.
Let's make our voices heard in this landmark case: If you are a first responder in Florida - gay, lesbian, or straight, active or retired - please sign on to this amicus brief urging the 11th Circuit to affirm that denying the freedom to marry to same-sex couples is unconstitutional.
Please take one minute and add your name here.
Together, we can make a huge impact.
Donna Brown
Tallahassee Police Sergeant, Ret.
If you're not a first responder yourself but know someone who may be interested in signing the brief, please urge them to sign!