Equality Florida Defends Bans on Conversion Therapy
Written By: Jon Harris Maurer, Public Policy Director
When I talk to folks around the state about banning so-called "conversion therapy," the most frequent question I get is, "Does that even still happen?" Sadly, it does. And right now, those who seek to gain from inflicting conversion therapy on minors are suing to overturn lawfully enacted bans on this fraudulent and dangerous practice.
We won't let them roll back hard-won progress. Last week, a second federal court accepted Equality Florida as an amicus curiae or "friend of the court," to explain the harms of conversion therapy and why this issue is so critical for our community. We are now helping to defend local conversion therapy bans enacted by the City of Tampa, the City of Boca Raton, and Palm Beach County.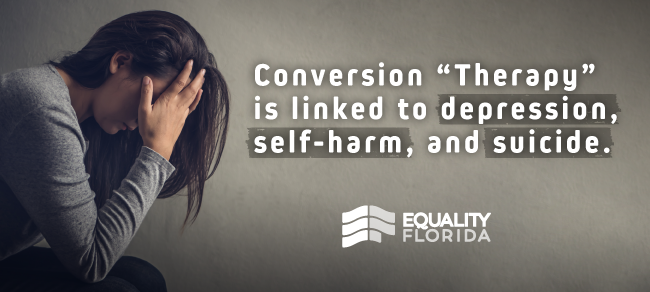 Conversion therapy is a sham practice that falsely claims to be able to change someone's sexual orientation or gender identity. It has been tragically proven to lead to depression, anxiety, drug use, homelessness, self-harm, and suicide, and minors are especially vulnerable. It also damages families by lying to parents and increasing the chances they will reject their children for who they are.
As the state's largest civil rights organization dedicated to advancing equality for Florida's LGBTQ community, Equality Florida brings a unique perspective to these cases. It's not just about whether local governments properly enacted an ordinance; it's about the dire need to protect Florida's LGBTQ youth from a traumatic practice that has been debunked by nearly every mainstream medical and mental health association in the United States.   
14 states and 20 Florida local governments have now banned conversion therapy on minors. Unfortunately, the recent lawsuits make passing local conversion therapy bans more challenging, but they also make fighting for these critical policies more important than ever.
.......
Stay tuned for more updates on the work Equality Florida is doing on the issue of so-called "conversion therapy".