Brian McNaught presents on LGBT Workplace Issues on March 28th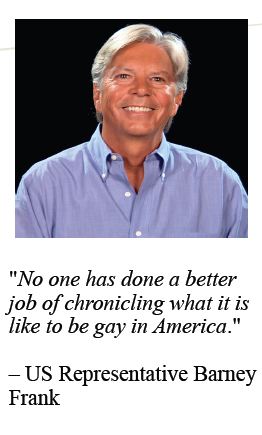 Brian McNaught, who is the world's leading corporate diversity consultant dealing with LGBT issues in the workplace, will present at the State Farm training facility at 10451 NW 117th Avenue on March 28, 2012 from 1:00 – 4:00 pm in Medley, FL.
Through personal stories, good humor, memorable analogies and concrete examples of everyday life, Brian McNaught's Understanding and Managing Gay, Lesbian, Bisexual and Transgender Issues in the Workplace makes tangible the commitment to valuing diversity, explains how and why we often fall short of our goals with our gay, lesbian, bisexual and transgender colleagues, underscores the responsibility of each person to proactively create a safe and productive work environment for everyone and provides the necessary tools to increase the confidence and competence of us all to respond to these issues effectively. This interactive presentation successfully builds strong bridges of understanding and of mutual respect, regardless of a person's perspective.
SPONSORED BY: State Farm, Stonewall National Museum & Archives, Equality Florida, Florida Together, The Aqua Foundation for Women and Compass
Tickets $250 – Limited to 100 People
For ticket information and to purchase, please click here
About Brian Mcaught:
Since 1974, Brian has drawn on his personal experiences, and his skills as a certified sexuality educator, to help audiences understand what it's like to grow up gay and to deal with the common daily challenges faced by gay and transgender people at work, at home, in their churches and in their neighborhoods around the globe. He has addressed hundreds of professional and university audiences and trained thousands of corporate executives throughout North America, Europe and Asia, including those at the National Security Agency (NSA), Bank of America Merrill Lynch, Goldman Sachs, Toronto Dominion Bank, Deutsche Bank, Citigroup, Credit Suisse - First Boston, JP Morgan Chase, UBS, Chrysler, Ford, Morgan Stanley, Merck, DuPont, Hewlett-Packard, Motorola, S.C. Johnson & Sons, Chubb, SONY, St. Paul Cos., AT&T, Lehman Brothers, Lucent, Avaya, Agilent Tech., NCR, Brookhaven National Labs and Battelle.
Brian has produced and/or is featured in six critically-acclaimed educational videos and DVDs, three of which aired on PBS stations nationally, and he is the author of six books, all of which have been used as college texts. Brian is the host of the Provincetown TV program Stonewall Portraits: Profiles in Pride, he wrote a syndicated column in the gay press for 12 years and has contributed to numerous national publications. His work appears in six college textbooks and in several anthologies of gay/lesbian non-fiction literature. He was also the co-host of a seasonal radio program in Provincetown, MA.