BREAKING: Supreme Court Denies Bondi's Request to Further Delay the Freedom to Marry
Supreme Court Denies Bondi's Request to
Further Delay the Freedom to Marry
Clears the way for marriages to begin in Florida Jan 6th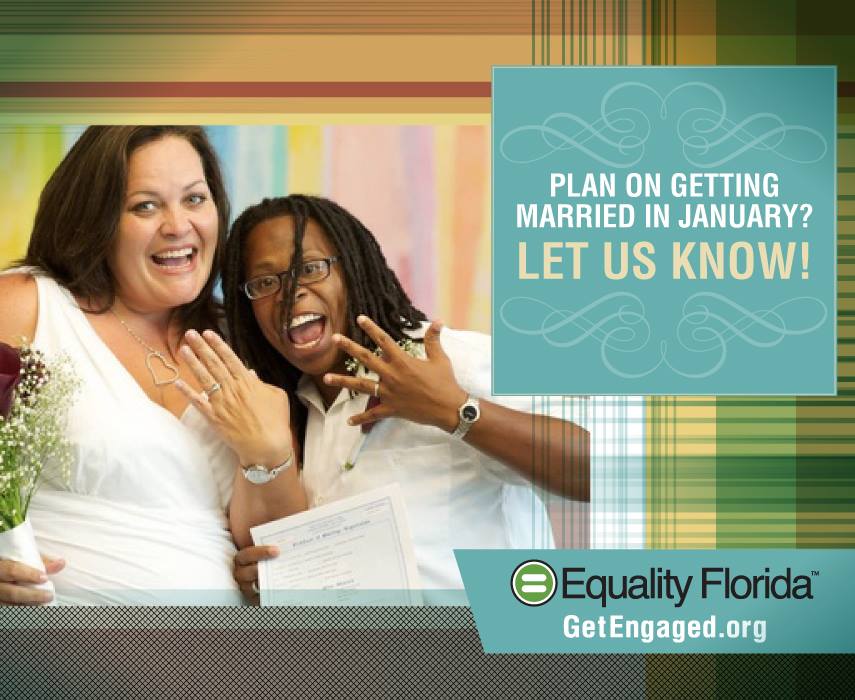 Today, the United States Supreme Court denied the State of Florida's motion for a stay of an August federal court ruling that overturned the state's ban on marriage for same-sex couples. The order means the stay expires at the end of the day on January 5. Same-sex couples will be free to marry in Florida once the stay in the ruling is lifted.
"We are thrilled the U.S. Supreme Court has denied the State's request to delay marriages in Florida," said Nadine Smith, CEO of Equality Florida, the state's largest advocacy organization for gay, lesbian, bisexual and transgender Floridians. "Every day of delay is another day of harm experienced by thousands of loving and committed same-sex couples in Florida. It's time to break out the wedding bells! We look forward to January 6th being a special day -- Florida is ready for the freedom to marry."
On August 21, US District Court Judge Robert Hinkle ruled in favor of the freedom to marry and respect for marriages legally performed between same-sex couples in other states in the federal marriage cases, Brenner v. Scott and Grimsley and Albu v. Scott, brought by the ACLU of Florida, SAVE and private counsel.
Daniel Tilley of the ACLU of Florida emphasized that now clerks across the entire state have a duty to marry couples. "The Supreme Court has spoken, and we expect clerks to begin marrying couples who will finally get access to the protections their families deserve."
The District Court placed a hold on the decision to allow time for an appeal, but the stay is scheduled to expire on January 5. On December 3, the U.S. Court of Appeals for the 11th Circuit denied the State of Florida's request for an extension of that stay, allowing same-sex couples to marry, even as the appeal in the case proceeded.
Read the U.S. Supreme Court Order denying Attorney General Bondi's stay request by clicking here.  
Plan on getting married this January? Let us know by clicking here!
Stay tuned for more information....