BREAKING: U.S. Supreme Court Will Review A Marriage Equality Case!
U.S. Supreme Court Agrees to Decide on Freedom to Marry
Court to bring national resolution on marriage equality for all Americans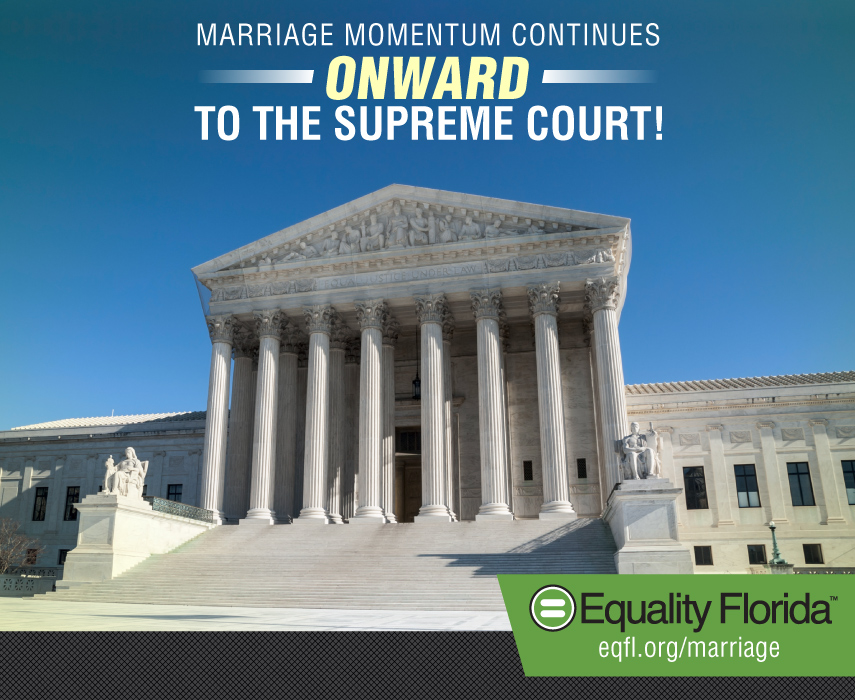 (January 16, 2015) Today, the U.S. Supreme Court agreed to hear a case challenging same-sex marriage bans in four states in the Sixth Circuit. A nationwide decision by the Court is expected by late June 2015.
Nadine Smith, CEO of Equality Florida, made the following statement:
"We are thrilled that the Supreme Court's decision today brings us closer to national resolution granting the freedom to marry to same-sex couples.
"The ability to marry the partner you choose brings great joy and happiness, provides important protections for couples and their families, and has no negative impact on others.
"In Florida last week, when our own courts affirmed the freedom to marry, we saw an outpouring of thousands of couples ready to pledge their commitments and love. We look forward to the day when couples in every state have the same freedom that we Floridians now enjoy, and we will continue our work here to ensure the health and safety of all families."
In October, the last time marriage cases reached the Supreme Court, the justices let stand decisions by three separate appeals courts that granted marriage to same-sex couples. That opened the door to marriage for same-sex couples in 11 more states, but it avoided a nationwide ruling.
The decisions the Court agreed to review today come from the federal Sixth Circuit Court of Appeals, covering Tennessee, Kentucky, Ohio and Michigan, from which a three-judge panel upheld those states' bans on marriage for same-sex couples. That decision conflicted with favorable marriage rulings in four other appellate circuits. More than 50 federal and state courts have struck down discriminatory marriage bans in the past year and a half.
Briefs will now be filed on both sides, oral argument will be scheduled, and the Supreme Court will likely hand down a decision by next summer, potentially bringing an end to marriage discrimination in the United States. Currently same-sex couples can marry in 36 states including Florida, where marriages began statewide on January 6 and are proceeding while Attorney General Pam Bondi continues to appeal to the 11th Circuit to reinstate Florida's discriminatory ban.
"This struggle has always been about winning the freedom to marry nationwide and today's decision by the U.S. Supreme Court to take up a case is a huge step towards equality," Smith said.