FL Cowboys Are Ready For The Freedom To Marry
FL Cowboys Are Ready For The Freedom To Marry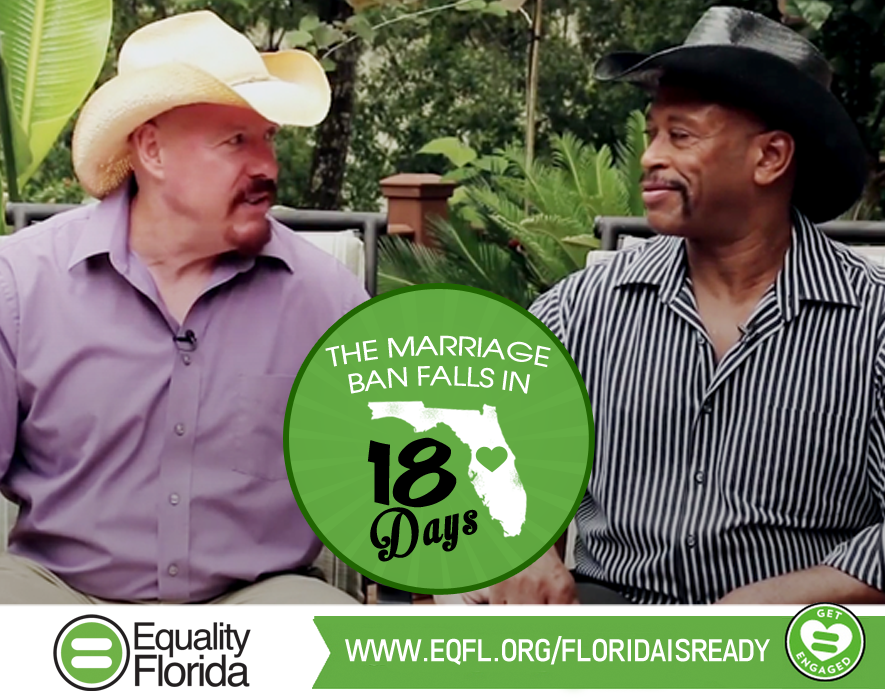 On August 21, 2014, U.S. District Court Judge Robert Hinkle ruled in favor of the freedom to marry and respect for marriages legally performed between same-sex couples in other states. Now, all eyes are on Governor Rick Scott to see if he'll use the power of his office to stop any appeals of the recent marriage case. If the ruling is not appealed in 18 days, Florida's marriage ban will fall on September 22!
Stephen Schlairet and Ozzie Russ, plaintiffs in the case, are one of the thousands of loving and commited couples in Florida who are ready for marriage to move forward in Florida. Watch their video as they speak out for why marriage matters to them.
The men have been together since 1999, and in November 2001, they became domestic partners in Fort Lauderdale. They live in Fort Lauderdale, tapping into Stephen's passion for horses: He volunteers at a horse rescue in Marianna. Stephen has a Masters' Degree in Hospital Administration and over 40 years of healthcare management experience, and Ozzie works in management and customer service.
Stephen and Ozzie had a commitment ceremony over 14 years ago to pledge their love in front of the their family and friends.
"We knew that it was just a commitment ceremony. But all the people that were there - our friends and family - thought we actually got married. To them it was real. To us it was real. But in the legal system, it's not. And we want it to be real."
Watch Stephen and Ozzie's video and sign the pledge to show Florida Governor Rick Scott you are ready for the Freedom to Marry in Florida!