500 State-Protections Denied To Same-Sex Couples In Florida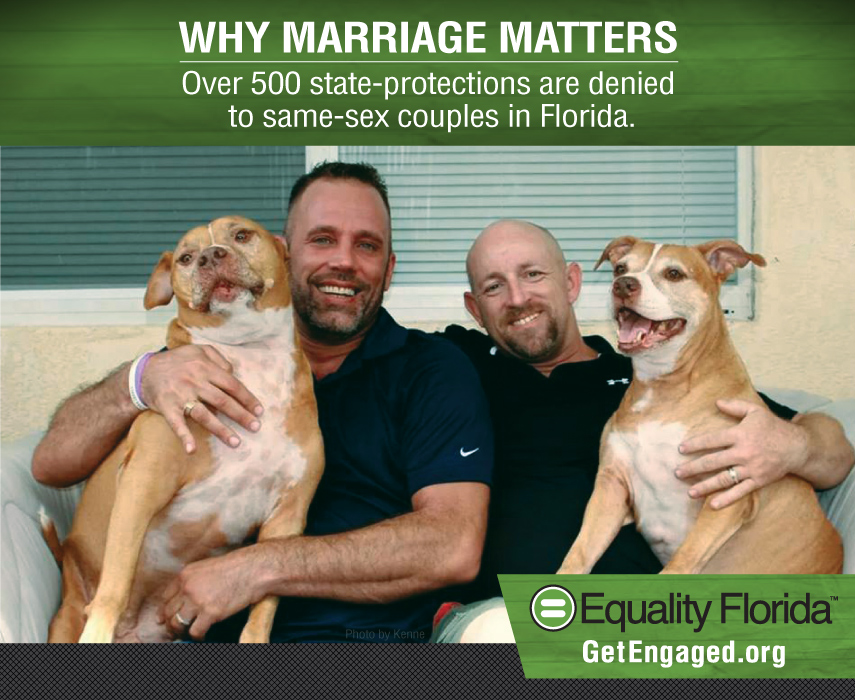 A recent article by Cassondra Fredriksen at Stetson University College of Law found that Florida's discriminatory marriage ban denies 508 state-protections to loving same-sex couples. The harm inflicted on couples and families as a result of this ban are felt every day.
Article:
The Florida Five Hundred: Rights and Privileges Denied by the Marriage Ban in Florida
By: Cassondra Fredriksen
As marriage equality spreads throughout the United States, more and more states are acting to ensure all same-sex couples are afforded the opportunity to marry with dignity. As the United States Supreme Court announced in the landmark Loving v. Virginia case, "[t]he freedom to marry is recognized as one of the vital personal rights essential to the orderly pursuit of happiness by free men." It has been well documented and discussed that there are over one thousand one hundred federal rights that pertain to marriage. This statistic was even cited by the Supreme Court in its recent United States v. Windsor decision, the decision, in which the Court struck down the federal law that restricted marriage to opposite- sex couples.
Currently, the Florida Constitution prevents same-sex couples from getting married in the state and does not recognize such marriages performed in other states. This Article presents empirical research showing that there are over five hundred Florida state statutes that contain rights and privileges that pertain to marriage. Therefore, same-sex couples living in Florida are deprived not only of the right to get married, but also the vast array of federal and state benefits that pertain to marital status. This Article attempts to catalogue those Florida statutes that pertain to marriage and the vital personal rights that stem from marriage, including rights related to health, finance, business, property, familial recognition, and more. Read the full article by clicking here.