Celebrate Juneteenth By Supporting Black Trans-Led Organizations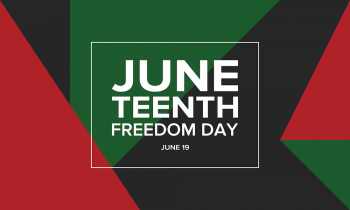 Today we recognize Juneteenth - a celebration marking the day in 1865 when enslaved Texans learned they'd be free, two months after Robert E. Lee surrendered and ended the Civil War and two and a half years after President Abraham Lincoln issued the Emancipation Proclamation.
Juneteenth traditions focus on celebrating Black lives through music, art, history, food, and family gatherings. It's a time to connect and uplift one another through community.
It's also a recognition of every day acts of resistance by Black people against systemic racism and injustice in our country. It is a time to honor Black visionaries and leaders who have moved our nation closer to the ideals of liberty and justice for all.
We could not have celebrated the Supreme Court's ruling that sex discrimination included sexual orientation and gender identity had it not been for those who sacrificed to usher in passage of the Civil Rights Act of 1964.
We could not celebrate Pride month had it not been the Black lesbian, bisexual and transgender women who fought back when the police raided the Stonewall Inn. Their courage kicked off a 6-day street rebellion that drew more than a thousand protestors to push back against police violence and marked a new era in the fight for LGBTQ equality.
And as we take to the streets to continue the call for an end to police brutality we chant the phrase Black Lives Matter remembering the Black queer voices who launched that movement.
Today - in celebration of Juneteenth and in solidarity of the nationwide demonstrations in support of Black lives and against racial violence - we hope you'll join us in giving back to Black trans-led organizations in Florida.
These organizations work every day to create real and lasting change in their communities.
Through changes in culture and policy, they fight to combat the disproportionate violence that Black trans people face. And they rally the community to seek justice when Black trans women are brutally murdered in our state - women like Bee Love, Kiki Fantroy, Londonn Moore, Sasha Garden, Cathalina Christina James, Antash'a English, and Celine Walker.
They provide services focused on housing, HIV testing, and legal resources.
They empower Black lives by providing a safe space for Black trans people to be unapologetically themselves while sharing stories of family, loved ones, work, art, activism, and other passions.
So today, honor Juneteenth and celebrate Black trans lives by supporting these Florida-based organizations.