Historic Night for Black LGBTQ Candidates in Florida
A Note By Nadine Smith, Executive Director of Equality Florida: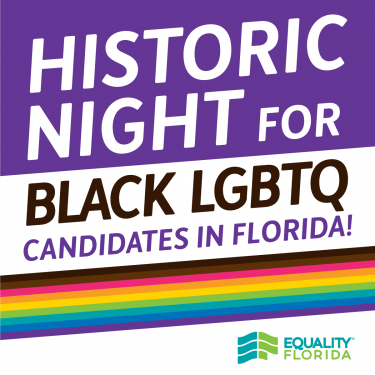 The results are (mostly) in, and I couldn't wait another second to share the news. This has been a big, big night with history-making wins by Black LGBTQ candidates and voters tossing out anti-LGBTQ incumbents all across the state.
Shevrin Jones became the first Black gay man elected to the Florida Senate and Michele Rayner became the first Black queer woman elected to the Florida House.
And in a total repudiation of anti-LGBTQ lawmakers, infamous homophobe Rep. Mike Hill lost his primary in Pensacola as did Rep. Kimberly Daniels in Jacksonville and Rep. Al Jacquet in Palm Beach.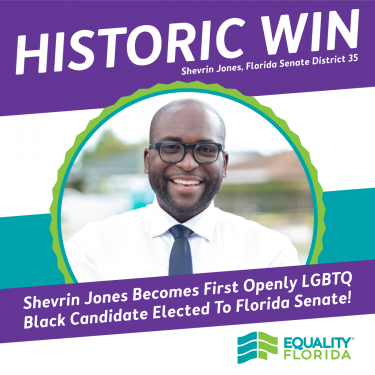 Representation matters and these wins give LGBTQ Floridians new and critical seats at the table in the Florida legislature. Equality Florida Action PAC was proud to make Shevrin our first endorsement of this election cycle. Shevrin won by a huge margin, easily defeating former State Senator Daphne Campbell whose legislative record included hateful anti-LGBTQ positions.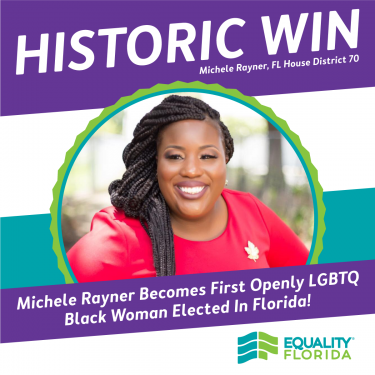 With her victory, Michele has shattered another glass ceiling by becoming the first Black queer woman ever elected to any office in our state. Our donors rallied to support her and our volunteers sent over 100,000 messages to voters in the closing days of the campaign.
These two races were Equality Florida Action PAC's top priorities for today's primary election - and our staff and volunteers have sent over 100,000 messages to voters in these two districts in the last four days alone.
In an era of racist rhetoric from Donald Trump, the election of openly LGBTQ Black candidates is an inspiration for everyone who values equality and justice. We cannot wait to work with Michele and Shev in Tallahassee!
As election night continues, our team is keeping track of pro-equality candidates across the state who have elections tonight - including the over 50 candidates endorsed by Equality Florida Action PAC.
Tomorrow, we'll provide a full analysis of what the primary election results mean for our community and how the entire slate of PAC endorsed candidates fared as we look toward the general election in November.