Yesterday I re-proposed to Christopher and he said yes, again. And we are getting married, again, this time in Florida and this time to be recognized by our state and federal government. On Jan. 6th, after 21 years as a couple and 15 years since we married in my parents backyard in South Carolina, we will ask the Broward Clerk of Courts for our marriage license.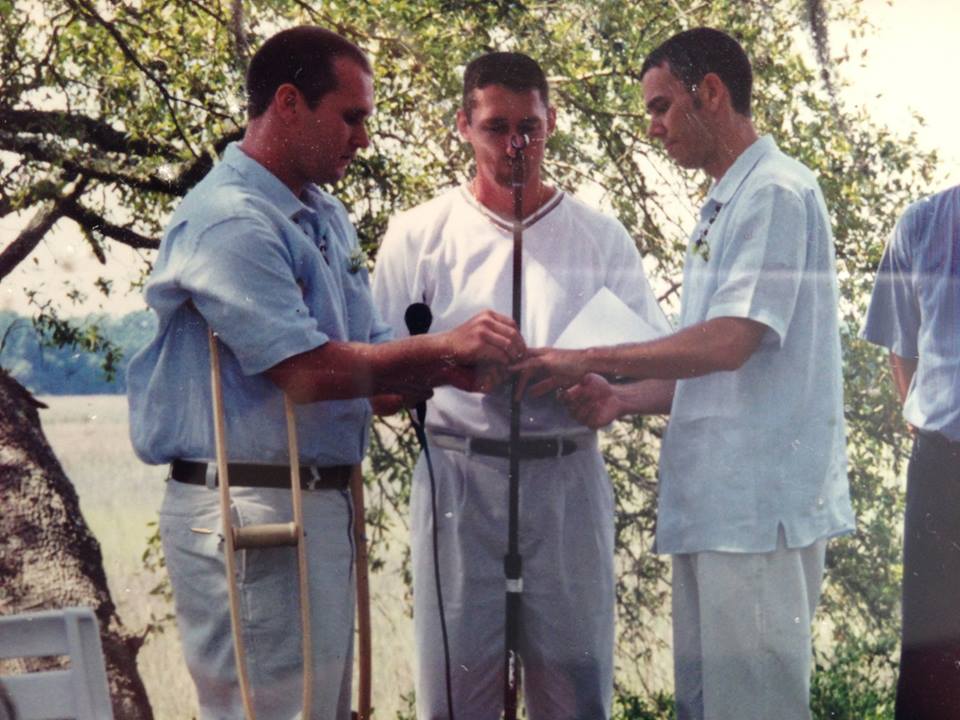 It's been a long time since our wedding at the end of a dirt road where we announced our love and commitment before nearly a hundred family members and dozens of friends. Back then, in 1999, same sex marriage wasn't recognized anywhere and when I called Christopher my husband it more than raised eyebrows - even in LGBT circles. And we didn't get any rights for being married, none.
The night before our wedding Christopher stepped through a glass coffee table (he was applying bug spray!) and cut himself pretty badly. I remember the anxiety of being completely at the mercy of the small town emergency room staff who could have refused to let me sit with him, holding his hand, as they stitched him up. The doctor wasn't friendly, but he knew my family and he let me stay. 
Although we've been treated as complete strangers under the law for a decade and a half since then, our relationship, the love we share, has always been as certain and real as any other marriage. A piece of paper can't tell how much you love someone, but the rights it confers can make your family safer and more secure.
I remember that in the weeks before our wedding day I argued with my mom who wanted to call it a "commitment ceremony" - which was actaully a very progressive position for the day, especially in South Carolina. But I kept telling her no, that Christopher wanted a wedding, that it cost nothing to use these special words, and that it mattered greatly to us. 
But it wasn't until our wedding day, when she and everyone else there got to see us do something at the time so very very rare for a gay couple – to publicly and with open hearts show our love for one another – that she understood. And when the ceremony was done my mom made the first toast, "This toast is for everyone who came today unsure if this would be a real wedding. Well it is, so here's to Stratty and Christopher's real wedding and to their marriage."
So as we approach January 6th I'm taking a short break from our marathon efforts to ensure Florida's Clerks hear the call of history, heed their constitutional duty, and allow Christopher and me and thousands of others at last to marry. 
Instead tonight I reflect on that beautiful May evening those many years ago when I was 30 and Christopher was just 27. And I say again my vows…
"I stand before all of you today who are my family, to share with you a miracle from my life. Beaufort South Carolina is a beautiful and very special place, but it is a sometimes frightening place to grow up knowing you are gay. When I was a teenager, I believed that I would never find true love. For many years I made the same wish on my birthday: I wish I were in love, I would think silently to myself, and then blow out the candles.
But the universe is more magnificent than I imagined then and the love and support that all of you have given me has led me here to this moment with my soul-mate.
I can still remember the moment that I fell in love with Christopher. I was in a candy store in Key West and a John Denver Song, Country Road, was playing. And I began to think about this young man from Mississippi. A man with glittering green eyes who measured his successes in the number of sea beans or beautiful shells he found upon a beach. A man who had walked down as many dirt roads as me and who understood the smell of the salt marsh. I thought about Christopher's strong arms, his precious smile, and his gentle and loving soul. "Country Road, take me home," John Denver sang, and I realized that Christopher had become my home.
That was five years ago, and in those years I have learned that the soul, like the universe, is more magnificent than I once imagined. I wrote recently in my journal – there is a place in my soul, untouched by any hand, a deep and beautiful place, that only Christopher knows.
Christopher, you are my miracle. I love your adventurous spirit, your generous affection, your mischievous laugh, and your innocence. I love you, everything that is you, deeply, profoundly, and completely and I always will."