STATEMENT: U.S. SUPREME COURT DECISION NOT TO REVIEW MARRIAGE RULINGS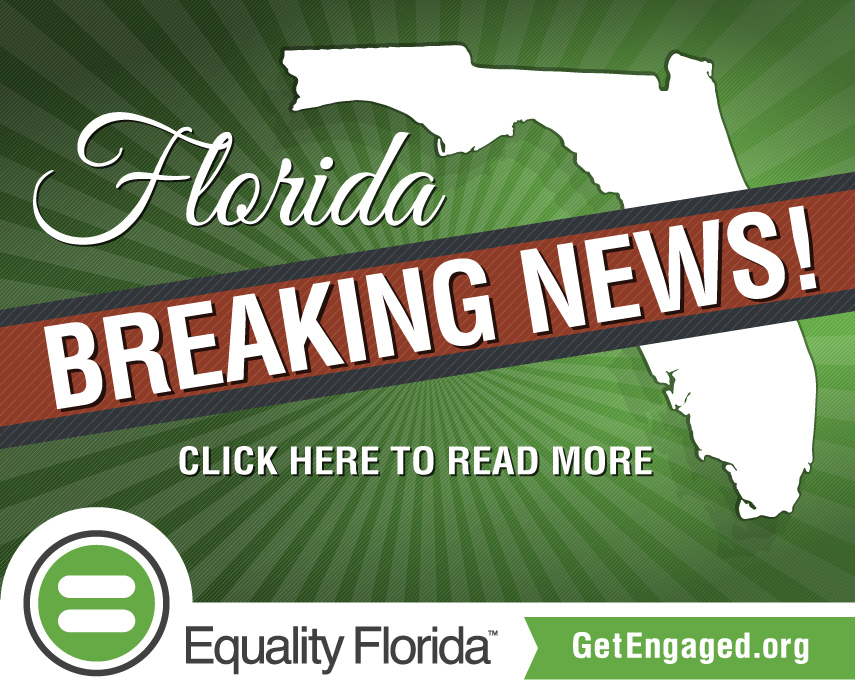 TAKE ACTION:
Send Governor Rick Scott and Attorney General Pam Bondi an email urging them to stop the appeals and put an end to Florida's ban on marriage for loving same-sex couples across the state. To send an email, click here.
STATEMENT:
Today's action sends a clear message to Florida Governor Rick Scott and Attorney General Pam Bondi: Respect the ruling of 5 Florida judges and end marriage discrimination now.
In light of today's action, we call on Pam Bondi and Rick Scott to immediately announce they will now drop their senseless appeals. There is no reason to wait another day or waste another dollar crusading to keep discrimination in place in Florida.
For Florida, this ruling eliminates the last refuge for Attorney General Pam Bondi and Governor Rick Scott to hide behind.
Attorneys General and Governors across the country, aware of their duty to protect the basic rights of their residents, have declined to defend anti-gay marriage bans precisely because it is clear to them that these laws are both morally and constitutionally indefensible.
Florida is now in the unhappy position of being among the last states in our nation to get right on one of the civil rights issues of our day. How low on that list of shame will Pam Bondi and Rick Scott force Florida to fall?
Today's action is a victory for loving couples in Indiana, Wisconsin, Utah, Oklahoma, and Virginia where Federal courts have struck down bans on marriage equality as unconstitutional.
In addition, it leaves in place the circuit court rulings from the 4th, 7th and 10th Circuits, meaning couples in West Virginia, North Carolina, South Carolina, Kansas, Colorado and Wyoming will soon be able to marry as well. They will soon join the other 19 states and the District of Columbia where the discriminatory bans have been overturned.
Four years ago, on September 22, 2010, a day Charlie Crist describes as one of his proudest moments as an elected official, an appeals court declared Florida's notorious ban on adoption by gay and lesbian people unconstitutional.
Crist showed true leadership, responding the same day by calling for an immediate end to the ban and paving the way for thousands of prospective parents to begin adopting the children they loved.
Rick Scott and Pam Bondi face a nearly identical scenario today. End the appeals. Let thousands of Florida's loving couples enjoy the same legal protections as every other married couple in our state.
------------------------------------------------------------------------------------------
From Scotus Blog
Today's orders: Same-sex marriage petitions denied
By Amy Howe on Oct 6, 2014 at 9:51 am
This morning the Court issued additional orders from its September 29 Conference. Most notably, the Court denied review of all seven of the petitions arising from challenges to state bans on same-sex marriage. This means that the lower-court decisions striking down bans in Indiana, Wisconsin, Utah, Oklahoma, and Virginia should go into effect shortly, clearing the way for same-sex marriages in those states and any other state with similar bans in those circuits.
The Supreme Court had issued the first round of orders from the September 29 Conference last Thursday, adding eleven new cases to its docket for the new Term. Many people had anticipated that one or more of the same-sex marriage petitions might be on that list, but the Court did not act on any of them at the time. Last month Justice Ruth Bader Ginsburg had suggested that the Court might not step into the controversy at this point, because there was no disagreement among the lower courts on that issue. Today her prediction proved true, with the Court denying review (without any comment) of the seven petitions:
Bogan v. Baskin(Indiana); Walker v. Wolf (Wisconsin); Herbert v. Kitchen (Utah); McQuigg v. Bostic (Virginia); Rainey v. Bostic (Virginia); Schaefer v. Bostic(Virginia); and Smith v. Bishop (Oklahoma).