Remember Pulse: #HonorThemWithAction
On June 12, 2016, the Orlando community was rocked by the massacre that claimed the lives of 49 people. The horror unfolded in the middle of Pride month on Latin Night at Pulse Nightclub, a popular gathering place for young LGBTQ people of color.
Today, as we remember those taken from us, we also renew our calls to #HonorThemWithAction - and I challenge you to join us.
On this day of remembrance, use the hashtag #HonorThemWithAction to let us know how you are honoring the 49 lives taken. Share the actions you are taking each and every day to speak out against hatred of all kinds and make the world a safer, better place for ALL.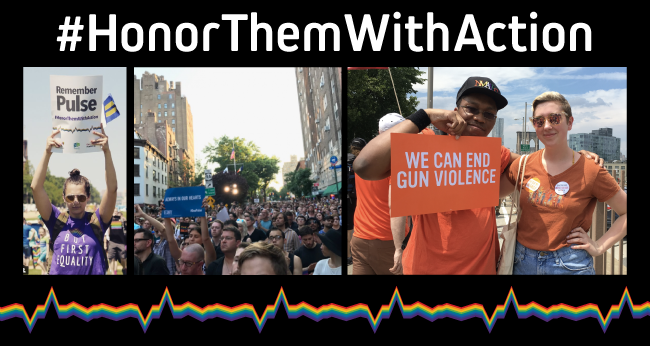 We all have a story to tell about how we first learned of the attack at Pulse two-years ago today. We have the powerful stories of how we have grieved together, leaned on each other, and resolved to make real and lasting change.
Today we ask that you continue to use the hashtag #HonorThemWithAction on social media to share what you are doing to create change and end anti-LGBTQ bigotry.
Thank you for your compassion, your love, and your support. But most of all, thank you for standing with us to do the work of fully addressing and combating hatred wherever it exists.
Today will be extremely difficult. But if you want to feel hope as we commemorate two-years since Pulse, be inspired by this #HonorThemWithAction Tagboard.