PRESS RELEASE: Slate of Anti-LGBTQ Bills Dominate Florida Legislative Session
UPDATE as of 1/16/2020: Equality Florida has eliminated House Bill 3's risk to local protections against conversion therapy. We hit the ground running in the Capitol this week for a series of rapid response meetings and worked with the sponsor of HB 3 — one of the "Slate of 8" bills — to secure this amendment! The quick action was even more critical because HB 3 is being fast-tracked through the House. We're not out of the woods yet. Next, we're working to fix the Senate bill.
Help us keep up the pressure by joining us in Tallahassee for our annual Lobby Days on January 27 & 28. Register here: equalityflorida.org/lobbydays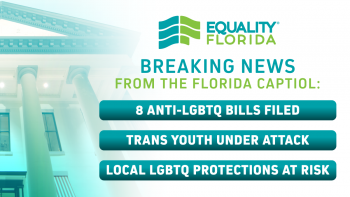 Slate of Anti-LGBTQ Bills Dominate Florida Legislative Session
Last Minute Bills Threatens Jail Time for Doctors for Protecting Trans Youth
(January 14, 2020) — Late Monday, on the final day to file bills for the 2020 legislative session in Florida, anti-LGBTQ lawmakers filed draconian legislation that would imprison doctors providing medical care to transgender youth for up to 15 years. In total, eight bills attacking the rights of LGBTQ Floridians have been filed in Florida's 2020 legislative session, two of which will be heard in committee on Wednesday of this week. This marks this session as one of the most hostile to LGBTQ Floridians in recent memory. Today, Equality Florida called on leadership in the Florida House and Senate to denounce and defeat these bills.
"This is the most overtly anti-LGBTQ agenda from the Florida legislature in recent memory," said Jon Harris Maurer, Equality Florida's Public Policy Director. "It runs the gamut from openly hostile legislation that would arrest and imprison doctors for providing medically necessary care, to legislation that would carelessly erase critical local LGBTQ protections."
Last-minute bills attacking transgender youth represent the most offensive and direct attack this session. Regarding the recently filed Transgender Youth Medical Care Ban bills, Gina Duncan, Equality Florida's Director of Transgender Equality, said, "Transgender youth are some of the most at risk in our community. It is outrageous that conservative legislators would threaten their health and safety. Medical professionals, not politicians, should decide what medical care is in the best interest of a patient. Forcing a doctor to deny best practice medical care and deny support to transgender youth can be life-threatening."  
Some of the bills are repeat offenders that lawmakers file despite the known risks to the LGBTQ community. Anti-LGBTQ bills filed for the Florida 2020 Legislative Session include: