Lawyer who helped win marriage equality nationwide will be honored at Suncoast Celebration
Lawyer who helped win marriage equality
will be honored in Sarasota
Mary Bonauto will join Michael Donald Edwards
at Equality Florida's annual celebration
Mary Bonauto, the lawyer who successfully argued for marriage equality at the U.S. Supreme Court earlier this year, will come to Sarasota later this month to accept a Lifetime Achievement Award from Equality Florida at its annual Suncoast Celebration.
As previously announced, Michael Donald Edwards, the producing artistic director of Asolo Repertory Theatre, will also be honored, in his case with the Voice for Equality Award.
The Celebration will take place Saturday, Nov. 21, from 5 to 7:30 p.m., under the stars on the roof of the Palm Avenue Parking Garage, 1289 N Palm Ave., Sarasota.
News media are invited to attend.
"Our honorees represent the best kind of leadership within the LGBT community," said Ken Shelin, co-chair of Equality Florida's state board of directors.
"Mary Bonauto has successfully advocated for LGBT families and individuals for more than 25 years," Shelin said. "Her legal victories have brought dignity and security to countless Americans. On the cultural side, Michael Donald Edwards has helped us understand the humanity of all people, including LGBT people. Our strength and determination could not have happened without people like him."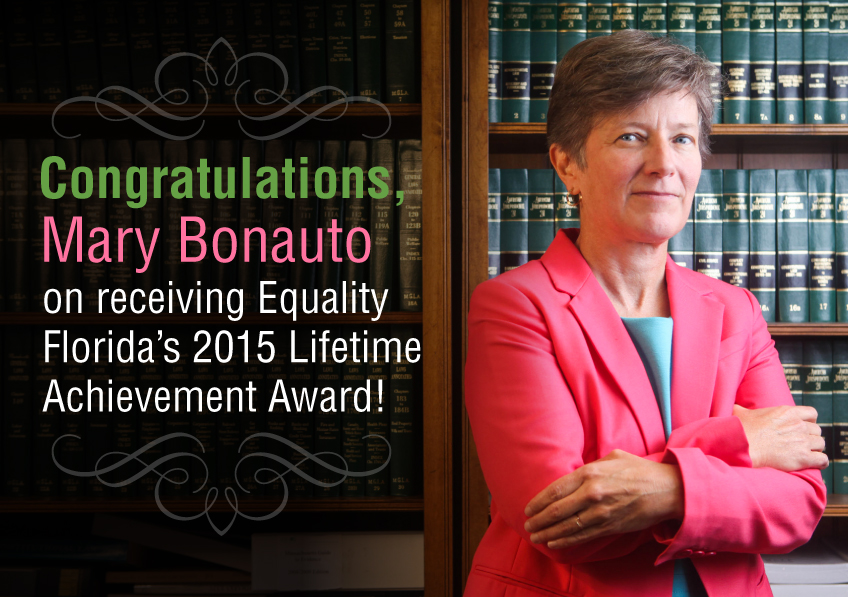 Equality Florida, the state's largest civil rights organization working to achieve full equality for Florida's LGBT community, holds annual celebrations in cities from the Panhandle to Key West.
These events bring local business, political and community leaders together to celebrate victories such as marriage equality. But they also inform people about the challenges ahead -- such as the current campaign to enact a statewide anti-discrimination law that includes sexual orientation and gender identity.
"We still have much to do," said Shelin. "But it's good to celebrate what we've accomplished." ​
"No gay person in this country would be married without Mary Bonauto," said fellow lawyer Roberta Kaplan, who successfully argued for the repeal of the Defense of Marriage Act in 2013.
Bonauto's first marriage equality case was argued in Vermont in the late 1990s. Bonauto and two other lawyers successfully persuaded Vermont's Supreme Court to tell the state Legislature to give equal rights to same-sex couples. In the spring of 2000, the Legislature created "civil unions" -- which granted LGBT couples the same responsibilities and rights of marriage, although within a separate legal structure.
Then, in Massachusetts, Bonauto helped break down the separate-but-equal idea. She led the legal team that convinced that state's Supreme Court in 2003 to declare that same-sex couples could not be denied the legal benefits of marriage. Same-sex marriages began soon after, and three years later, a super-majority of the Massachusetts Legislature refused to allow any challenge to the ruling.
Other victories in Connecticut and Maine ensued. Then, in 2015, Bonauto was invited to argue for two of the cases that had been incorporated into the Supreme Court case of Obergefell v. Hodges. On June 26, the Court ruled that same-sex couples should have equal access to marriage.
Barney Frank, the retired Congressman from Boston, called Bonauto "our Thurgood Marshall." ​
Michael Donald Edwards' award was announced in September. His "American Character Project" at Asolo Rep has explored many different strains of our national character -- including those that are lesbian, gay, bisexual or transgender. He also initiated a popular "Out At the Asolo" series, in which audiences are invited to discuss the LGBT resonances of each play during the season.
To purchase tickets to the Suncoast Celebration, click here.