Grammy-Winning Artists, U.S. Senator Elizabeth Warren to Appear on Equality Florida's "Equality LIVE"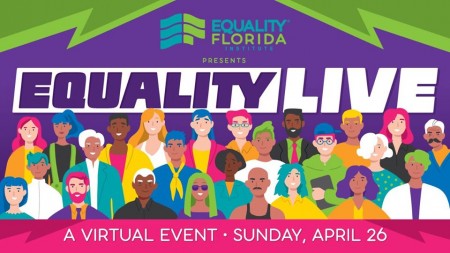 Grammy-Winning Artists, U.S. Senator Elizabeth Warren to Appear on Equality Florida's "Equality LIVE," A Daylong Virtual Variety Show in Support of LGBTQ Equality
(Orlando, Fla.) – Equality Florida, the leading statewide LGBTQ advocacy organization, will host "Equality LIVE," an online virtual variety show Sunday, April 26 from 12:30-8pm EST on Equality Florida's Facebook page and YouTube channel.
"Equality LIVE" will spotlight the five communities that were forced to cancel annual galas due to COVID-19 and culminates in a powerhouse 60-minute show from 7-8pm EST a special message from U.S. Senator Elizabeth Warren and a statewide update and call to action from Equality Florida Executive Director Nadine Smith.
Joining "Equality LIVE" are special guests: Latin Grammy Award Winner Nestor Torres, Jeanette Jennings, Florida State Senator Jason Pizzo, Florida State Representative Shevrin Jones, Florida State Representative Amy Mercado, Florida State Representative Carlos Guillermo Smith, Florida State Representative Jennifer Webb, Key West Mayor Teri Johnston, Monroe County Mayor Heather Carruthers, Tallahassee Mayor John Dailey, St. Petersburg Mayor Rick Kriseman, Broward County Superintendent Robert Runcie, Attorney Elizabeth Schwartz, Dr. Julie C. Servoss, Calvin Arsenia, Vashai Avionce, Colleen Orender, Matthew McGee, Jennifer Real, Yoli Mayor and Quixotic.
The "Equality LIVE" virtual event will also raise critical funds for Equality Florida's work as they address the unique needs of LGBTQ Floridians during this global pandemic and continue their core mission of advancing equality. Viewers can donate at equalityflorida.org/equalitylive, and every donation made will be quadrupled thanks to the generous matching grants by AIDS Healthcare Foundation and the John D. Evans Foundation.
"Equality LIVE is a place for our community to connect, help each other in the midst of a crisis, and prepare for important battles ahead for LGBTQ equality," said Nadine Smith, Equality Florida's executive director. "Even as we respond to the pandemic, we know that anti-LGBTQ attacks continue and that we have to be in a strong position to mobilize pro-equality voters in November."
During the early weeks of the COVID-19 outbreak, Equality Florida took immediate action to prioritize the well-being of their supporters and the community by cancelling all in-person events, including five of their large scale fundraisers in Palm Beach, Key West, Miami, Tallahassee and St. Petersburg. Equality Florida also started a weekly virtual convening of over 150 LGBTQ leaders from across the state, along with national partners, to assess the needs of the community, support each other's work, and create a COVID-19 online resource directory that has an LGBTQ focus. ​​​​​​​
As Florida continues to address the impact of the virus, Equality Florida is working with government officials to ensure stigma and discrimination against the LGBTQ community, as well as other marginalized communities, play no role in the implementation of policies or the quality of healthcare one receives. In collaboration with Florida's first-ever LGBTQ Consumer Advocate for the Department of Agriculture and Consumer Services, Nik Harris, they are ensuring state COVID-19 hotline staff have resources to answer questions specific to LGBTQ Floridians. ​​​​​​​
"COVID-19 is disproportionately impacting LGBTQ youth, the transgender community, people living with HIV, and all marginalized communities. Equality LIVE is an opportunity for community leaders to join us in discussing how we respond to those urgent needs," added Smith. ​​​​​​
Like Equality Florida on Facebook and subscribe to our YouTube channel to watch on Sunday, April 26 at 12:30pm EST.​​​​​​​