Celebrating One Month of Marriage in Florida - Judi & Marla's Story
A DREAM COME TRUE!
Judi & Marla Kosmar-Woods | Satsuma, FL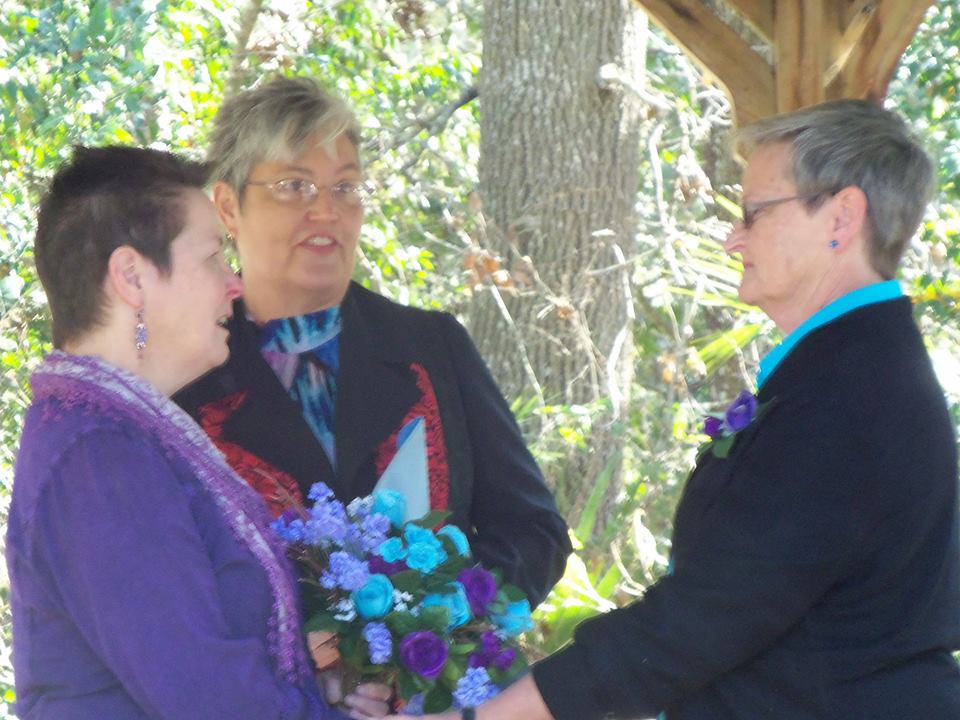 Editors' Note: This story was written by Jennie O'Leary in partnership with Equality Florida.
As the first couple in Putnam County to apply for a marriage license on January 6th, Judi and Marla Kosmar-Woods were greeted with "love and respect" by everyone at the Clerk's office. Tim Smith, Clerk of the Court, even posed for a picture with the couple.
Marla, 54, and Judi, 64, live in Satsuma, FL, the small West Florida town along the St. John's River near the Ocala National Forest.
"Being married has brought a whole new sense of commitment and belonging to our relationship, we can't explain it but, I love the feeling it brought to us! We are in the process of changing our names, and the reality of our commitment means so much!" said Judi.
The couple has been together for 13 years and were married on January 10th (also Judi's birthday). They met online and connected through their love of God.
When it looked like the freedom to marry was going to happen in Florida, Judi didn't hesitate to ask Marla to be her wife. The plans began and everything fell into place, thanks to the help from their co-workers. Their wedding at Ravine Gardens was attended by all their friends and family.
Judi described the support and words they received that day as amazing. They said, "Thank you for letting me share in your day. It is an honor to attend at such a historic time."
"Pinch me. Is it real? I love calling Marla my wife," said Judi.
Marla, works as a counselor at Healthy Start, and Judi is a Transitional House Coordinator at Lee Conlee House, a local domestic violence shelter. They share their home with their 2 rescue dogs, Maja (Pomeranian) and Jama (Terrier mix), as well as their cat Tidbit. The love kayaking and camping in the great outdoors in their rainbow trailer.