Celebrating One Month of Marriage in Florida - Historic Valentine's Day in Pinellas County!
Pinellas County Welcomes Same-Sex Couples In Annual Valentine's Day Event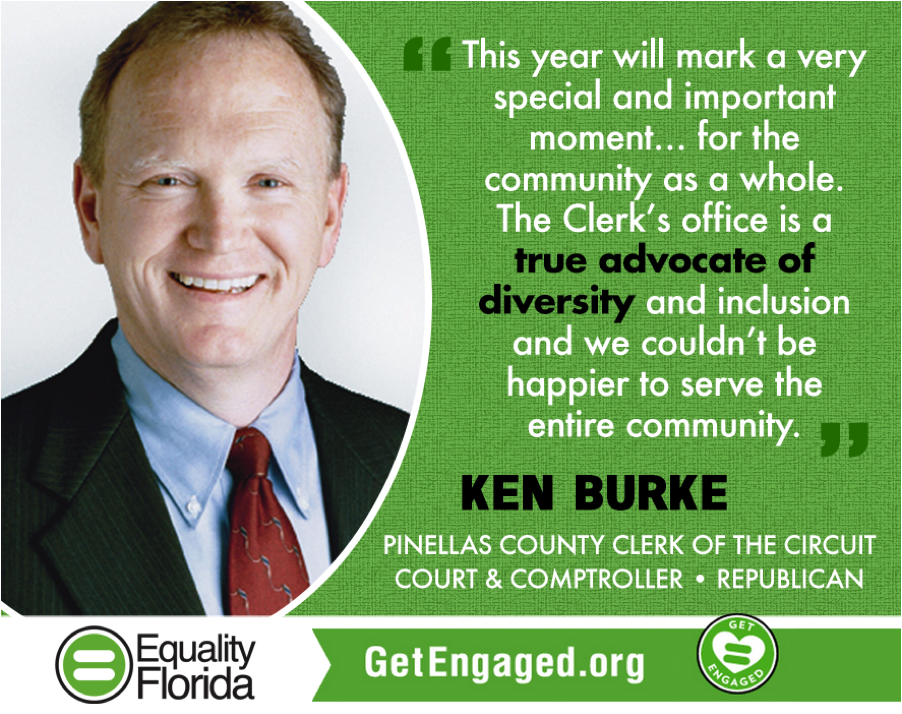 Editors' Note: This story was written by Jennie O'Leary in partnership with Equality Florida.
This February 14 will mark the 9th year Ken Burke, Pinellas County Clerk of the Circuit Court & Comptroller, will marry couples on Valentine's Day, and the first year all couples in the community – including same-sex couples - will participate.
This year "will mark a very special and important moment, not only for the couples, but for the community as a whole," Burke said. "The Clerk's office is a true advocate of diversity and inclusion, and we couldn't be happier to serve the entire community and continue enhancing our services to the public."
Since January 6th, when the freedom to marry took effect in Florida, Pinellas County has issued over 550 marriage licenses, with more than 200 to same-sex couples.
The Valentine's Day event this year will be held in the romantic and picturesque Wedding Garden of the Florida Botanical Gardens in Largo.
"This event has become a county tradition, and it is an honor to provide this beautiful service in such a timeless and scenic garden," said Burke.
A total of 68 couples have signed up to be married or renew their vows, including 25 same-sex couples. The event will include the reading of a beautiful poem by Myriam Irizarry, Chief Deputy Director and General Counsel of the Clerk's Office; musical serenades by the Charmonizers Barbershop Quartet; and two solos performed by Deputy Clerks, Linda Brian and Tiffany Glenn. The couples and their guests will celebrate with wedding cake and refreshments provided by local sponsors.
The event is open to the public, and the ceremony will begin at 11am. Everyone is invited to attend this celebration of love and commitment, which will be a very powerful and significant event for the local community.