Celebrating One Month of Marriage in Florida - Alicia & Kelia's Story
NOT A LONG SHOT FOR LOVE
Alicia & Kelia Paul | Panama City, FL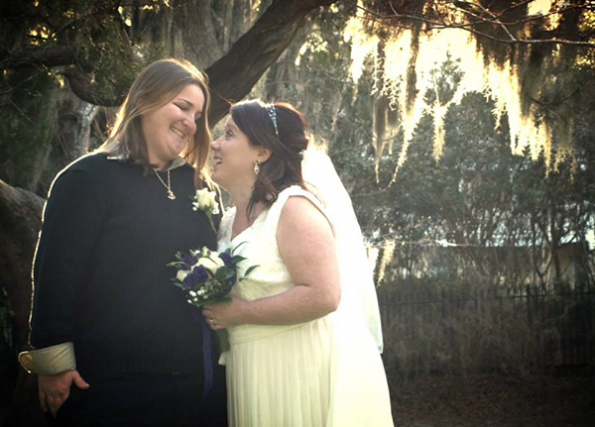 Editors' Note: This story was written by Jennie O'Leary in partnership with Equality Florida.
As a 3rd generation boat captain, Alicia Paul's love of the water runs deep. She grew up fishing the waters in and around Panama City Beach, and knew she was born to be on the sea.
Together with her wife, Kelia Paul, Alicia runs Long Shot Fishing Charters in Panama City, FL. They bought their first boat in 2011 and named it Libra's Love, their shared astrological sign. Then in 2013, they upgraded to the Long Shot, a 41-foot Sportfisher.
The couple met in 2007 and was married in 2010 on the water in Panama City Beach, FL. Even though the State only viewed their wedding as a "commitment ceremony," the two could not have felt more married.
In 2012, Kelia legally changed her last name to match Alicia's at a cost of over $500. That is an expense not required when you can legally obtain a marriage license.
When the freedom to marry started in Florida on January 6th, Alicia and Kelia were the 18th same-sex couple to get their marriage certificate at the Bay County Clerk of Court's office. Then, on January 10th, they were legally married in a ceremony on a dock near where Alicia proposed 6 years early.
"For Alicia and me, we have been married since that beautiful day in October of 2010," said Kelia, "but there has always been something missing. There were always strange looks when we introduced each other as 'wife.' Marriage equality is just that, equality. It's finally being considered what we have always known we were... married."
Having their relationship recognized by the state in which they live is important for both legal protections as well as the security for the children they plan to have in the future. Now that they are married, it will be easier and less expensive if they choose to adopt compared to single-parent or second-parent adoptions. They now have the same choices to consider as any other married couple in Florida.
For now, the Alicia and Kelia love spending time with their two Chihuahuas as well as fishing on the Gulf of Mexico.
"It's an amazing feeling that 4-1/2 years later the State of Florida recognizes our marriage!" said Kelia.