Meet the Interns: Gregory Hines
Meet the Interns: Gregory Hines
(Orlando Office)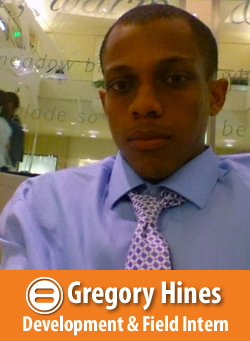 1. Tell us a little about yourself...
My name is Gregory Hines, and I am originally from Miami, Florida. I Received my A.A. Degree from Miami-Dade College and moved to Orlando to continue my education at the University Of Central Florida. I am currently a senior at UCF, and I am studying to obtain a B.S. Degree in Public Administration. I am also pursuing a minor in Urban and Regional Planning and an undergraduate certificate in Nonprofit Management.
2. Why are you involved with LGBT activism?
I am involved with LGBT activism because I think that the LGBT community needs a voice of support from positive individuals making a difference in a positive way. I am also part of the LGBT community and believe that we all deserve equal rights and protections under the law. Furthermore, as fellow citizens and taxpayers, LGBT people deserve to enjoy all the benefits of being a citizen of the United States and also all the perks of being a residents of the state of Florida. I think that is important to educate the public about the LGBT community and the issues we face and to change hearts and mind through education, compassion, dialogue, and positive conversation.
3. Why did you want to intern at Equality Florida?
I decided to intern for Equality Florida to gain real-world experience working for a Nonprofit Organization as well as help the LGBT community. I also have a great passion and drive for public service and have a firm belief in helping public causes such as the ones facing the LGBT community. I want to help in securing marriage rights for all in the state of Florida and to help pass laws to protect LGBT people from discrimination such as ENDA and other laws that negatively affect the community. In a sense, I feel that by interning with Equality Florida, I will have a chance to do this and at the same time I will gain experience and meet new people that would help me and the community for the better. In closing, I am interning with Equality Florida because even one extra voice for change makes a difference and change no matter how small is a positive step toward the future and in my view that is priceless.
4. What are your plans after you graduate?
I plan to pursue my graduate degree in Public Administration at the University of North Florida or Florida State University. I also would like to continue working for LGBT rights and other public causes. Eventually, I would like to get a career in the public sector doing work for a nonprofit, city planning, city management, or human resources.
Stay tuned next week for the next blog post in our "Meet The Interns" series!