Families of Transgender Youth Fight Back Against Attacks from Florida Legislature
Families of Transgender Youth Fight Back Against Attacks from Florida Legislature
Jeannette Jennings and other parents testify in workshop on anti-trans bill
TALLAHASSEE — Today, parents of transgender children, youth advocates, and healthcare experts joined Equality Florida to testify against the harmful impacts of HB 1365 in the Florida House Health Quality Subcommittee. This dangerous and mean-spirited bill would jail doctors for up to 15 years for providing life-saving care to transgender children. The full committee hearing can be viewed here (starts around 00:31:00).
"What's clear is this bill is driven by people who have no concerns whatsoever for the lives and safety of transgender youth," state Gina Duncan, Equality Florida's Director of Transgender Equality. "The same groups who oppose anti-bullying efforts and basic legal protections for LGBTQ Floridians, now seek to put transgender young people into hiding by threatening their doctors with 15 years imprisonment."
During the committee hearing, moms of transgender children, including Florida State Representative Amy Mercado (D-Orlando) and Jeannette Jennings, mother of internationally recognized transgender activist Jazz Jennings of TLC's "I Am Jazz", shared powerful personal testimony about the fears transgender youth and their parents are facing today.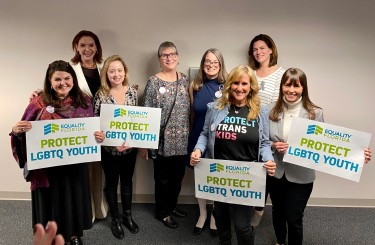 The committee also heard testimony from several transgender advocates about the need for the life-saving medical care this bill would criminalize, including 16-year old transgender student Asher, "I transitioned as a matter of survival. Not because I wanted to. But because I had to. So when you think about this bill, you're thinking about my life."
Prior to the subcommittee hearing, Equality Florida held a "Protect Trans Kids" press conference in the Capitol with lawmakers, LGBTQ families, medical professionals and advocates.
"I am the mom of four beautiful children. My youngest, Jazz, is transgender. And although assigned male at birth, she is a beautiful 19-year-old young woman who is only here today because she received life-saving medical care. When people criticize and question me, and my husband Greg, for allowing our child to live as their true self, the answer is simple. We'd rather have a happy living daughter than a dead son," said Jeanette Jennings during the press conference.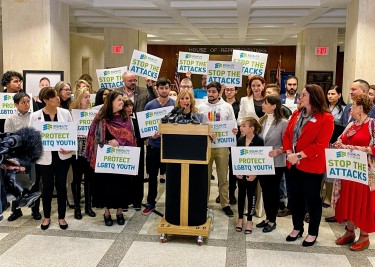 (Jeanette Jennings speaking at "Protect Trans Kids" Press Conference)
The Florida Legislature should forcefully oppose HB 1365, reject attacks against the LGBTQ community, and instead embrace the popular, bipartisan, and widely supported protections offered in the Florida Competitive Workforce Act (SB 206/HB 161). Currently, this bipartisan-led legislation has garnered 61 Republican and Democratic cosponsors for the 2020 legislative session.
There was no vote on HB 1365 in today's Florida House Health Quality Subcommittee, and currently, the bill has not been scheduled for a vote in committee.
The bill is a coordinated attack on transgender youth filed in multiple states. Florida joined only South Dakota as a state allowing the bill to be considered at all.
###
Equality Florida is the largest civil rights organization dedicated to securing full equality for Florida's LGBTQ community. Through education, grassroots organizing, coalition building, and lobbying, we are changing Florida so that no one suffers harassment or discrimination on the basis of their sexual orientation or gender identity. www.equalityflorida.org