FIRST FEDERAL JUDGE IN FLORIDA RULES IN FAVOR OF THE FREEDOM TO MARRY!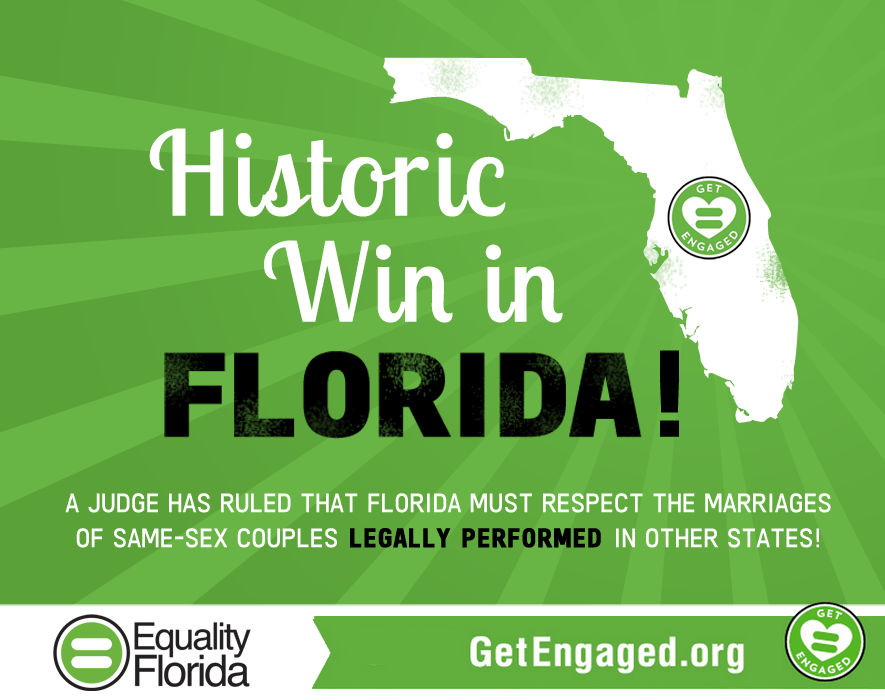 (August 21, 2014) - Moments ago, U.S. District Judge Robert Hinkle ruled that Florida's discriminatory state ban excluding same-sex couples from the freedom to marry is unconstitutional. The ruling has already been stayed, meaning that any decision won't go into effect immediately. 
Today is the 5th consecutive victory in Florida and leaves no doubt that this ban serves no purpose but to harm gay couples and their children. We applaud Judge Hinkle for his decision and we call on Governor Scott to lead where Attorney General Pam Bondi has failed.   
Florida put this discriminatory ban in place and Florida should end it. Our families have waited too long already. We call on Governor Scott to join us in urging the Florida Supreme Court to take up this issue immediately.  
In total, 38 rulings since last year's decision in U.S. v. Windsor have found that state bans on marriage for same-sex couples are unconstitutional, including two rulings by the 10th Circuit Court of Appeals, which has jurisdiction over Colorado.
We are asking Floridians to call Governor Rick Scott today at (850) 488-7146 and tell him to make clear where he stands by joining our call to end this discriminatory ban once for all. 
Update:
"There is one exception to the stay," Judge Hinkle wrote. "The exception is the requirement to correct Ms. Goldwasser's death certificate. The correction is important to Ms. Goldberg. There is little if any public interest on the other side of the scale. There is no good reason to further deny Ms. Goldberg the simple human dignity of being listed on her spouse's death certificate. Indeed, the state's refusal to let that happen is a poignant illustration of the controversy that brings us here."
Link to ruling: https://www.aclu.org/sites/default/files/assets/grimsley_v._scott_order_granting_preliminary_injunction.pdf
TAKE ACTION!
LEAD GOVERNOR SCOTT! Click here to email the Florida Governor asking him to send the marriage equality cases to the Florida Supreme Court NOW. http://bit.ly/1kYWvaO