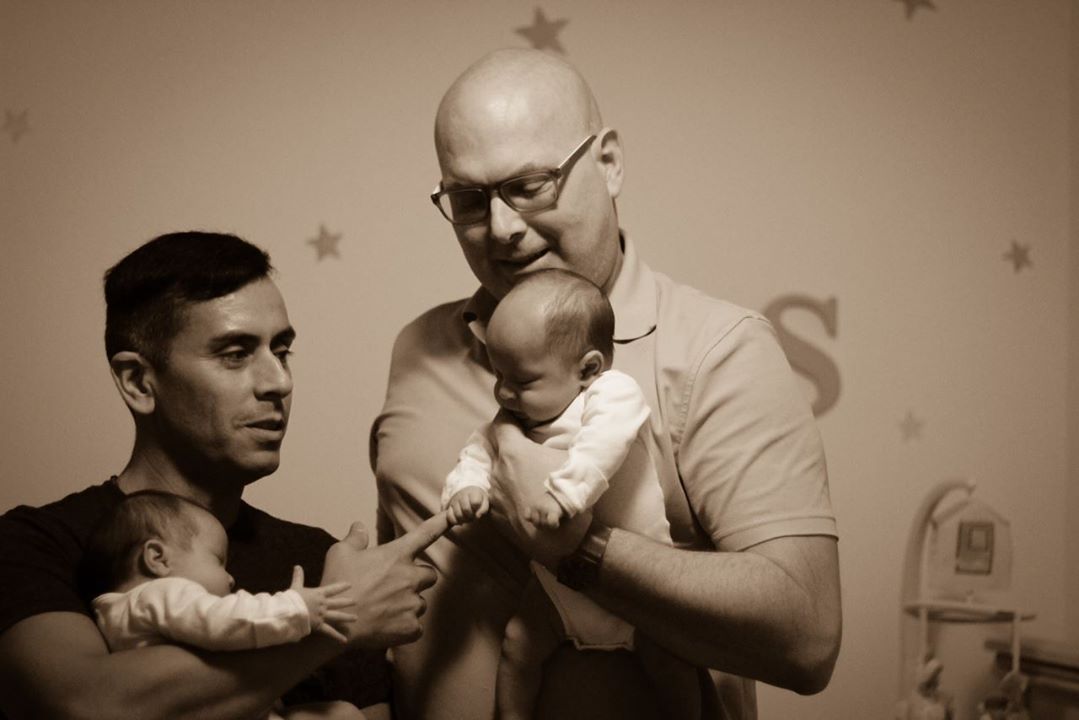 Last November, my good friends Coco and Philip announced the news that the twins they were having through in vitro fertilization and surrogacy had reached 6 month's gestation.  We breathed a collective sigh of relief, that they were now 'viable' babies, as an earlier set of twins had been miscarried before they reached this stage of development.  Just one week later Philip received a diagnosis of stage 4 brain cancer and was given 3-4 months to live.  In the ensuing months Philip and Coco fought hard for Philip's life.  In February, Coco and his mother flew to Guatemala for the birth of the twins, Ella and Santiago.  Stateside, Phillip prepared for a bittersweet meeting by completing his course of chemo to slow the progress of the cancer.
A few weeks later the twins arrived in Fort Lauderdale and met their second daddy for the first time. It was shortly after that that the new family did a little shopping at Aventura Mall and had an unexpected encounter.  When I heard about it, I spoke with them about going public and bringing attention to the issue of marriage equality--the following letter is the result:
Dear Governor Scott,
It was so nice bumping into you in the elevator at Aventura Mall a few weeks back.  You put us at ease immediately by commenting that your hairstyle matched my husband Philip's, and your lovely comments about our twins were heartwarming. 
As new parents, Philip and I, delight in watching the joy that meeting our beautiful twins brings to peoples' faces.  You were like everyone else in that!
Unfortunately, however, I could not help but think that in many other ways, you are not like everyone else.   Philip and I are not like everyone else either, but there is one way in which we believe we should be.  As two men, our marriage is not recognized by the state of Florida.  Even though our marriage is legal in New York and sixteen other states plus Washington, DC, and even though it is recognized federally by the U.S. Government, it is not so here in our home state, where we live, work and raise our family.
I want to take a moment to share a little bit more with you about our family and our dedication and commitment to each other. It is my sincere hope that our story will help you understand why it is so important to do everything possible to bring to Florida the freedom to marry for same-sex couples.
Philip has stage 4 brain cancer.  We learned it only days after we received the results of the six-month ultrasound of our babies.  We are fighting the illness with everything we have and remain hopeful. Yet, the possibility that such a loving and good man may be taken away from us before "his time" is a constant worry and heartbreaking, especially with respect to young Ella, Santiago and me (Philip and I have been together for 15 years).
We are tremendously blessed in that we have a loving and supportive extended family and so many friends who have committed wholeheartedly to helping us in every way.  But in addition to what every family in our situation faces when someone is battling a disease, we are unfortunate in ways that only affect same-sex couples: Our marriage is not recognized here. Our children do not have the same guaranteed protections afforded to the children of opposite-gender married couples in Florida. 
It scares us, and causes us to worry about how our family will be impacted by the different treatment we receive under the law here in Florida.  Our fears are compounded by the fact that our home state, the place where we are raising our children, does not recognize the legitimacy of our marriage--something Ella and Santiago will undoubtedly realize as they grow up, and by which they will be negatively impacted.
I know you hear from same-sex couples and LGBT-advocacy groups all the time. Philip and I thought long and hard about whether we could afford to get involved in that now, when our resources of time and energy are stretched so thinly. 
And then we remembered how you looked at our babies—the genuine smile that lit up your face that day in the elevator, the compliment, that we "have a beautiful family," and we thought, "This man could not possibly continue to allow our babies to suffer and be treated unequally merely because of who their parents love."  That is when we realized that we had to reach out to you and tell you our story.
We wish you a moment of peace and clarity, and hope that you will see our truth and beauty, and help us to become, in the eyes of the law here in Florida, what we are in the eyes of so many other states and the federal government, and what so many know us to be—a legally married couple with children, whose family is as precious as any other.
Sincerely,
Jorge "Coco", Philip, Ella and Santiago
Postscript: Philip did not live long enough for the letter to Rick Scott to be sent.  It has been gathering dust while Philip was mourned and laid to rest and Coco has become an adorable single parent of his even more adorable babies. Philip had planned to adopt Ella and Santiago, who were not his biological offspring, just the culmination of years of planning and the joy of his life.  But sadly, the slow adoption process got in the way.   Ella and Santiago, who only had a few weeks with Philip, and have their whole lives in front of them, will not receive any survivor benefits.  Governor Scott says he does not support marriage for same-sex couples, yet he is against discrimination in every form.
When people ask, "what's the big deal about equal rights for same-sex couples," well, I think of Philip and Coco and how long the law made them wait to have a family.  Even while we cheered last week at the first ruling in Florida on a case for the "right to marry" for same sex couples, I wondered about so many people for whom the law moved too slowly.  But when I see how Coco looks at his children, how he smiles and laughes through his tears, I know without a doubt: "love wins. everytime."  Rest in Peace, Philip Parrish--your babies are in good hands!
A word of advice:  If you or a same sex couple you know is planning a family---please, please consult with a lawyer who specializes in LGBT family law.